Trump's Approval Rating Is Higher Now Than This Time Last Year Despite COVID and BLM Protests
Despite a tumultuous year upended by the coronavirus pandemic and protests over racial injustice—neither of which president has handled well, critics contend—Donald Trump's approval rating is higher now than this time last year.
As of November 2, almost 45 percent of Americans approve of the president, compared to the roughly 41 percent between November 1 and November 3 of 2019, according to data from poll analysis website FiveThirtyEight.
In fact, compared to his highest approval rating in the past four years, Trump's current rating is only 0.8 percent lower than at its peak. His highest rating was on January 23, 2017—the Monday following his inauguration.
Among the most recent presidents, Trump's net approval rating is only higher than George H. W. Bush's rating was at the end of his presidency, according to the FiveThirtyEight data. Barack Obama, George W. Bush and Bill Clinton all remained more favorable than Trump throughout each of their two terms, according to the website.
In the past year, Trump's highest approval rating was at the end of March, when the majority of states had largely shut down due to the coronavirus.
However, moving into the summer, and as Black Lives Matter protests ignited across the nation, the president seems to have fallen out of favor. His highest disapproval rating this year came a month after the death of George Floyd.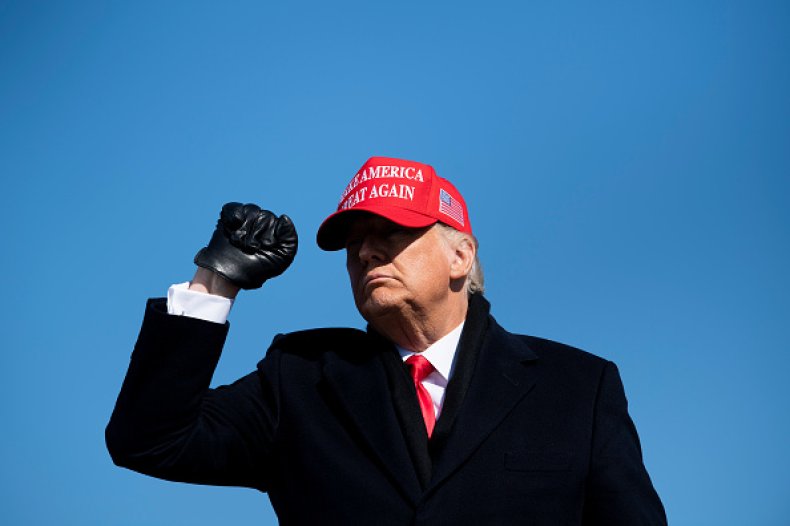 The Trump administration has been criticized for both its handling of the pandemic and its response to the national unrest surrounding police brutality in America.
Trump has sent mixed messages about the pandemic. He faced widespread backlash earlier this year for calling COVID-19 "the China virus" and suggesting people inject bleach as a treatment, a statement he later claimed was a joke.
In the fall, journalist Bob Woodward published a tell-all book about the president and his administration that said Trump had purposely downplayed the severity of the coronavirus in hopes of winning re-election. Several weeks later, Trump tested positive for COVID-19 and was hospitalized at the Walter Reed Medical Center for three days.
According to a recent poll from YouGov, 42 percent of participants said they approved of Trump's handling of the coronavirus and 56 percent said they disapproved. Of those surveyed, 39 percent said they were confident in his ability to handle the pandemic, while 56 percent said they were uneasy.
When it comes to race relations, an NPR/PBS NewsHour/Marist Poll last month found that a greater number of registered voters think Democratic nominee Joe Biden would be better at tackling the issue than Trump. Fifty-six percent selected Biden as the candidate best equipped to handle race relations in the U.S., compared to 35 percent who picked Trump.
The two candidates have taken different approaches toward the Black Lives Matter protests.
While Biden has said there is "systemic injustice" in law enforcement, Trump has focused on law and order.
The president faced backlash in June after BLM protesters in Lafayette Square near the White House were tear-gassed by federal officers before Trump walked across the park for a photo op at St. John's Episcopal Church. Trump was criticized again during the first presidential debate when he failed to explicitly condemn white supremacists.
Trump is hoping to win a second term in this year's presidential election.