Writer Tony Schwartz, who was the ghostwriter on Donald Trump's bestselling book The Art of the Deal, but has since become an outspoken critic of the president, responded to the new allegation that Trump had sexually assaulted journalist E. Jean Carroll by labeling his the real estate mogul a "serial felon and an uncommon criminal."
"A 16th woman yesterday accused Donald Trump of sexual assault — in this case rape, with very specific details," tweeted Schwartz early Saturday morning, in apparent reference to Carroll's allegations, published by New York Magazine, that she had been sexually assaulted by Trump in the mid 1990s in a dressing room at upscale retailer Bergdorf Goodman.
"In what sane & decent world can this man continue as president of the United States?" continued Schwartz's tweet, adding that he believed Trump should be put on trial for repeated "violent criminal behavior."
The writer, who has stated that authoring the Trump tome was the biggest regret of his life, was not done railing against the president.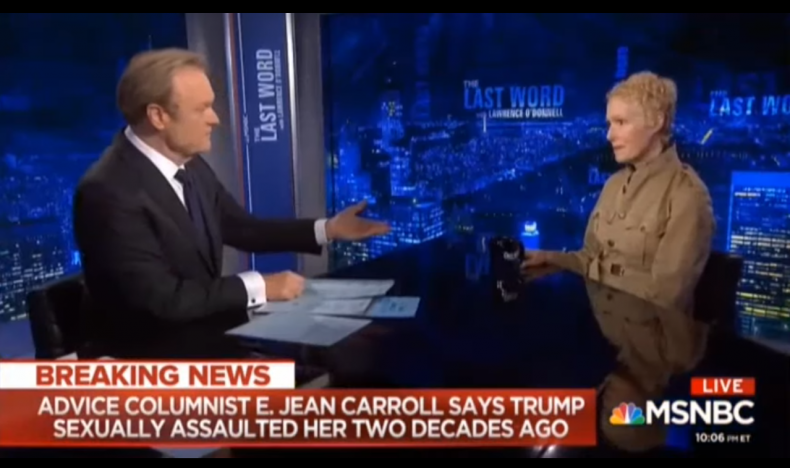 "Trump has spent his adult life stealing, lying, cheating, and sexually assaulting women," claimed Schwartz in a follow-up tweet, in which he called the president a "serial felon and an uncommon criminal who has not yet been brought to justice."
Carroll, a columnist for Elle magazine, said in a Friday interview with MSNBC's Lawrence O'Donnell that while she has not washed or dry-cleaned the outfit she was wearing during the alleged assault, she had no intention of pushing for criminal charges against Trump.
"I would find it disrespectful to the women who are down on the [Southern] border who are being raped around the clock down there without any protection," she explained. "They're young women, they, you know, try to come here — as you know, they are there by the thousands. The women have very little protection there; it would just be disrespectful."
Carroll continued: "Mine was three minutes; I'm a mature woman, I can handle it. I can keep going... You know, my life has gone on, I'm a happy woman. But for the women down there — actually, around the world, you know in every culture this is going on. No matter if you are high in society, low in society, this is disrespectful. It just doesn't make sense to me."
The White House denied Carroll's claims on Friday, releasing a statement that read: "This is a completely false and unrealistic story surfacing 25 years after allegedly taking place and was created simply to make the president look bad."
Trump himself issued a direct denial of the allegations, and even claimed that he had never met Carroll. However, a photo of Trump, Carroll, Trump's then-wife Ivana Trump and Carroll's then-husband John Johnson, at an NBC party in 1987 quickly made the rounds on social media in response to the president's words.
The president said Carroll had created the allegations as a publicity stunt to sell books.
"Shame on those who make up false stories of assault to get publicity for themselves, or sell a book, or carry out a political agenda – like Julie Swetnick who falsely accused Justice Brett Kavanaugh," said Trump. "It's just as bad for people to believe it, particularly when there is zero evidence. Worse still for a dying publication to try to prop itself up by peddling fake news — it's an epidemic."