Trump's Attacks on Media Could Result in Violence, Warns CNN Correspondent After He Was Heckled at Florida Rally
CNN Senior White House correspondent Jim Acosta warned Tuesday that President Donald Trump's anti-media rhetoric could "result in somebody getting hurt."
A video that Acosta posted to Twitter of Trump's rally for Republican Representative Ron DeSantis in Tampa, Florida, showed Trump supporters berating and heckling members of the press.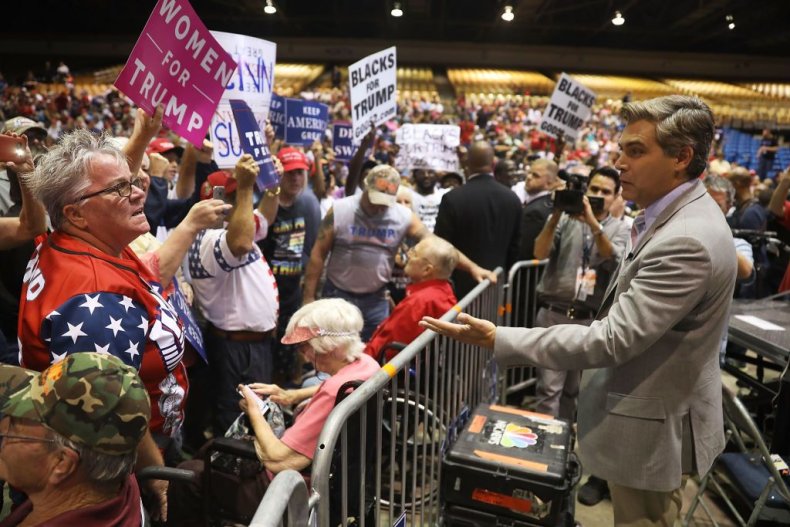 "Just a sample of the sad scene we faced at the Trump rally in Tampa," Acosta tweeted. "I'm very worried that the hostility whipped up by Trump and some in conservative media will result in somebody getting hurt. We should not treat our fellow Americans this way. The press is not the enemy."
As Acosta broadcast live from the rally, footage shows Trump supporters shouting "CNN sucks" and "liar" at him.
Trump's attacks on media outlets that publish information critical of his presidency have been a regular feature of his term in the White House.
And Tuesday was no different, with Trump lashing out at the "fake media" to cheers from supporters. The president later retweeted a video shared by his son Eric Trump showing supporters at the rally heckling Acosta.
Trump's feud with the media was the subject of a recent meeting with New York Times publisher A.G. Sulzberger—who warned that the president's attacks risked provoking violence.
Trump hit back on Sunday, accusing journalists of placing lives at risk.
"When the media—driven insane by their Trump Derangement Syndrome—reveals internal deliberations of our government, it truly puts the lives of many, not just journalists, at risk! Very unpatriotic!" Trump wrote, adding he "will not allow our great country to be sold out by anti-Trump haters in the dying newspaper industry."
In a statement, Sulzberger criticized Trump for labeling journalists "the enemies of the people," and took issue with the president's account of their meeting.
"I told him that although the phrase 'fake news' is untrue and harmful, I am far more concerned about his labeling journalists 'the enemy of the people,'" Sulzberger said. "I warned that this inflammatory language is contributing to a rise in threats against journalists and will lead to violence."
Trump also drew widespread criticism last summer, when he retweeted a video of himself body slamming a CNN avatar.
Charity Article 19, which campaigns for press freedom around the world, found in a May report that the Trump administration's "verbal attacks on media and journalists have left journalists facing increasing abuse, harassment and threats, particularly online."