This article first appeared on the The Daily Signal.
Attorney General Jeff Sessions has had a rough few weeks.
He already ran afoul of many conservatives last week when he announced that the Department of Justice would increase the usage of federal civil asset forfeiture.
This controversial policy, justified as a law enforcement measure, often leads to property being seized from people neither charged nor convicted of a crime.
But Sessions is now in even hotter water with President Donald Trump, a man whose fortunes he's been linked to since the two men joined forces in Trump's drive to the White House.
Even though Sessions has been one of Trump's most stalwart, high-profile defenders since the early days of the Republican presidential primary, his job at the Department of Justice appears to be in jeopardy.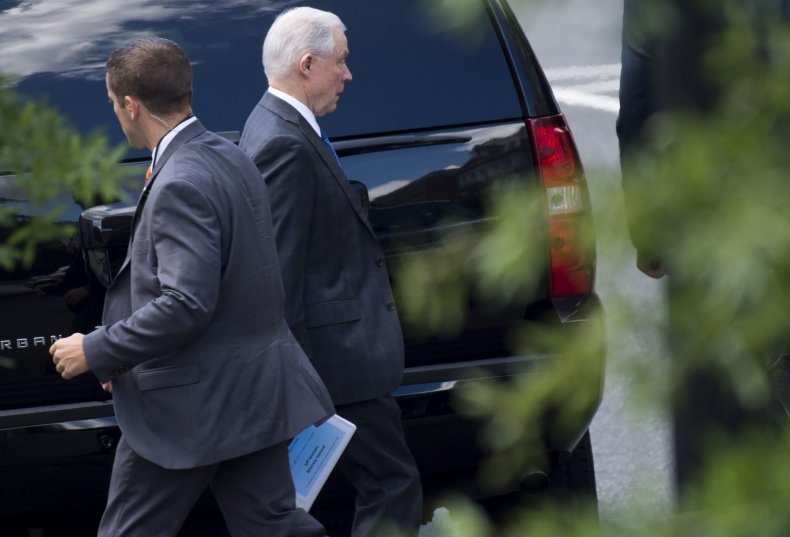 Trump's public criticism of Sessions began in earnest during an interview with The New York Times in which he said he would never have appointed Sessions had he known that the former Alabama senator would recuse himself from the Russia investigation.
When Sessions initially recused himself, he said in a statement that his "impartiality might reasonably be questioned" due to his presence on the Senate Judiciary Committee that was investigating allegations against the Trump campaign.
This eventually led to a special prosecutor being appointed to oversee the investigation.
While the merits of this decision can be debated, the decision certainly seemed to be made in good faith.
Trump has mercilessly lambasted Sessions in the media for this decision, and in several tweets on Tuesday suggested that he hasn't done a good job at the Department of Justice.
He tweeted:
Attorney General Jeff Sessions has taken a VERY weak position on Hillary Clinton crimes (where are E-mails & DNC server) & Intel leakers!
and
Ukrainian efforts to sabotage Trump campaign - "quietly working to boost Clinton." So where is the investigation A.G.
and:
And recently appointed White House communications director Anthony Scaramucci, who was at one point a Trump critic, suggested on "The Hugh Hewitt Show" that the president wanted to fire the attorney general.
Sessions has long been a favorite of many conservatives. The National Rifle Association pushed for his confirmation as attorney general, and Marjorie Dannenfelser, president of the Susan B. Anthony List, a pro-life group, called Sessions a "principled pro-life advocate."
In a speech to religious liberty advocates earlier this month, Sessions pledged that the "federal government will actively find ways to accommodate people of all faiths," saying he planned to "issue guidance on how to apply federal religious liberty protections."
He's certainly built up goodwill with many of Trump's most fervent supporters.
But the brouhaha with Trump has put Sessions in a curious position.
During the campaign, Trump echoed sentiments Sessions had championed for years. But the alliance became formalized when Sessions became the first senator to openly back Trump in the Republican presidential primary.
Just days before Super Tuesday, Sessions announced at a rally in Madison, Alabama, that he would support Trump—which was a particular blow to rival Sen. Ted Cruz, R-Texas, who was competing for similar voters.
Sessions told the crowd that Trump was most likely to fix America's borders and clamp down on illegal immigration. It was a big moment in solidifying Trump's base of nationalist support while giving philosophical heft to the campaign.
He remained an unwavering supporter of Trump's political movement up to the present day.
This is why it's so stunning to see Trump turn on someone who is arguably one of his most loyal advocates.
The kerfuffle has already provoked a response from Sessions' congressional supporters —many of whom Trump will surely need to put an Obamacare repeal on his desk.
Rep. Adam Kinzinger, R-Ill., said in a Tweet:
Mr. President, maybe just try a meeting? This is beneath the office - of any held office - from city councilman to POTUS. https://twitter.com/realdonaldtrump/status/889790429398528000 …
Sen. Richard Shelby, R-Ala., said in a series of tweets that " … Jeff Sessions is a man of integrity, loyalty, and extraordinary character. … I join the people of Alabama in giving Jeff Sessions my deep respect and unwavering support."
Jenny Beth Martin, the co-founder of the Tea Party Patriots, said, according to Axios :
Tea Party Patriots and our network of grassroots supporters around the country know that we can count on Attorney General Jeff Sessions to stand with us on the issues that matter most. He has been one of the strongest and most consistent allies we have and can think of no better person to serve as President Trump's attorney general.
Many others from across the Republican ideological spectrum also came to Sessions' defense, including Cruz and Sen. Lindsey Graham, R-S.C.
Pushing Sessions out the door risks alienating some of Trump's most relentless supporters who have kept him afloat in the face of widespread opposition.
If Trump is serious about building a border wall and cracking down on illegal immigration, he certainly couldn't have a stronger ally at the Department of Justice.
This office in particular requires an individual of drive and talent who can face the withering external and internal opposition to the president's agenda.
Is there really another person who could suddenly be dropped into the role with the same political outlook and gravitas in the wake of this dust-up?
Of course, the oft-unpredictable Trump could reverse himself and have Sessions back in his good graces by next week.
But firing Sessions now could send shock waves through his base of support, as some may begin to question whether he values simple but absolute loyalty over the principles and political goals that helped put him in the White House.
Jarrett Stepman is an editor for The Daily Signal.