Trump's Attorney General Pick Saw Thousands of Refugees Fleeing Violence Locked up in Guantanamo Bay
President Donald Trump's pick for attorney general, William Barr, oversaw a program that saw as many as 12,000 Haitian asylum seekers detained at the Guantanamo Bay U.S. military base in Cuba, creating what was condemned at the time as "the world's first and only detention camp for refugees with HIV."
In 1991, the same year that Barr began serving as attorney general for the late President George H.W. Bush, Haiti was rocked by a military coup that led to mass executions targeting supporters of deposed President Jean-Bertrand Aristide.
The violence forced thousands upon thousands of Haitians to flee their home country, with many making their way to the U.S. in hopes of asylum.
Read more: Who is William Barr? Trump reportedly set to appoint former George H.W. Bush attorney general to replace Jeff Sessions
Rather than welcome them, the U.S. began to intercept Haitians' boats at sea, conducting preliminary screenings of asylum seekers on board and forcing anyone who did not pass to return to the country they had fled.
When the practice was challenged in court, the U.S. sought to find a way to prevent asylum seekers from having their claims processed on American soil, opting to send them to Guantanamo Bay instead, according to the UNHCR's RefWorld.
At the time, Haiti had been going through an AIDS crisis, meaning some asylum seekers were HIV-positive. Those who did test HIV-positive were forced to take part in a second interview at Guantanamo Bay, meaning they faced stronger scrutiny in their bid to demonstrate their eligibility for asylum.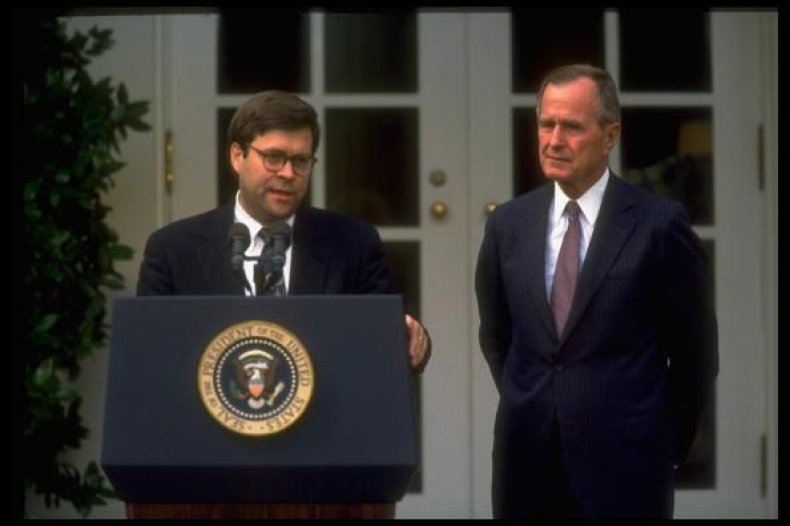 According to the American Civil Liberties Union (ACLU), approximately 300 asylum seekers had HIV and "Barr created a separate detention camp for them."
As CBS News notes, a law paper published by attorney Michael Ratner, who successfully fought against the practice of HIV screening, asserts that a "high-level attorney in the Bush administration told us that Attorney General Barr believed that everyone who was HIV-positive should be returned to Haiti."
In his paper, which was titled "How We Closed the Guantanamo HIV Camp: The Intersection of Politics and Litigation" and published by the Harvard Human Rights Journal in 1998, Ratner also referred to the site where Haitians were being held as "the world's first and only detention camp for refugees with HIV."
Ultimately, the program was challenged in court and the government was ordered to provide access to attorneys and bring HIV-positive Haitians to the U.S. for treatment, as "conditions at Guantanamo were deplorable," ACLU Legal Director David Cole said in a blog post condemning Trump's decision to nominate Barr to succeed ousted attorney general Jeff Sessions.
While the U.S. government eventually succumbed to legal challenges and public pressure to end the controversial policy, Cole said that "throughout, Barr was a strong advocate for a policy that set the stage for the treatment of Guantanamo detainees during the war on terror," which saw detainees subjected to torture and degrading treatment.
Cole asserted that since his time as attorney general under Bush Sr., Barr has "not evolved."
"He has strongly backed Trump and Sessions's cruel approach to immigration, praising them for attacking 'the rampant illegality that riddled our immigration system' when court decisions suggest that the real 'rampant illegality' stems from the Trump administration itself," Cole said.
The ACLU legal director also noted that Barr defended the legality of the Trump administration's controversial "Muslim ban," saying that he saw "no plausible grounds for disputing the order's lawfulness," despite it being struck down by multiple courts.
"Even Trump finally abandoned it on the advice of his lawyers, who saw that there were indeed many plausible grounds for challenging it and urged Trump to substitute a narrower and more defensible ban," Cole said.
Ultimately, the ACLU legal chief said Trump's decision to nominate Barr to replace Sessions "ought to raise alarm bells across the country. Barr is as bad as Sessions was on the full range of civil rights issues that fall with the Justice Department's purview," he said.
Cole also noted that Barr is a "longstanding advocate of expansive executive power," which the ACLU legal director said is "almost certainly" a view that has "attracted President Trump," whose own power could be at risk as the world watches special counsel Robert Mueller's investigation into Russian interference in the 2016 election play out.
If Trump's pick does become attorney general, Cole warned that "if anything, Barr may be more effective at dismantling the [Justice Department's] justice-serving mission than Sessions, because, unlike Sessions, he actually knows how the department works."