Trump's 'Blame China' Re-Election Strategy Might Seriously Backfire | Opinion
Amid the COVID-19 pandemic, President Donald Trump is engaging in a familiar strategy of deflecting blame for domestic problems, namely the collapsing economy and massive job losses, to a foreign rival in China. This is far from the first time a president has employed this strategy, but not all have done so successfully. In fact, history suggests it might seriously backfire.
The temptation to compare 2020 to 1932 is certainly strong. The unemployment rate skyrocketed from 3.5 percent in February to 14.7 percent in April, and the International Monetary Fund estimated that the U.S. economy could contract by 5.9 percent in 2020—the worst contraction since the Great Depression.
Blaming Herbert Hoover for not using the power of the federal government in response to the stock market crash worked for Franklin D. Roosevelt's campaign in 1932. Ahead of the 2004 election, President George W. Bush convinced the majority of Americans that Saddam Hussein was somehow involved in the planning of the September 11th attacks as a way to deflect the public's attention away from domestic problems, and it bought him another four years.
But, given the economic parallels, 2020 is shaping up to be more like the 1992 election. In the 1980s and early 1990s, the U.S. blamed Japan for unfair competition in the auto industry. George H.W. Bush did this in 1992, blaming unfair Japanese trade practices for the 1990-91 recession and for how he spent too much time on foreign affairs. His strategy played right into Democratic hands, and Bill Clinton was elected in 1992.
The point of Trump's anti-China rhetoric is to deflect American voters' attention away from the rising number of deaths from COVID-19. More than 90,000 Americans have died from the coronavirus so far.
Trump used "Chinese virus" at least 20 times from mid- to late March, with the clearest case being when a photographer snapped a picture of a Trump speech on which "corona" had been crossed out and replaced with "Chinese." G7 countries even rejected the use of "Wuhan virus" after Secretary of State Mike Pompeo stated that China was putting the world at risk. Pompeo has also repeated an unsubstantiated claim that the virus began in a Chinese lab in Wuhan.
But this re-election strategy is incredibly risky. Very few Americans vote for president based on foreign policy issues or international relations. In 2020, among economic concerns, the general state of the economy, unemployment and jobs and economic inequality are highest on the minds of American voters, according to a Gallup poll. Among non-economic concerns, the government's response to the coronavirus and poor leadership are voters' top priorities. Given the totality of the collapse of the American economy in 2020, voters won't be easily distracted from economic anxieties.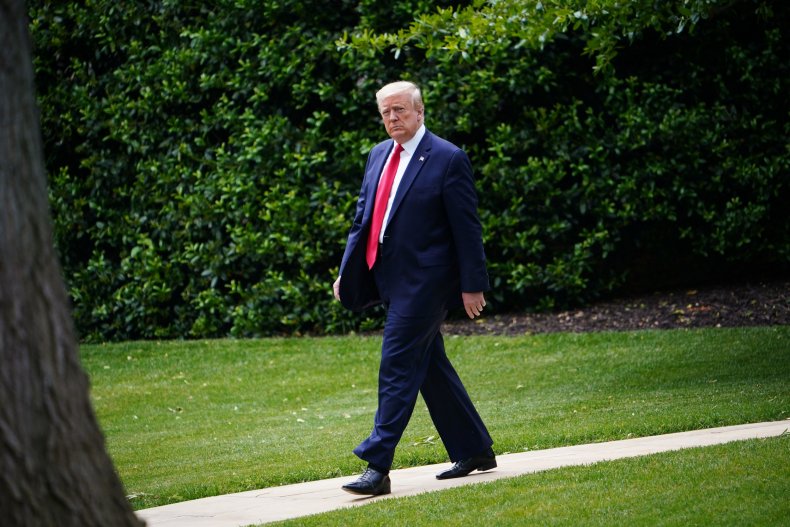 Further, Trump's rhetoric has been called out as racist. In response to accusations of racism against Asian Americans, on March 18, Trump stated, "I'm not racist at all. No it's not at all. It's from China. That's why. It comes from China. I want to be accurate." Trump's allies in the media did promote this thinking, and some Republican Party operatives accused Trump's political opponent of promoting "political correctness."
With his rhetoric, Trump has tapped into historically based and deep-seated "forever foreigner" stereotypes about Chinese Americans traced to the Chinese Exclusion Act of 1882. The Southern Poverty Law Center reports hate crimes against Asian Americans have increased in recent months, and Stop AAPI Hate has received reports of at least 1,700 verbal and physical attacks in the United States. Roughly 30 percent of Americans blame China or Chinese people for the coronavirus pandemic, according to a Center for Public Integrity/Ipsos poll, and more than 30 percent say they witnessed someone blaming Asian Americans for the outbreak.
Trump's intense focus on China is a response to polls showing him as increasingly vulnerable and falling behind his Democratic opponent, Joe Biden, in key swing states. Also, Democrats have improved their chances in congressional races. And the number of Americans concerned about COVID-19 infection has risen since earlier in the year.
The coronavirus crisis is completely disrupting voters' lives. By Election Day, it likely will have killed well over 100,000 Americans, leaving many hundreds of thousands more grieving. And if the virus keeps spreading, the unemployment rate keeps rising and the economy keeps contracting, Trump could be a one-term president—no matter what he says about China.
Chris Dolan is a professor of political science at Lebanon Valley College in Annville, Pennsylvania.
The views expressed in this article are the author's own.