Trump's Boast of Low Black Unemployment Shattered by New Numbers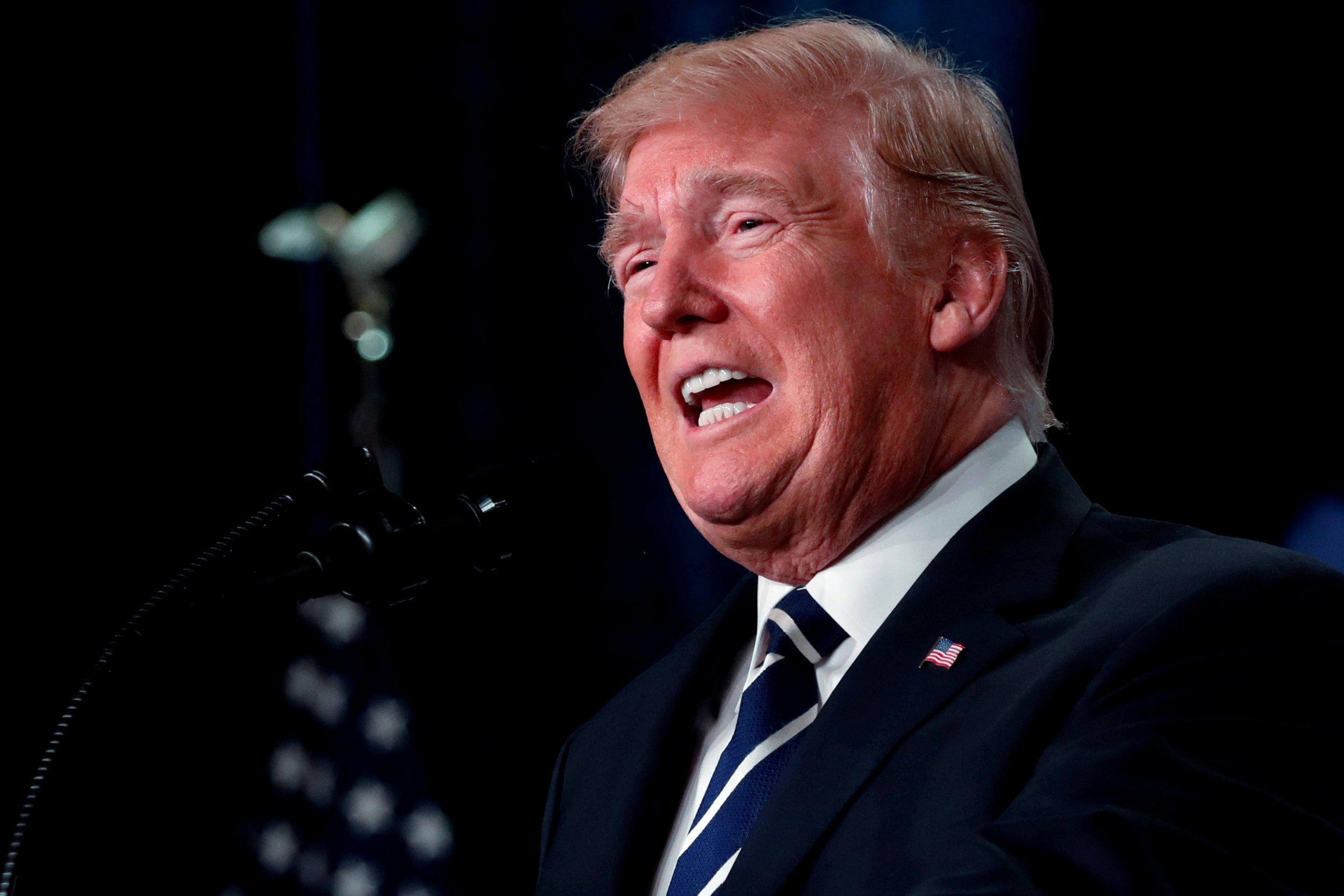 During his State of the Union address Tuesday President Donald Trump repeated a familiar boast that unemployment among black Americans is down under his administration. New labor statistics released Friday, however, show it is on the rise again.
"African-American unemployment stands at the lowest rate ever recorded," Trump said to loud applause during the joint session of Congress early this week, calling it "something I'm very proud of."
During December, the unemployment rate of the group defined by the Bureau of Labor Statistics as "Black and African-American" stood at 6.8 percent. "I am so happy about this News!" Trump tweeted on January 6, pointing out it was "the lowest rate in 45 years."
"Dems did nothing for you but get your vote!" Trump said in another tweet on January 8, also referring to Hispanics, among whom unemployment had fallen.
Yet new Bureau of Labor Statistics data released Friday shows that unemployment among black or African-Americans rose to 7.7 percent in the first month of 2018. The rise defies a long-term trend—unemployment among the group has declined steadily for the past seven years—and represents one of the largest rises in a single month since 2014.
The unemployment rate among American workers as a whole held at 4.1 percent last month.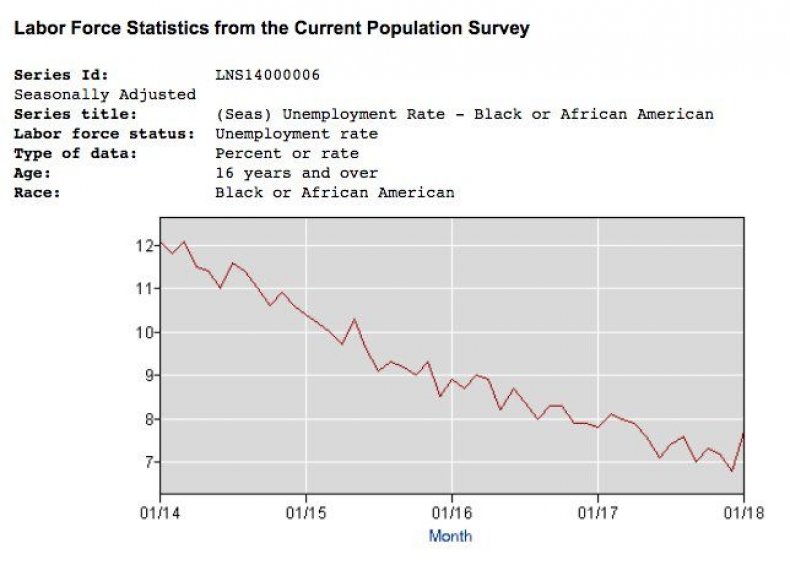 The rise among black or African-Americans nearly brought unemployment among the group back to 7.8 percent where it stood in January 2017, the month of Trump's inauguration.
Read more: Poll finds more Americans think Trump is biased against black people
"I would dare say, if we were talking about national or white unemployment at 6.8 percent, it would not be cause for celebration," Valerie Wilson, director of the Economic Policy Institute's Program on Race, Ethnicity, and the Economy—a liberal think tank—told the Los Angeles Times Friday. The rise could also be a short-term blip in the overall downward trend.
The levels of unemployment among black or African-Americans during Trump's first year in office were last seen in 2000.
Trump has championed large tax cuts passed by Republicans last year as spurring job creation. Last week Trump said his policies were responsible for the fall in African-American and black unemployment.
"Somebody please inform Jay-Z that because of my policies, Black Unemployment has just been reported to be at the LOWEST RATE EVER RECORDED!" Trump tweeted after being criticized by the rapper and businessman during his appearance on CNN's The Van Jones Show last Sunday.
Jay-Z said that Trump was able to keep and maybe accelerate "a bull market under Obama" but criticized the president for comments he has made about members of America's black community as well as the reported description of African nations as "shithole countries."
Jay-Z said: "You're not listening to the voices of the black community who say that's not enough to make up for S-hole countries. That's not enough to make up for insulting black football players, saying all of our communities are terrible."
Following Trump's comments about African nations early last month, a poll last week showed that more Americans now strongly believe Trump has a bias against black people. The numbers showed that 79 percent of black people believe the president is biased against them.
When Trump boasted about the unemployment numbers during his State of the Union address, Congressional Black Caucus members did not clap.