Trump's Border Troops Deployment a 'Profound Betrayal' of U.S. Military, Retired Colonels Say
A group of professors, including two retired U.S. Army colonels, have condemned President Donald Trump's decision to deploy thousands of U.S. troops to the southern border, in anticipation of the arrival of a migrant caravan headed to the U.S. to seek asylum, as a "profound betrayal of our military."
Noting that Trump announced plans to deploy up to 15,000 active duty military troops to the U.S.-Mexico border a week before the midterm elections, the three professors accused the president of exploiting the situation at the border to manipulate the outcome of the November 6 midterm elections in a Sunday op-ed for The New York Times.
"Let us be clear: The president used America's military forces not against any real threat but as toy soldiers, with the intent of manipulating a domestic midterm election outcome, an unprecedented use of the military by a sitting president," wrote Lawrence B. Wilkerson, a retired Army colonel and professor of government and public policy at the College of William & Mary; Isaiah Wilson III, a retired Army colonel and senior lecturer with Yale University's Jackson Institute for Global Affairs; and Gordon Adams, a professor emeritus at American University's School of International Service.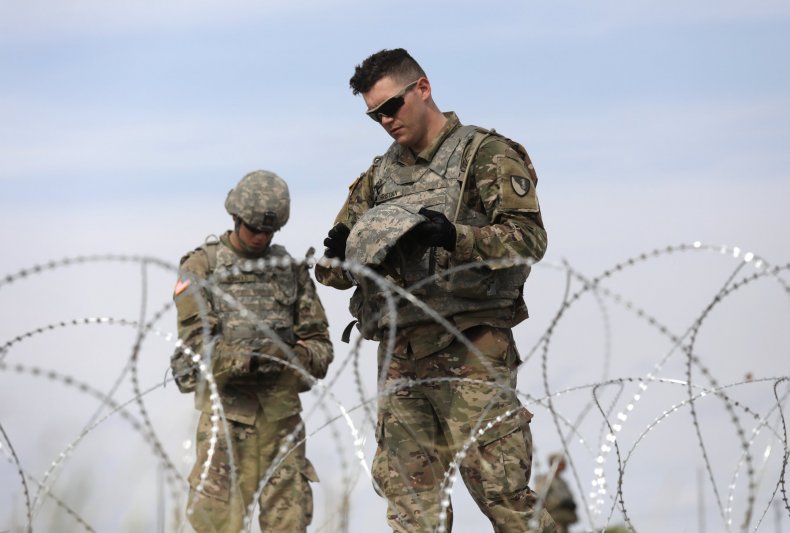 "When partisan actions like this occur, they violate civil-military traditions and erode that faith, with potentially long-term damage to the morale of the force and our democratic practice—all for electoral gain," the three professors said.
While the group did acknowledge that it was not unprecedented for U.S. leaders to order the deployment of troops to the border in the past, they said those deployments have typically only involved the National Guard or smaller troop numbers.
"Presidents of both parties have sent troops to the border, to provide support functions like engineering, logistics, transportation and surveillance," the three professors said. "But those deployments have been generally in smaller numbers, usually the National Guard, and never to stop a caravan of refugees and asylum seekers."
Shooting down recent claims from Secretary of Defense James N. Mattis, that the defense department does not "do stunts," the trio said Trump's deployment "was a blatant political stunt."
"The president crossed a line," they wrote. "The military is supposed to stay out of domestic politics. As many senior military retirees have argued, the forces are not and should not be a political instrument. They are not toy soldiers to be moved around by political leaders, but a neutral institution, politically speaking."
While the group acknowledged that presidents do "generally" use troops politically "in the context of foreign policy decisions that have political implications," such as with the toppling of Saddam Hussein, "those are not the same thing as using troops at home for electoral advantage."
Related: Mexicans protest migrant caravan arrivals at U.S. border: 'They are invaders'
"Electoral gain, not security, is this president's goal," they wrote. "Two of us served in the military for many years; while all troops must obey the legal and ethical orders of civilian leaders, they need to have faith that those civilian leaders are using them for legitimate national security purposes. But the border deployment put the military right in the middle of the midterm elections, creating a nonexistent crisis to stimulate votes for one party."
The three professors are not the first critics to accuse Trump of having exploited news of migrants' plights to stir anti-immigration sentiments and rally support for Republicans.
The U.S. leader has faced widespread criticism over the deployment, with multiple Pentagon sources within the Department of Defense telling Newsweek that many senior-level department officials believe the move was a politically motivated waste of money.
The president has batted away those claims, however, asserting that he has long had a tough stance on immigration, before even launching his 2016 campaign to become president.
Despite the president's claim that the Pentagon could deploy up to 15,000 active troops, the number "peaked" at 5,900 and was not expected to increase, Deputy Defense Secretary Patrick Shanahan said Thursday, according to CNN.