Trump's Border Wall Must Be Built, 380 Sheriffs Tell Congress
Hundreds of sheriffs from 40 states have called on Congress to fund President Donald Trump's initiative to build a border wall between the U.S. and Mexico.
"Without border security and immigration reform, more Americans will continue to be victims of crime. Now is the time to act," a letter signed by 380 sheriffs said.
"Further delay and inaction on immigration reform will cost more innocent lives, more financial hardships, and an even greater decline in the public trust that is essential to the preservation of our Republic," the letter added.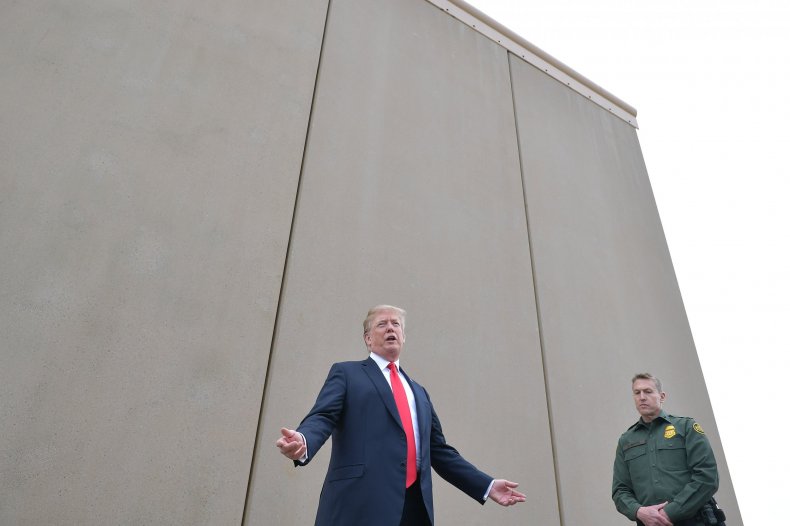 Sheriff Thomas M. Hodgson of Briston County, Massachusetts was the driving force behind the letter; he encouraged Congress to make moves against border and sanctuary policies.
"These sanctuary policies directly undermine and limit cooperation and collaboration between local, state and federal law enforcement, making it harder for America's sheriffs to protect our citizens and legal residents," he added.
The move was backed by the National Sheriff's Association, with the group's Executive and CEO Jonathan Thompson issued a statement: "Congress' inaction undermines sheriffs' ability to protect our citizens. Sheriffs across this country have signed this letter because Congress cannot continue to weaken our efforts to make our communities as safe as possible."
The Trump administration has previously tried to demand that Congress put money toward border wall plans. Mexico has refused to fund its development, despite Trump repeatedly stating throughout his 2016 presidential election campaign and presidency that he would make the country pay for the wall.
The president also recently proposed the idea of funding construction of the border wall through the U.S. military budget, multiple sources told CNN on Tuesday.
Trump pitched the idea in a private meeting last week with House Speaker Paul Ryan while reviewing the omnibus spending bill Trump signed into law last week, which includes $1.6 billion for border security, including the development of the wall.