Trump's Candidates Sweep Texas Primary Despite Challenges From GOP
Donald Trump celebrated his candidates' victories in Tuesday's Texas primary elections, which gives the former president a boost in his campaign to remain the leader of the GOP.
The Texas primaries were the first test of the power of Trump's political endorsements so far this year. He used his endorsements as means of influencing elections, often touting the power he believes they hold. While the Texas endorsements failed to deter primary challengers from entering the races, they may have reinforced Trump's ability to influence them since leaving the Oval Office.
Texas Republican Governor Greg Abbott faced seven challengers as he seeks reelection and Trump's allies weren't in lockstep when it came to endorsements. Jenna Ellis, Trump's former attorney, and Katrina Pierson, a former campaign adviser, backed former State Senator Don Huffines for his gubernatorial bid in the Lone Star State.
Huffines and former Representative Allen West jointly campaigned on the push to move Texas farther to the right. They criticized Abbott for a temporary mask mandate during the pandemic and advocated for sending more troops to the southern border.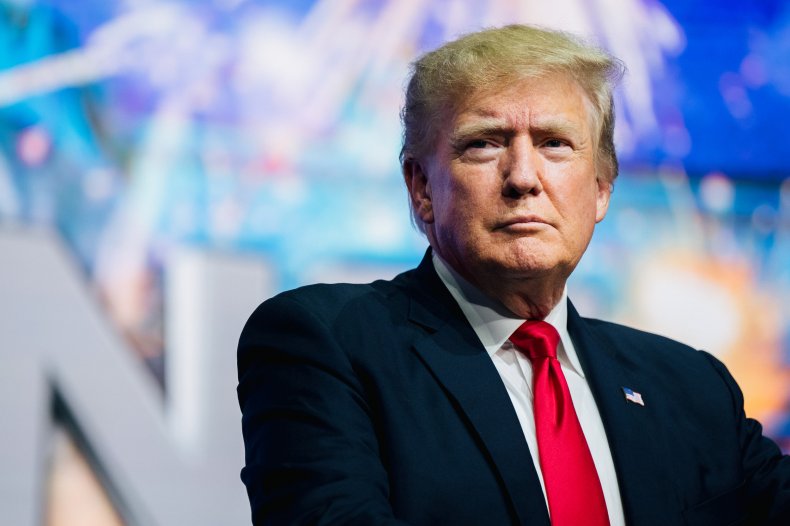 Their campaigns failed to rally voters enough to oust Abbott from office as he successfully defended his role as the leader of the state. With nearly 70 percent of the vote, Abbott sailed through the primary and is now focusing his attention on November's general election in which he will challenge former Democratic Representative Beto O'Rourke.
"Big night in Texas! All 33 candidates that were Trump endorsed have either won their primary election or are substantially leading in the case of a runoff," Trump said in a statement. "Governor Abbott and Lieutenant Governor Dan Patrick have won in a landslide. Thank you, and congratulations to all!"
Meanwhile, Texas Attorney General Ken Paxton didn't have such an easy time in his Tuesday primary. The Republican failed to reach the 50 percent threshold needed and is now headed for a May runoff where he'll square off against Texas Land Commissioner George P. Bush, who came in second place with 22 percent of the vote.
It wasn't entirely surprising that Paxton didn't win outright, as he only garnered 47 percent of the vote in a February poll. The incumbent attorney general's campaign has been met with corruption allegations and attacks on his failed legal challenge to the 2020 election results.
Despite what happened in the Tuesday primary, Paxton is considered the favorite to win in the upcoming runoff, although his opponent has a well-funded campaign and could increase support with the other candidates out of the race.
Of the 29 endorsements Trump issued in Texas' primary, 26 candidates won their elections outright, sending them to the general election in November. Three candidates received the most support of any contender in the race but failed to garner 50 percent and will move on to a runoff election.
The former president has a winning record of endorsements, but he also backs people who are likely to win their elections. He frequently throws his support behind incumbents, who historically have a better chance of winning elections than challengers. In this contest, Trump also backed several people who were running unopposed.
Texas' primaries also left a significant number of seats open for Republicans to set their sights on. Trump backed seven candidates in open races, and five of them won the primary election outright. Two of his candidates in open races are headed to runoffs.
While Tuesday's primaries are the first indications of Trump's influence on his own party, November will be the true test of his ability to mobilize voters.