Trump's Chief of Staff Violated Georgia State COVID Restrictions With Daughter's Wedding
White House Chief of Staff Mark Meadows reportedly violated the state of Georgia's COVID-19 restrictions in May when he attended his daughter's wedding, photographs from the event show.
Meadows walked his daughter, Haley, down the aisle on May 31 at the event hosted at the Biltmore Ballrooms in Midtown Atlanta, The Atlanta Journal-Constitution reported. The lavish, black-tie wedding featured crystal chandeliers, marble floors and a frame of soaring Roman arches, but no face coverings to help mitigate the spread of coronavirus.
At the time of the wedding, both statewide and city executive orders banned gatherings of more than 10 people. The Meadows wedding included around 70 guests, including U.S. Rep. Jim Jordan, an Ohio Republican, according to photographs obtained by AJC.
Newsweek was unable to independently review the images, but guests could be seen clustered closely together in the same indoor space throughout the evening, AJC reported. The bridal party featured 11 bridesmaids and eight groomsmen, and the event boasted a live wedding band followed by a three-course seated dinner.
Fulton County, home to Atlanta, reported 66 new COVID-19 cases on May 31. The county, Georgia's most populated and hardest-hit by the virus, did not begin seeing record new case numbers until late July. Statewide, Georgia reported 730 new coronavirus cases on May 31, according to its health department.
Meadows, who became President Donald Trump's chief of staff on March 30, was noted as absent from the White House for an out-of-town wedding in several media reports from the time.
Newsweek contacted the White House for comment, but did not hear back in time for publication.
Georgia Governor Brian Kemp signed an executive order May 12 that explicitly banned all gatherings of more than 10 people physically present at a single location. A "single location" is later defined in the order as a "space where all persons gathered cannot maintain at least six feet of distance between themselves and any other person," and constitutes 300 square feet of public space.
Kemp's order stated that "groups of more than ten people are permitted if their grouping...is the result of being spread across more than one Single Location," and that "no more than ten patrons should be allowed in the facility per 300 square feet of public space."
"Any person who violates this Order shall be guilty of a misdemeanor," the order read. "Officials enforcing this Order should take reasonable steps to provide notice prior to issuing a citation or making an arrest."
Myrna Antar, president of Novare Events, wrote in an email to Newsweek that the company verified it would act lawfully and in compliance with Kemp's order before allowing the wedding to go forward.
"While we do not comment on client's events, we can confirm that the entire 16,000 square feet of the space that was reserved for this small wedding—greatly exceeding the per person square footage allowed by the Order," Antar wrote.
Kemp issued another statewide order that went into effect June 1, the day after the wedding, which specified for the first time that event venues must follow the same safety guidelines as restaurants, AJC reported. This order did raise the number of guests allowed at the venue from 10 to 25, but the Meadows wedding still would've exceeded that number.
According to the Novare Events website, which manages special events at the Biltmore, Kemp "addressed wedding and special event venues" at a June press conference, "and we are now open for business!"
Guests' safety is Novare's "utmost concern," its website read. There are no longer government limitations on the size of private events, but the venues will continue following the one guest per every 30 square feet of space "where applicable and practical."
As for Novare's face covering policy, all of its staff members and vendors will wear masks and gloves "at all times." But event guests "will not be required to wear masks," according to its website.
Kemp never signed an executive order mandating that face masks be worn in all public spaces in Georgia, and instead has pushed against local officials who have sought to do so. Atlanta Mayor Keisha Lance Bottoms signed an executive order in July requiring that face coverings be worn by everyone in the city.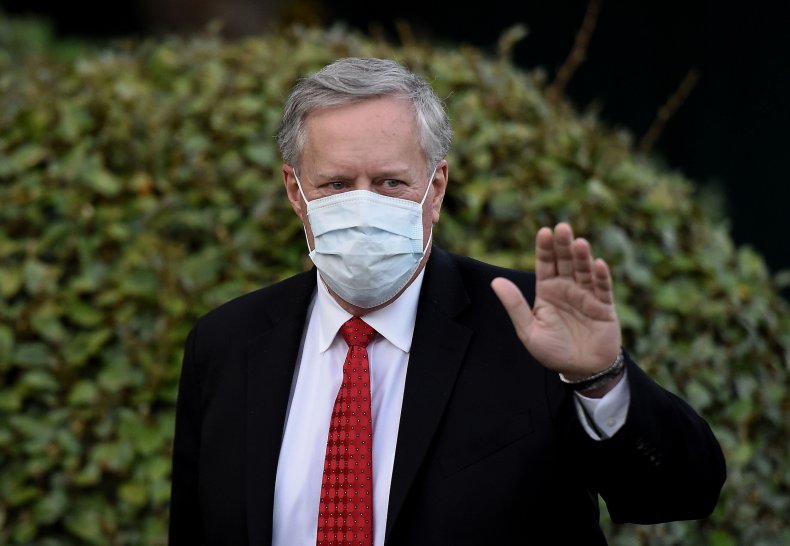 The news comes amid a coronavirus crisis inside the White House, as at least 34 people in Trump's orbit—including the president himself—have tested positive for the virus.
Hours after Trump announced his own positive diagnosis on Friday, Meadows told reporters he expected that more people with ties to the White House would contract the deadly virus.
"We've tested all of our core staff, and I can tell you that Mr. Kushner, Mr. Scavino, myself, a number of us have been tested and come back with negative results," Meadows said. "And yet, at the same time, I fully expect that as this virus continues to go on, other people in the White House will certainly have a positive test result."
Update 3:38 p.m. ET:This article has been updated to include additional parts of Governor Brian Kemp's executive order to further clarify the circumstances surrounding the wedding. This article also contains a comment from Novare Events.