Trump's Coronavirus, Protest and Russia Ratings Plummet to 30s as Republicans Reject Delaying Election
President Donald Trump's approval rating on handling the novel coronavirus pandemic, the ongoing protests and relations with Russia has plummeted to the 30's, as he faced backlash from Republicans after he suggested to delay the November election, according to a new poll.
According to a survey by ABC News/Ipsos unveiled Friday, 34 percent of respondents said they approve of Trump's handling of the novel coronavirus pandemic, while 66 percent said they disapprove. The poll shows a decrease in his approval rating for this category as it remained in the mid to low 40's throughout April, and saw his highest in a poll conducted from March 18 to March 19, when he received a 55 percent approval rating.
Additionally, this poll also found Trump receiving a low approval rating for his response to the ongoing anti-racism protests following the death of George Floyd, as well the U.S.' relations with Russia. About 36 percent said they approve of Trump's handling of the protests happening across the country, compared to 64 percent that said they disapprove.
In regard to Trump's handling of relations with Russia, about 36 percent said they approve, while 63 percent said they disapprove.
The ABC News/Ipsos study surveyed 730 U.S. adults from July 29 to July 30. It has a margin of error of plus or minus 4 percentage points.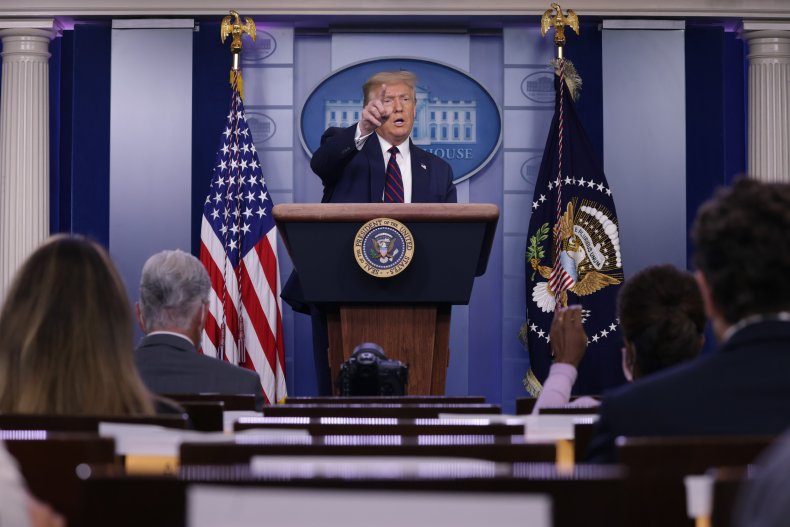 The latest findings come shortly after the president faced backlash from Republicans after he suggested the November elections should be delayed.
"With Universal Mail-In Voting (not Absentee Voting, which is good), 2020 will be the most INACCURATE & FRAUDULENT Election in history. It will be a great embarrassment to the USA. Delay the Election until people can properly, securely and safely vote???," Trump wrote in a tweet on Thursday.
He denied wanting to delay the elections shortly after, during a press conference, saying: "I don't want to delay, I want to have the election. But I also don't want to have to wait for three months and then find out that the ballots are all missing and the election doesn't mean anything."
Despite his denial, several prominent Republicans, including Senate Majority Leader Mitch McConnell and South Carolina Senator Lindsey Graham, pushed back on the president's initial suggestion.
"Never in the history of this country, through wars, depressions and the Civil War, have we ever not had a federally scheduled election on time. We will find a way to do that again this November 3," McConnell told local Kentucky news station WNKY.
While speaking to CNN about Trump's tweet, Senator Graham said, "I don't think that's a particularly good idea."