Trump's Coronavirus Response Approval Rating Drops 10 Points In Poll—But It's Not Hindering His Reelection Campaign
Data released Tuesday by Emerson College Polling showed that fewer Americans believe President Donald Trump is doing a good job handling the coronavirus pandemic than they did only a month ago.
In March, 49 percent of those polled approved of the way Trump handled the U.S. response to the coronavirus outbreak while 41 percent disapproved of his actions.
April's poll, however, shows that only 38.9 of those polled indicated they approved of Trump's handling of the coronavirus pandemic, a drop of nearly ten points. Trump's disapproval rate was much higher, resting at 51.3 percent.
Former Vice President Joe Biden maintained a six-point lead over Trump, the same span as was reported in March. While Biden was ahead of Trump in voter support by 53 percent to 47 percent, April saw Biden leading Trump 48 percent to 42 percent.
Even though Trump's approval ratings concerning how he has handled the country's response to the coronavirus have dropped, those surveyed still believed he would win a second term as president. While 43.3 percent of participants in the poll believed Biden would win the election, 56.7 percent believed Trump would emerge the victor.
Voters were nearly split on the issue of Biden's favorability. Out of those polled, 40.4 percent held a favorable opinion of the former vice president while 40.8 percent held an unfavorable opinion of Biden. More people have a higher opinion of former President Barack Obama, under whom Biden served. Obama garnered a favorable opinion of 56.1 percent from those surveyed with 32.7 percent holding an unfavorable opinion of him.
"While Trump is struggling to handle the coronavirus epidemic," said Director of Emerson College Polling Spencer Kimball, "it appears Biden has his own image issues with voters and may need help from former President Obama on the campaign trail to try and transfer the positive image voters have of Obama to Biden."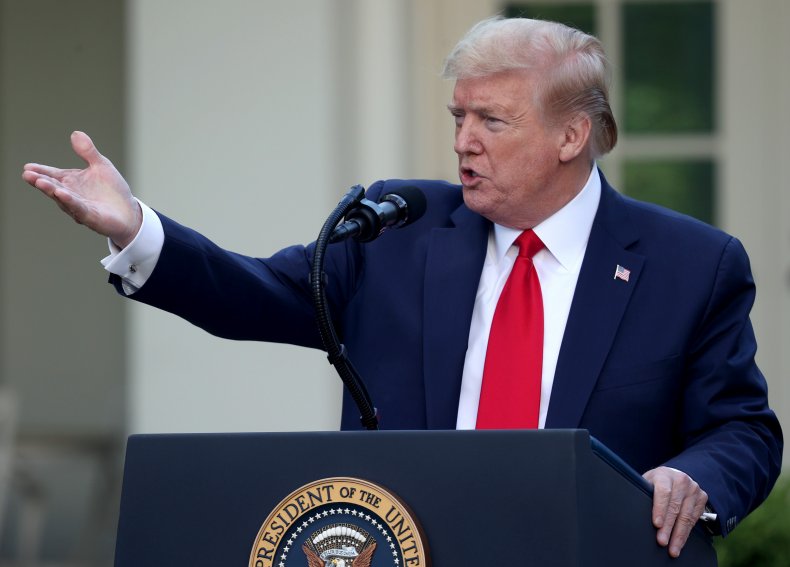 Newsweek reached out to the Biden campaign for comment.
"Leadership starts at the top and Americans are seeing a bold Commander in Chief lead our nation through this invisible war," said Ken Farnaso, deputy press secretary for the Trump Campaign, in a statement sent to Newsweek Wednesday. "President Trump's proven record of success ushered in the largest economic renaissance in American history. He did it once, and when we've beat the coronavirus, the American people know he will do it again."
Biden was projected to be the winner of Tuesday's Ohio Democratic primary by the Associated Press. He became the Democratic Party's presumptive nominee after Vermont Senator Bernie Sanders suspended his presidential campaign in April. Sanders remained on the ballot in Ohio and could potentially still win some of the state's delegates.
With no competition, Trump also was declared the winner of the state's Republican primary by the Associated Press, gaining a total of 82 delegates.
Voting in the Ohio primary was conducted primarily by mail-in ballots. Originally scheduled for March, Ohio Governor Mike DeWine postponed in-person voting because of the threat of community spread coronavirus. However, disabled persons and those with no mailing addresses were allowed to cast their votes on Tuesday at local offices of the election board.
DeWine initially wanted to push primary elections out until June, but Ohio state law does not provide the governor with that authority. Instead, Ohio's General Assembly passed legislation that gave a majority of residents until Tuesday to cast vote-in or absentee ballots.
Trump has railed against mail-in voting in the past, endorsing the concept of voting in person and presenting identification to election officials during a coronavirus task force meeting in April.
"You should have a picture for voting," Trump said. "It should be called Voter ID, they should have that. And it shouldn't [be] mail-in voting, it should be you go to a booth and you proudly display yourself."
Updated 6:32 p.m. EST 04/29/2020: This story has been updated to include a statement from President Donald Trump's reelection campaign.