American elections are global models of freedom and fairness because we have held firm to our systems of checks and balances for centuries.
But the Jan. 6 hearings are making clear just how close one man came to clinging to power despite losing an election by millions of votes, and after exhausting legitimate efforts to challenge that result. Even more disturbing, if the same events transpired today, former President Donald Trump would likely have better success. There is every chance he would force the system to crumble.
Several of the battleground states where Trump attempted to manipulate election results are losing the leaders who put country over party when it mattered most. Arizona's Republican Gov. Doug Ducey resisted pressure to call a special session to allow the legislature to overturn the certified results. He is not running for re-election, and the current Republican frontrunner has stated that she would not have certified Biden's victory had she been governor.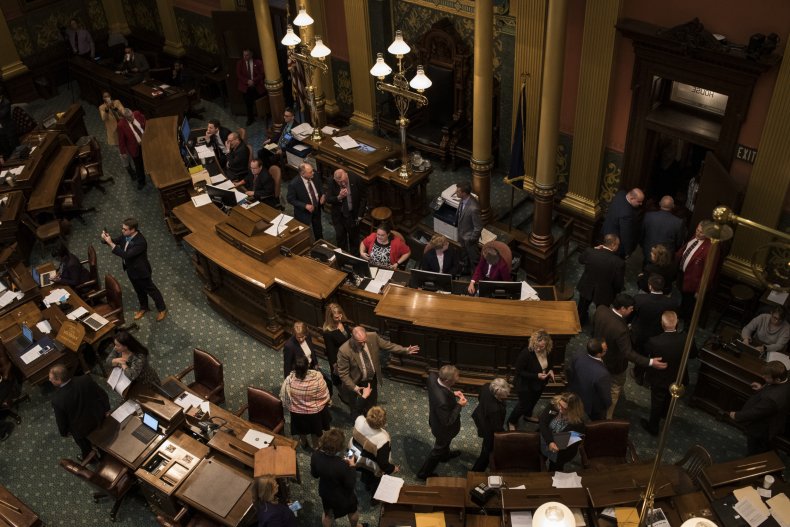 Likewise, in Michigan, the lone Republican member of the Board of State Canvassers who voted to certify the 2020 election results was replaced, leaving the prospect of a tie vote in that body looming in 2024. Key state officials are empowered to decide a tie — and the Republican nominees for secretary of state and attorney general are both Trump loyalists who don't accept Michigan's certified 2020 election results.
In Pennsylvania, where the power to certify election results lies with the executive branch, the Republican nominee for governor, State Sen. Doug Mastriano, was a leader in the attempt to secure Pennsylvania's electors for Trump.
Pro-democracy advocates have done heroic work outright defeating or holding the line against the worst threats. In 2021, advocates helped stop a dangerous bill in Texas that, among other things, would have allowed candidates to sue to void election results with hardly any evidence. Just this year, Arizona lawmakers sought to pass a bill that would have allowed the legislature to audit or even invalidate the results of any election, only to fail to move the bill out of committee following intense opposition.
Nevertheless, our research finds that 19 states enacted new laws to interfere with election administration in 2021. And these attempts to chip away at our sound foundation of nonpartisan elections are picking up steam: 21 states have already enacted new laws with the intent of interfering with legitimate election results in 2022. Bills introduced would give state legislatures or other partisan bodies more direct control over local election conduct, vote counting, or certification. For example, a law passed last year in Georgia included provisions to allow the state elections board — which is made up of political appointees — to investigate local election superintendents and replace them. This process is already underway in Fulton County, the most populous county in the state.
A new Florida law creates an Office of Elections Crime and Security, consisting of 15 non-sworn investigators and at least seven special law enforcement officers. A new Georgia law empowers the Georgia Bureau of Investigations to investigate potential violations of election law.
Prior efforts to insert criminal law enforcement into the election process have yielded few gains for voters, despite a significant investment of taxpayer dollars. For example, over the past several years, the Texas attorney general's office has housed an "Election Integrity Unit" dedicated to independently investigating and prosecuting alleged election offenses. In 2021, despite a $2.2 million budget, the unit closed just three cases. These substantial resources could be much better spent if directed to support — rather than prosecute — local election officials, who often receive insufficient funding to serve their voters most effectively.
States have also attempted to interfere with the vote counting and certification process by imposing partisan election reviews, such as Arizona's ineffective – and costly – Cyber Ninjas "audit." Twenty-four states considered 70 bills this year that would require unnecessary, costly, often partisan reviews of election results. Some of these efforts would bring in people with no expertise in elections administration to lead these reviews, while others target only specific jurisdictions. What they share is that they are unnecessary, typically politically motivated, and wrongly validate unfounded concerns about the accuracy of our election results.
All these efforts — pushed by far-right extremist legislators — along with others not mentioned here, are intended not to validate election results, but to subvert elections themselves. Indeed, the Jan. 6 hearings are bringing into sharp relief what happens when politicians will risk everything to cling to power: Duty betrayed. Institutions frayed. Injuries sustained. Lives lost.
So, what does this all mean? It means a very real scenario exists where the will of the American people is overturned by politicians in the 2024 elections. It means we're likely to see even more efforts from lawmakers who want to seize control of our democratic process. Most importantly, it means every voter, regardless of their politics, must demand honesty and integrity from our government officials so that now more than ever, our elected leaders put country over party — so that in 2024, 2028 and in future decades when our children and grandchildren cast their ballots, fair and free elections endure.
Megan Lewis is the co-founder and executive director of Voting Rights Lab, a policy hub and legislative tracking center leading the fight against voter suppression and transforming voting systems in all 50 states.
The views expressed in this article are the author's own.