Florida Republican Congressman Matt Gaetz said Friday that if coronavirus can infect President Donald Trump, then "no lockdown" or social distancing measures can possibly keep it from spreading to the average American.
Gaetz told Fox News host Tucker Carlson that he's traveled with Trump frequently, and if the intensive testing measures taken by the White House weren't enough to prevent the president from becoming infected then "there's no place" COVID-19 could be stopped from spreading. He said the country must continue to re-open as Trump himself has called for because lockdown and social distancing protocols are futile.
Gaetz touted the strength of Trump, who announced he tested positive early Friday, saying people will soon be talking about whether "coronavirus survived Trump" instead of the other way around.
Both Gaetz and Carlson agreed the U.S. should focus on therapeutics and the development of a vaccine rather than enforcing "draconian" restrictions to daily life. Last March, the congressman mocked initial coronavirus pandemic reports by wearing a gas mask into Congress for a vote.
"If this virus can get into the Oval [Office], into the body of the president, there is no place that it can not possibly infect one of our fellow Americans," Gaetz told Carlson Friday evening. "And that's why it's so important to continue executing on President Trump's strategy to allow our country to open up, but then to ensure we protect the vulnerable, because there is no lockdown that can be a panacea to save everyone from everything and this is proof-positive that's the case."
"I hope that in a matter of days or weeks we're not talking about how Trump survived the coronavirus, but maybe how the coronavirus survived Trump," Gaetz added. "He is the hardest-working man I have ever met, he is one of the strongest, and I wish him all the best."
At least three Republican senators have announced they've tested positive for coronavirus since Friday, with all of them having attended a White House event last weekend for Judge Amy Coney Barrett's Supreme Court nomination. Despite the White House testing protocols, Trump did not wear a mask at the Barrett nomination event, less than one week before announcing he and first lady Melania Trump tested positive for COVID-19 early Friday.
"If the president can get this virus, then it tells you a lot about our ability to protect ourselves from it," Carlson said, noting that college students are subjected to "draconian" social distancing measures but are still testing positive. "Maybe we should spend more time working on therapeutics to help people once they're infected, why does that occur to no one?"
Speaking on Fox News Saturday morning, fellow Republican Congressman Tom Rice of South Carolina said Trump likely contracted coronavirus. Rice, who previously contracted coronavirus himself in June, blamed his son for having "gone out to a restaurant" in the days prior to his positive test. The GOP congressman praised Trump and ridiculed former Vice President Joe Biden in the wake of the president's diagnosis.
"I'm glad that my commander-in-chief is not hiding in his basement in fear of this when he expects first responders to go to work. I'm glad a real does what he expects other people to do as well," Rice told Fox & Friends Saturday.
Gaetz on Friday voted against a House measure aimed at reassuring Americans that an orderly transfer of presidential power will occur after the November 3 election no matter the outcome. He gave a floor speech labeling the non-binding resolution "part of the Democrats' plan to lay the groundwork...for the ousting of an elected leader and calling it democracy."
Newsweek reached out to Gaetz's Florida offices for additional remarks Saturday morning.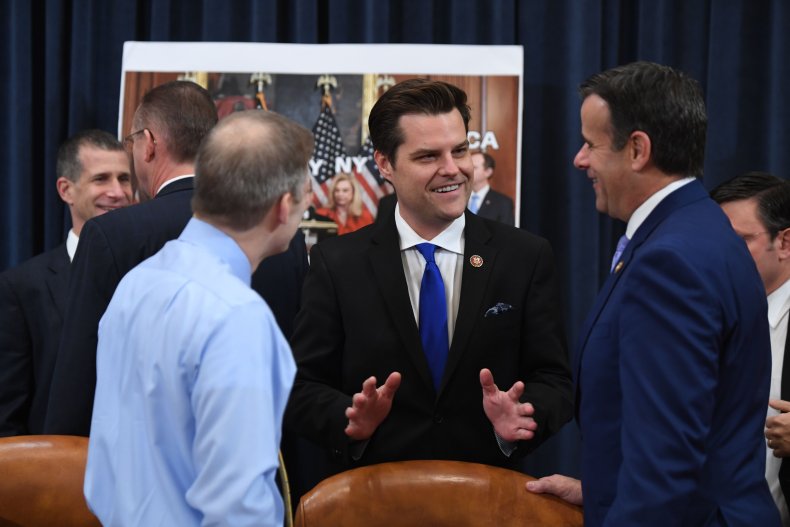 About the writer
Benjamin Fearnow is a reporter based out of Newsweek's New York City offices. He was previously at CBS and Mediaite after working as a news curator at Facebook. Fearnow has pieces published in The Atlantic as well as stories published about him in Wired and The New York Times. He attended the Columbia University School of Journalism after graduating from Indiana University-Bloomington. Email: b.fearnow @ newsweek [dot] com.