Trump's COVID Case Leads to Surge in Republicans Concerned About Getting the Disease: Poll
In the aftermath of President Donald Trump's COVID-19 diagnosis, polling data reflects a significant increase in public concern about transmission of the respiratory illness. Results of a new ABC News-Ipsos survey, published Sunday morning, observed the spike primarily among Republican participants.
The study showed most individuals surveyed who identify with the Republican Party were either apprehensive about contracting the disease themselves, or concerned someone they know will test positive, in responses collected on Friday and Saturday.
According to ABC News, 70 percent of Republican respondents said they were "very concerned" about potential COVID-19 in the recent national poll, which surveyed 506 adults selected at random. The poll's margin of error is plus or minus 5 percentage points. Republicans accounted for 25 percent of the survey's total participants, while Democrats accounted for 30 percent. The remaining participants identified as independents.
The latest poll's results pointed to a marked uptick in COVID-19 concerns expressed by Republican adults compared to responses collected two weeks ago. In September, just 52 percent of Republicans who participated in an earlier survey noted their concerns about the new coronavirus potentially affecting them, or someone they know.
Although the survey saw an overall increase in "concerned" responses from participants on Friday and Saturday compared to last month—81 percent said they were either "very" or "somewhat" concerned in responses to the latest poll, up from 72 percent in September—Republicans showed the most substantial shift in attitude when data was segmented by political affiliation. Responses from Democrats, whose party leaders have generally acknowledged the virus' threat and followed public health advice to a greater extent than their GOP counterparts, remained the same between September and October.
The ABC News-Ipsos survey also included responses directly related to Trump's COVID-19 diagnosis. Results showed roughly 3 out of 4 U.S. adults who participated believe Trump did not take appropriate precautions to reduce his chances of contracting the viral respiratory syndrome.
The president announced that he and first lady Melania Trump tested positive for COVID-19 early Friday morning, shortly after confirming his adviser, Hope Hicks, contracted the disease. Three GOP senators and former New Jersey Governor Chris Christie, also a Republican, have tested positive for the virus since then. Although the president's physician originally said both Trumps would quarantine at the White House, the president was later transferred to Walter Reed National Military Medical Center for treatment, where he remained admitted on Sunday.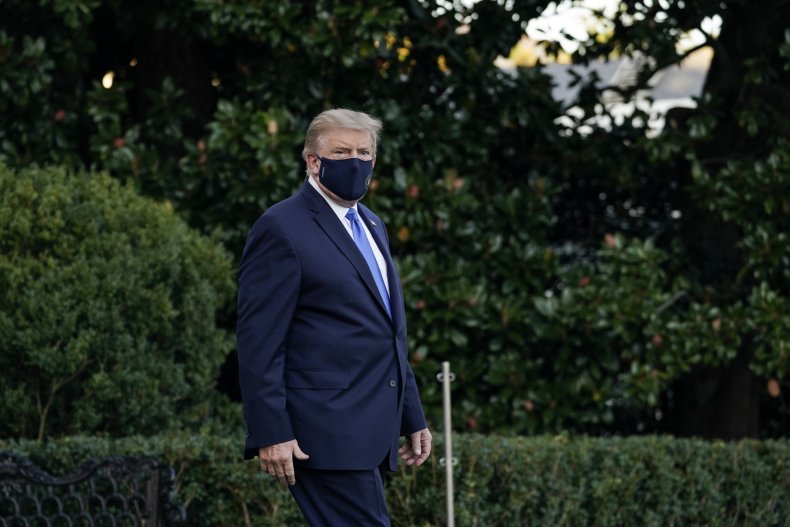 On Saturday, White House Chief of Staff Mark Meadows called Trump's health status over the 24 hours prior "very concerning," but said he was "very optimistic" about subsequent improvements to his health during a Fox News interview that night.
Trump shared an update about his condition Saturday afternoon, in a video message recorded from Walter Reed. In it, the president told viewers he was feeling much better and thanked medical personnel who had been overseeing his care.