Trump's COVID Diagnosis Won't Delay Amy Coney Barrett SCOTUS Nomination Hearings
President Donald Trump's positive diagnosis for the coronavirus throws a wrench into his campaign plans, but Senator Lindsey Graham plans to proceed with Judge Amy Coney Barrett's confirmation to the Supreme Court as planned.
Kevin Bishop, a spokesperson for Graham, who heads the Senate Judiciary Committee, told Newsweek the process of confirming Barrett to the court is continuing with "no change." Hearings before the committee are set to begin October 12, and Senate Majority Leader Mitch McConnell is committed to bringing Barrett's nomination to the floor for a vote.
Trump announced early Friday morning that he and first lady Melania Trump had tested positive for the virus and that they were quarantining. According to guidelines from the Centers for Disease Control and Prevention (CDC), the couple should isolate themselves for a minimum of 10 days after a positive test result, and anyone who had "close contact" with them should quarantine for 14 days since their last in-person interaction.
The CDC defines "close contact" as being within 6 feet of a person for at least 15 minutes. So if members of the Senate Judiciary Committee met with Trump or the first lady as recently as Monday in a situation that fits the definition of "close contact," they could still be under quarantine restrictions at the time of the hearings.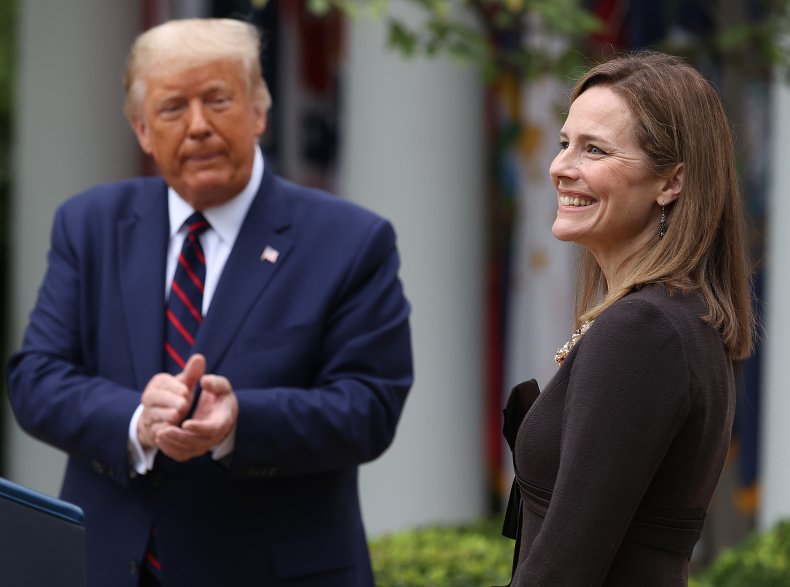 However, it's entirely possible that none of the committee members have been in what's considered "close contact" with the president or his wife, making their health potentially irrelevant to the proceedings.
Michael Zona, a spokesperson for Republican Senator Chuck Grassley, told Newsweek he will continue to follow guidance from the Senate attending physician, the CDC and local health officials.
"We are not aware of any exposure to anyone who has tested positive for COVID-19. Senator Grassley continues to take precautions to defend against contracting the virus," Zona said.
Newsweek reached out to all members of the Senate Judiciary Committee to confirm they haven't been in close contact with Trump, the first lady or Hope Hicks, senior counselor to the president, who also tested positive.
Senator Mike Lee said in a statement he tested positive for the coronavirus on Thursday after testing negative while visiting the White House earlier in the week. He will remain isolated for the next 10 days, but he assured Graham he will be back for Barrett's Judiciary Committee hearings.
Among the members of the Judiciary Committee is Senator Kamala Harris, Joe Biden's running mate. Her office confirmed that she tested negative on Friday. Spokespeople for Senators Ted Cruz and Patrick Leahy confirmed that they were not exposed.
On Friday, White House chief of staff Mark Meadows confirmed the president had "mild symptoms" but was in "good spirits" and "very energetic." He added that Trump's doctor will continue to provide "expertise" but won't share whether the president is being treated with hydroxychloroquine, a treatment Trump has promoted in the past.
"I fully expect that as this virus continues to go on, other people in the White House will certainly have a positive test result," Meadows said.
This story has been updated with a comment from Senator Mike Lee.