Trump's COVID Task Force Vowed to Quit if One Doctor Was Fired
Members of former-President Donald Trump's White House COVID-19 task force made a pact during the pandemic to all resign from their positions if any one of doctors on the team were fired by the then-president.
Dr. Deborah Birx, who served as the response coordinator for the task force, revealed on Monday that "all the doctors in the doctor group"—including Dr. Anthony Fauci, Dr. Robert Redfield and Dr. Stephen Hahn—made a "pact" while serving under the Trump administration in 2020.
Birx told Good Morning America's George Stephanopoulos that the deal was "if any one of the individuals were under so much pressure and they were fired that we would all leave together from the task force."
The task force was created in January 2020 as part of the Trump administration's response to the pandemic. But, tensions and infighting between members of the force and the president quickly emerged as the administration scrambled to agree on how the federal government should fight the virus—just as Trump's approval ratings began to fall and the national death toll began to climb.
In his final year in office, Trump consistently undermined the health guidance of his task force, encouraging the public to pushback on lockdowns imposed by Democratic governors, publicly questioning the efficiency of face masks and holding campaign rallies that violated state capacity limits, among other things.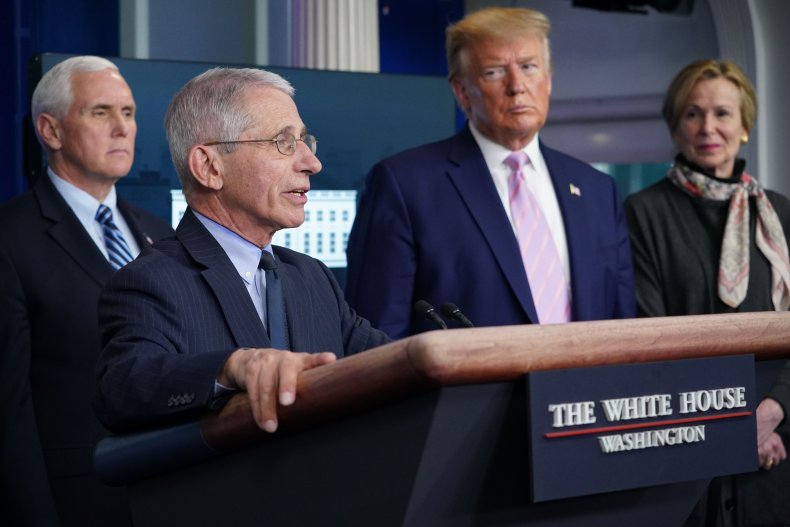 The former president was also known to have a contentious relationship with Fauci, who heads the National Institute of Allergy and Infectious Diseases. Trump repeatedly attacked the nation's leading infectious disease expert as Fauci became more vocal with his frustrations working under the Trump administration.
In his first press briefing after President Joe Biden took office, Fauci described a "liberating feeling" of no longer having to work under Trump.
On Monday, Birx said the pact among the White House doctors was important to her because she also "really wanted to protect Bob Redfield and Steve Hahn and they were under enormous pressure."
As the task force and then-president Trump clashed over contradicting COVID recommendations, many of the doctors faced immense public backlash that included calls for their resignation and even death threats.
Birx also recalled a particular challenging day for the task force, when Trump joined one of the daily press briefings and talked about injecting disinfectant as a cure for COVID.
"Many people don't know me, but I'm a pretty direct person. So I immediately went to his most senior staff and to [Vice President Mike Pence's lead staffer] Olivia Troye and said this has to be reversed immediately," she said. "By the next morning, the president was saying it was a joke, but I think he knew by that evening, clearly, that it was dangerous."
She said that although she was muzzled by the White House at one point, it was on a national level, which allowed her to continue speaking to state and local press.
"That was always the dichotomy: what was being said versus what was being done," Birx said. "That was my metric: Are we making progress on the core parameters that I think are critical to saving American lives?"
Birx's new book, Silent Invasion: The Untold Story of the Trump Administration, Covid-19, and Preventing the Next Pandemic Before It's Too Late will be published Tuesday.