Trump's COVID Testing Czar Admonishes GOP Congressman-Elect for 'Phony Pandemic' Comment
Admiral Brett Giroir, the Trump administration's coronavirus testing czar, reacted to a clip of GOP Representative-elect Bob Good calling the coronavirus outbreak a "phony pandemic," saying he would "be happy to supply him technical assistance" to better understand the severity of the health crisis.
"Of course it's a pandemic. There's a definition of a pandemic and that is a virus that is raging across the world, and this clearly is doing that," Giroir told CNN's John Berman on Wednesday morning. "We have hundreds of thousands of dead Americans, we'll have millions of people around the world. This is not phony, this is not fake. It is serious."
Giroir's comments come as the U.S. reported nearly 200,000 new coronavirus cases on Wednesday during the nation's unprecedented surge in infections, according to data from Johns Hopkins University. Over 300,000 Americans have died so far from COVID-19, with nearly 3,000 new deaths reported on Tuesday and more than 112,000 hospitalized across the country.
But Good, who will become the new representative for Virginia's largest district on January 3, spoke out against the pandemic and restrictions at a Trump rally Saturday in Freedom Plaza in Washington, D.C.
"This looks like a group of people that gets that this is a phony pandemic," Good told the thousands of pro-Trump demonstrators who rallied near the White House. "It's a serious virus, but it's a virus. It's not a pandemic."
In Good's own district, the COVID-19 death toll has surpassed 300 as of Wednesday, based on Johns Hopkins' county data. In Virginia, more than 2,300 people were hospitalized with COVID-19 as of Tuesday, after the number of statewide hospitalizations grew by more than 18 percent last week, The Washington Post reports.
As the first approved coronavirus vaccine rolled out across the country this week and was administered to health care workers who have been on the front lines since March, Giroir warned that the positive developments shouldn't bring a lapse in precautions and safety measures.
"We're going to beat this because we have vaccines, and that is a way to put the nail in the coffin for this virus. But until then, we have to take it with utmost seriousness," Giroir said. "Again, tens of thousands of Americans can either live or die, depending on what we do to protect them until the vaccine gets widespread."
He added, "It's what I live, breathe, think, dream every single day, and all of us in America need to be that focused in order to save lives."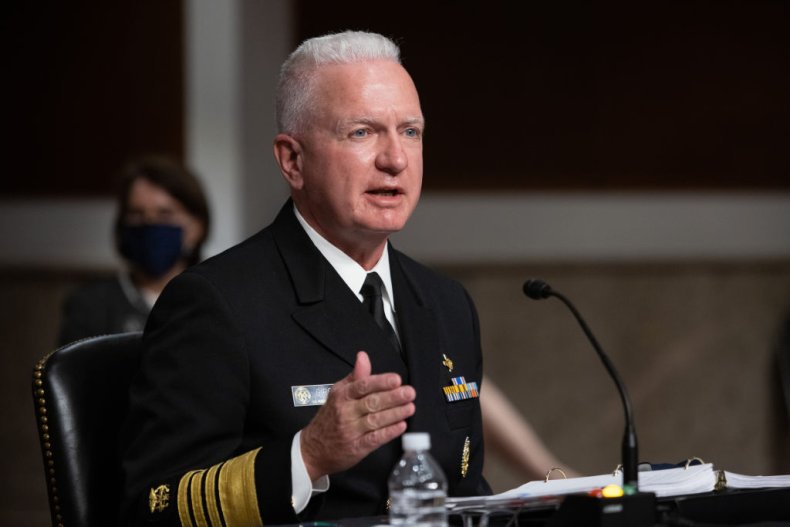 Told that Good will take office in January, Giroir said, "I will be happy to supply him technical assistance."
The day after Saturday's rally, Good spoke out against coronavirus restrictions, including the use of masks, in a series of tweets claiming that safety measures are a "hoax."
"We have got to stop the insanity, and stop accepting the hoax that says forcing people to wear a mask, forcing businesses to close, prohibiting worship services, and keeping kids out of school will make a significant difference in whether or not we will die from this virus," the congressman-elect tweeted Sunday.
He also noted that the 300,000 Americans who have died from the virus constitute less than 1 percent of the population.
Good's Democratic challenger, Cameron Webb, a doctor who lost to Good by 5 percentage points in Virginia's 5th District, condemned the congressman-elect's comments on the pandemic.
"I've seen firsthand the devastation COVID-19 causes," Webb, who treats COVID-19 patients at the University of Virginia Medical Center, tweeted Saturday. "The fact is—even here in VA—the pandemic is surging right now. Anyone can be affected and it's our collective duty to respect this threat."
He added, "It goes beyond partisanship or politics. This rhetoric is irresponsible and dangerous."
Newsweek reached out to Good for comment but did not hear back before publication.