Trump's DC Hotel Room Rates Nearly Three Times Higher During Republican Two-Day Retreat: Watchdog Report
A Republican event being held at President Trump's hotel in Washington, D.C. will be paying three times more than the usual room rates, according to a report published on Monday by Citizens for Responsibility and Ethics in Washington (CREW).
The National Republican Senatorial Committee (NRSC) is the only national organization solely devoted to strengthening the Republican Senate Majority and electing Republicans to the United States Senate.
Their event, called Save the Senate, will be hosted on November 7 and 8. President Trump is expected to speak at the gathering, reports The Hill. Mitch McConnell will also attend.
On average, hotel rooms at Trump International Hotel Washington D.C. are typically $455 per night. Based on the report, the hotel's same "premier" and "deluxe" rooms will cost $1,345 and $1,395 on the evening the event is taking place.
The day after the GOP event, room rates appear to go back to the original pricing.
CREW also reported that during the Fourth of July rally that Trump planned on the National Mall, the hotel was unavailable to reserve unless you were willing to book several nights at a time, and the surrounding days saw a huge spike in room costs.
Since Trump never divested from his businesses when he took office, he stands to profit from the decision to host the Republican retreat at his hotel, and even more now because of the increased rates that evening.
The hotel's Benjamin Bar & Lounge also raised its prices from the time it opened to Trump's inauguration, with the largest hike being a 61 percent increase on a single drink: the John Willett, which is now priced at $29.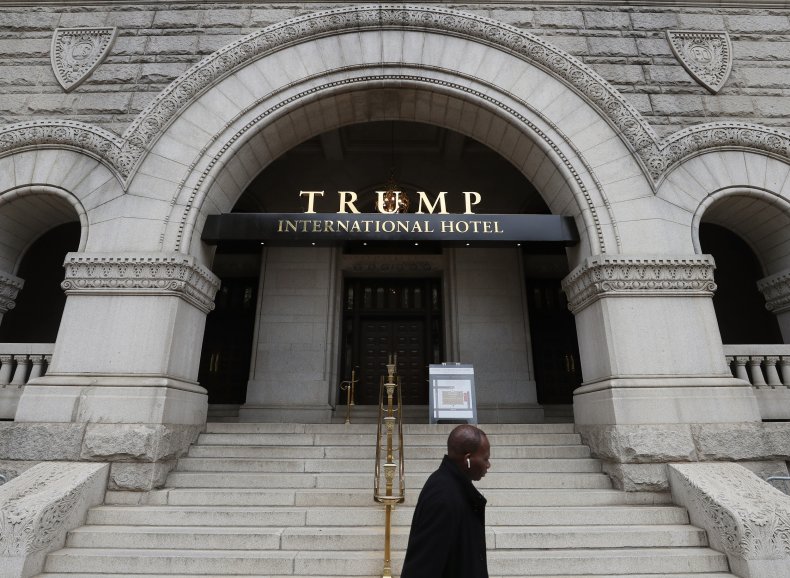 Trump's hotel has been a magnet for lobbyists and diplomats looking to gain favor with the president since his inauguration, like the Saudi-funded lobbyists who booked an estimated 500 nights there, over a period of three months, at a cost of more than $270,000.
Of the 53 Republican senators, 26 of them have either appeared at the hotel or are affiliated with campaigns or committees that have spent funds there, reports Vanity Fair. Of the 33 people to have served in Trump's cabinet, 25 of them have been spotted at his hotel.
⁠Combined, the Trump hotel in D.C. has taken in more than $1.1 million from just the Republican National Committee, Trump's campaign, and committees headed by Vice President Mike Pence and House Minority Leader Kevin McCarthy.
After nearly three years of ethics complaints and lawsuits accusing him of trying to profit off the presidency, the Trump Organization said on Friday that they are exploring the sale of the landmark hotel.