"Where was that guy in the first debate?"
How many conversations and tweets were peppered with that observation following the Thursday night presidential debate, the last before the November 3 election? Trump supporters were pleased to see their man show some needed focus and poise, and critics were forced to admit his debate game had notably improved. But the key factor involved viewers yet to make a final choice.
Moderates, independents, the "undecided"—call them what you wish, but they were a vital audience that night, and they are a vital constituency moving forward. Conventional wisdom observes that the interruption-laden muddle of the first debate was a broad turn-off, a missed opportunity for Trump to attract voters who might have watched in search of a basis to overcome some hesitancy.
If that's true, the second debate performance may well have cleared away some obstacles. No one should pretend that firm Biden voters felt a bolt of reversal. But if there is a patch of the voting public that has partial or grudging approval of the Trump agenda, mixed with some smattering of distaste for his personal style, they may have found comfort on a night where many expected Trump to respond to any question by waving Hunter Biden's laptop over his head.
The first question from deservedly praised moderator Kristen Welker was about COVID-19 response. Trump answered it. Then Biden answered it. Both completed sentences. There were no interruptions from either candidate; if there had been, they would have been spoken into deadened microphones, courtesy of a Commission on Presidential Debates muting decision clearly aimed at Trump's mouth.
But that decision lit a speculative spark the day it was announced: What if that tactic actually helps the president, forcing him into a more patient posture? There's no way to know whether muted mics, good coaching or better self-discipline yielded a better performance, but it resonated with a focus group of undecided voters gathered by pollster Frank Luntz. "Controlled," "poised" and "surprisingly presidential" were some of the focus group's descriptive reactions. Even "reserved."
"Reserved?" Trump? Compared to the first debate—in fact, compared to most days of the campaign, if not his entire presidency—that might be relatively accurate.
So with barely a week to November 3, what now? Joe Biden is no longer able to excuse sparse days of campaign activity with a "debate prep" explanation, so as Trump flits from rally to rally in battleground state after battleground state, there will be a stark contrast in energy, crowd size and message.
It wasn't just better manners that elevated the second debate for Trump; it was his content, as well, offering up optimism and determination against Biden's predicted "dark winter" virus nightmare. It was his support of a broad domestic energy policy against the Biden promise to "transition" away from the oil industry.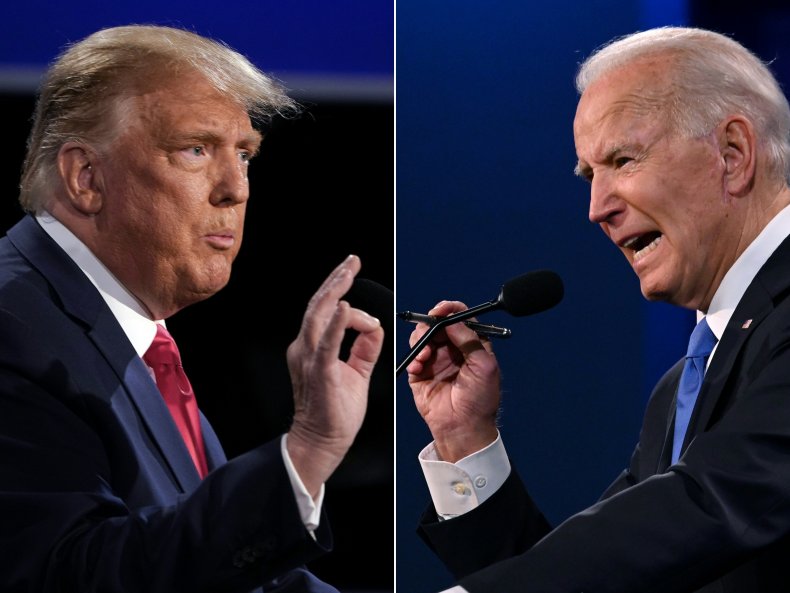 As energy industry workers hear that as the threat of a transition out of their jobs, curiosity gathers as to what other message advantages Trump might deploy in order to turn this election into another repudiation of October polls. The economy, law and order and the Amy Coney Barrett conformation are likely to fill his rally remarks in the coming days, as will some amount of references to the deepening controversies over Biden's connections to his son Hunter's global pursuit of influence and money.
Trump took a couple of stabs at those scandals on debate night, which surely delighted his voters who had been glued to the Tony Bobulinski press statement hours earlier. But these new assertions of linkage between Biden and his son's exploits may not move the needle much. There are three kinds of voters when it comes to the Hunter-related narratives: people hanging on every new development (also known as "solid Trump voters"), people who could not care less (also known as "solid Biden voters") and people who have no idea what the whole story is about. Might that last group detect a growing aroma of corruption and lean away from a Biden vote?
That's a lot of calculation necessary to make Huntergate a major factor, although Biden will not help himself if he continues to snap at the rare reporter who dares to bring it up.
It is tempting to examine polls for evidence of a post-debate Trump bump. Any narrowing of the Biden lead will be heralded by Trump's supporters, who usually fill their days crowing that polls should be ignored. Could 2020 be a repeat of 2016, when a Hillary Clinton presidency was widely expected until Election Day itself? If last-minute polls point to a Biden win that similarly fails to materialize, Luntz himself suggests his industry will implode under the weight of another monumental embarrassment.
The culprit may be the so-called "shy" Trump voters, patiently biding their time and not revealing true inclination to pollsters. If "restrained" is an odd adjective to attach to Trump, "shy" seems off the mark for voters counting the days toward making polls spectacularly, famously wrong again. Perhaps "stealth" is more apt, as in a force unseen until the moment it strikes.
"Debate stage Trump" is now in the rear-view mirror, as "rally Trump" fills the news for the coming days. His campaign's hope is that the measured tone of the former, mixed with the kinetic energy of the latter, will combine next week to leave his voters sufficiently energized and pollsters sufficiently bewildered, one more time.
Mark Davis is a talk show host for the Salem Media Group on 660AM The Answer in Dallas-Ft. Worth, and a columnist for TheDallas Morning News and Townhall.
The views expressed in this article are the writer's own.