Trump's Decline in Polls Threatens Republicans' Senate Majority
Republicans were in a strong position to maintain their control of the Senate—until President Donald Trump's tumbling poll numbers threatened once-certain down-ballot races across the country.
Now, less than four months until Election Day, forecasters see the race for the chamber at a 50-50 standstill. Multiple paths have opened for Democrats to win a majority while the GOP is stuck defending 23 of the 36 seats up for grabs this November.
"If we were talking back in March, I would have said all things considered Republicans probably had a slight edge in maintaining the chamber," J. Miles Coleman, an associate editor at Sabato's Crystal Ball at the University of Virginia, told Newsweek.
Before the coronavirus pandemic and racial justice protests swept the nation, Republicans were heavily favored to win Senate races in reliably red states like Georgia, Iowa, Montana and North Carolina.
By the beginning of July, the North Carolina race between incumbent Thom Tillis and Democrat Cal Cunningham was deemed a "toss-up" and the odds were no longer all in favor of GOP incumbents Joni Ernst and Steve Daines as their races in Iowa and Montana moved from "likely" to "leaning" Republican. Georgia's election is still likely Republican, but the latest polling shows Democrat Jon Ossof trailing GOP incumbent David Perdue by just 3 points. There's even a potential opening for Democrats in Kansas, a state Trump won by more than 20 points in 2016.
In the four battleground states pollsters say are crucial to the outcome of the 2020 election—Arizona, Colorado, Maine and North Carolina—liberal challengers have been outraising and outpolling conservative incumbents. Sabato's Crystal Ball moved Arizona and Colorado from "toss-ups" to leaning Democratic as a result.
"The Democrats have had a good run the past few months," Republican Scott Reed, the U.S. Chamber of Commerce's senior political strategist, told Newsweek. "The good news is the election is not today nor is it just based on who is raising the most money. But it's a signal. There's a lot of energy out there on the left."
A big factor driving Democratic success? Experts point to Trump's sharp decline in the polls.
"As we have seen Trump's numbers sour, that's affecting Republicans down-ballot," Jessica Taylor, the Senate editor for the nonpartisan election forecaster Cook Political Report, told Newsweek.
The president's approval rating on his handling of the coronavirus pandemic hit an all-time low this week. According to a poll from ABC News/Ipsos, 67 percent of Americans said they disapprove of his response to the outbreak compared to 33 percent who approved. The results come as virus cases continue to surge in most states. A new poll from Monmouth University showed that more than two-thirds of Americans believed Trump's management of recent protests on police reform has made the situation worse, not better.
Trump's unpopular handling of the two crises has coincided with Joe Biden's surge in national election polls. The Economist/YouGov found the former vice president up 9 points and a Rasmussen poll found him up by 10 points.
A Biden victory would boost the Democratic Party's chances of winning the Senate. Crossover voters, people who vote for candidates of different parties on the same ticket, are becoming rarer in U.S. elections. In 2016, every single senator race looked the same way as the presidential results
"If this type of national picture doesn't change much, Democrats would be in a good position," Coleman said.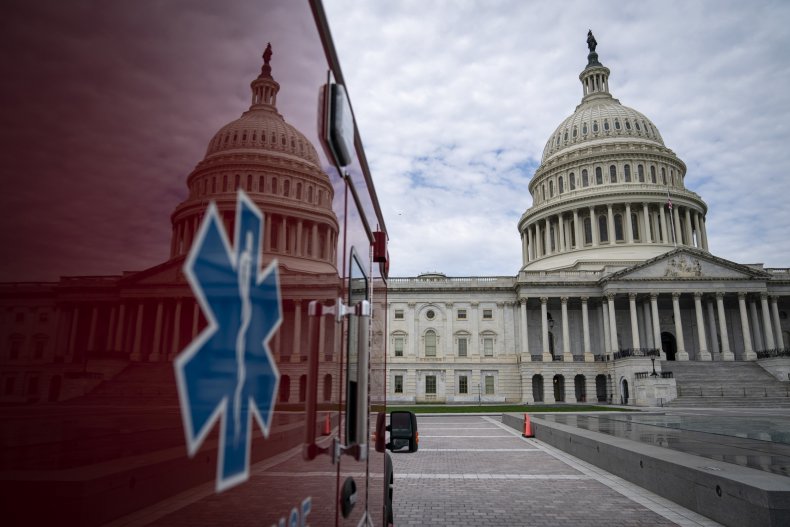 It seems like some vulnerable Republican incumbents are starting to notice the president's drop. The Washington Post reported Friday that senators in highly competitive races have avoided mentioning Trump in their most recent campaign ads.
Reed doesn't think it's necessary for vulnerable Republicans to completely distance themselves from the president, but they do have to "run their own campaigns." He still sees the party as likely to maintain their control of the chamber.
"When Congress comes back there will be a major effort to produce the next phase of relief that will focus on children, on jobs and on some liability reform for the business community. That would give the Senate Republicans a strong campaign platform for August and September," Reed said.
While largely playing defense this election cycle, the GOP has two opportunities to gain Senate seats. Democratic incumbent Doug Jones is already seen as the underdog in Alabama because he will face either former Attorney General Jeff Sessions or former football coach Tommy Tuberville. In Michigan, Republicans are hoping newcomer John James can pull off a major upset against Democratic Senator Gary Peters.
If Democrats lose either of those races, they would have to flip four or five Republican-held seats to take over the chamber depending on whether Biden wins the presidency—a feat Taylor, from the Cook Political Report, said was "incredibly doable."
"Fast forward a few months into this pandemic, Mitch McConnell felt back in April the fight for control of the Senate is going to be a dog fight. That's pretty much what we're seeing as well," Coleman said.