Trump's Dehumanizing Attacks on Baltimore Are Hiding an Awful Truth—and He Knows It | Opinion
Racists and bullies, from the president of the United States to the guy on the local neighborhood Listserv, have long tried to dehumanize the poor and working-class people who live and work in Baltimore and cities like it. These attacks are not new. They have been going on for hundreds of years, and people have been fighting against them, as well as the structures of inequality that fuel them, for just as long.
"No human being would want to live there," the president of the United States tweeted about Baltimore, the city where I live, last weekend.
While I would like to just ignore the president's tweets and go about my job of being a humanities professor at a local university, I cannot. I am a human being, and I love living in Baltimore. I also realize that as a white woman with lots of education, I have the privilege to choose where I live. Not everyone in this city has that choice. And that lack of mobility, that containment, is intentional, and it is dangerous.
It is not an accident that the president attempts to distract us from the inhumane detention of families on the U.S.-Mexico border with social media attacks on Baltimore's predominantly African-American neighborhoods. These forms of containment come from the same inability to recognize the humanity of people of color.
As a professor working in public humanities, I often think about what the humanities really mean. I return again and again to Toni Morrison's essay "The Fisherwoman," where she argues that the human project is "to remain human and to block the dehumanization of others."
After a decade of collaborating with people on research and public programs in Baltimore, I am still figuring out how I can remain human as a scholar and as an ally in my city. Showing up and listening are the first steps, especially for white people. Listening not only helps us remain human; it helps us understand other people and puts us all in a position to block dehumanization. But we must both listen to people on the ground and demand transparency from those in power.
The president intentionally tries to dehumanize. His tactics are to distract and present disinformation in the process of blocking transparency, blocking our ability to see the inner workings of exploitation. We need radical transparency from our politicians at all levels. And in Baltimore, we have handed off the responsibilities of the public good in this city to private corporate interests.
Right now, developers—people like the president and his father and his son-in-law—have too much power to determine how resources are used in this city, and they have for quite some time.
For example, in 2016, just a year after the Baltimore Uprising, the Baltimore Development Corporation, the city's powerful economic development arm, defied open meeting laws by refusing to allow journalists and the public into a meeting on the massive Port Covington development. Port Covington, led by the billionaire CEO of Under Armour, eventually got over $500 million in tax increment financing from the city to build infrastructure for a shiny new development on the southern waterfront of the city. As ProPublica recently reported, Trump's opportunity zone tax breaks helped funnel even more money intended for poor people in Baltimore into the development.
Such an egregious lack of transparency serves to dehumanize the residents of this city far more than the president's heartless words about infestation and rodents. It takes meaningful decisions and resources out of the hands of the people who live in Baltimore and gives it away to the wealthy developers who wield true power.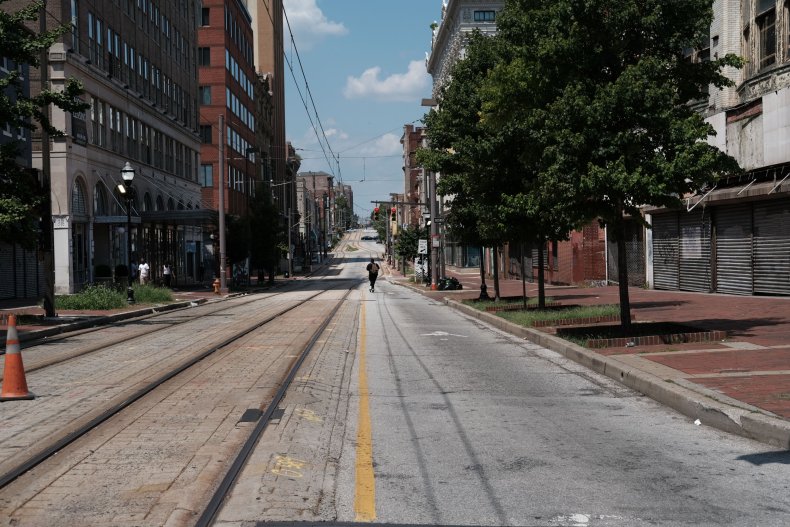 When I teach my students the methods of interviewing people who live and work in Baltimore neighborhoods, the number one rule is "Do not harm." At the beginning of the semester, they think this is a simple task. It is not.
I first heard Morrison's words about remaining human from professor Magdalena Zaborowska at an academic conference in connection to her research on James Baldwin, a brilliant American writer and a queer black man who chose to flee his own country to France because of the bigotry and inhumanity at home. And now, reading them against the words of the president, I can't help but think of the James Baldwins we lose.
We must be human and block the dehumanization of kids here in Baltimore, as well as those inhumanely interned on the border.
We must not be distracted. We are human.
Human beings live here.
Nicole King is an associate professor and chair of the Department of American Studies at the University of Maryland, Baltimore County. Her research focuses on issues of place, power and economic development. She is an editor of the recently published collection Baltimore Revisited: Stories of Inequality and Resistance in a U.S. City.