Trump's Done Little to Stop Chicago's Gun 'Carnage'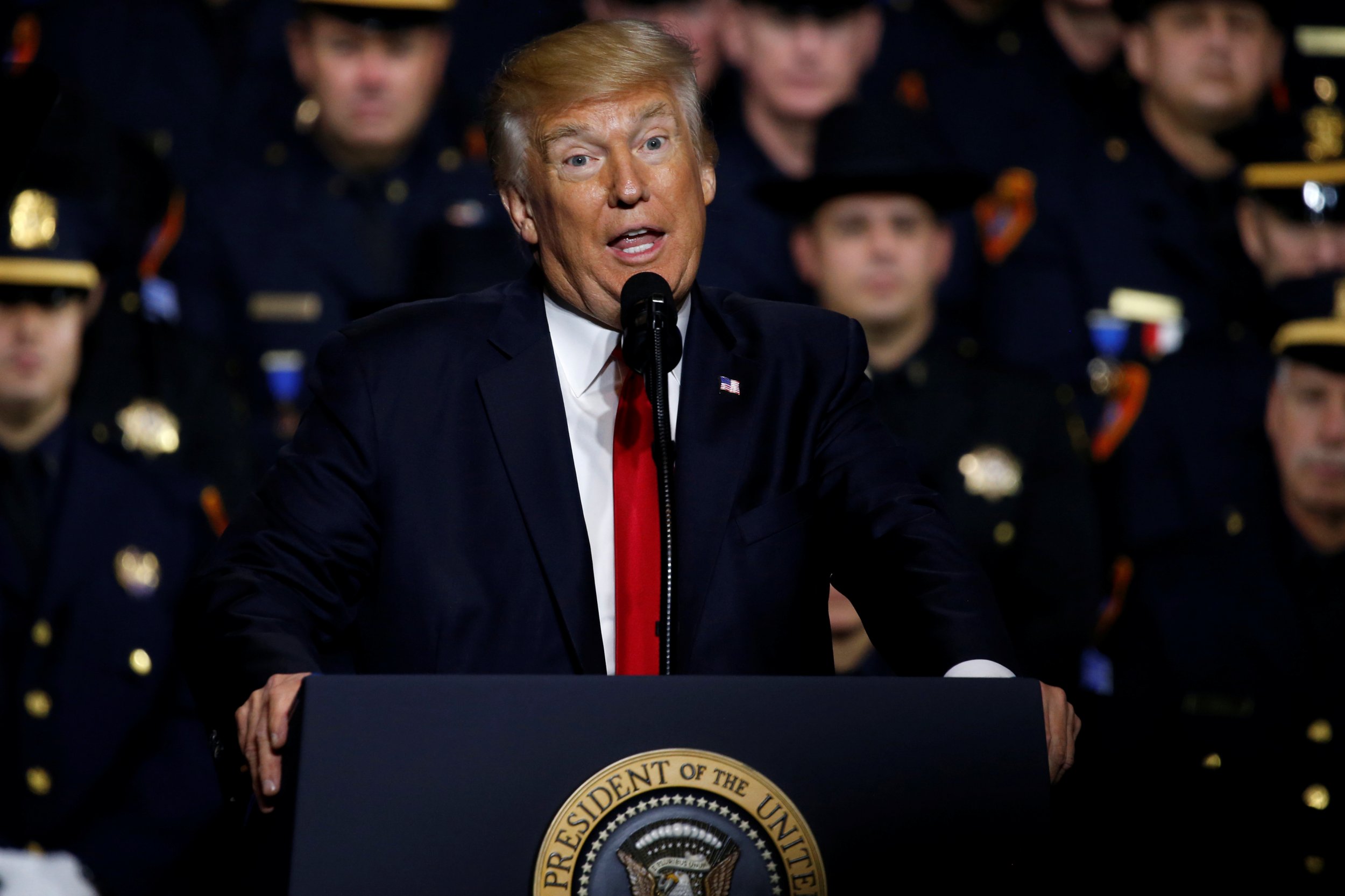 President Donald Trump has constantly singled out the city of Chicago as a leading location of the "American carnage" described in his inaugural address.
Trump has been engaged in a public feud with Chicago Mayor Rahm Emanuel and has tweeted multiple times drawing attention to crime in the Windy City. However, the Trump administration has only sent minimal federal aid to the city.
"More than two homicide victims per day. What the hell is going on in Chicago?" Trump tweeted Wednesday. "Better tell that mayor to get tough."
More than 4,000 people were shot in Chicago in 2016, and Trump tweeted that he would "send the feds" in January if the city did not address the problem.
During his Friday speech to law enforcement in Brentwood, New York, Trump once again targeted Chicago. He suggested sending some of the Long Island police officers assembled for his speech to Chicago.
"Look at Chicago. What is going on?" he said. "Chicago is having this unbelievable violence, people being killed, four, five or six in a weekend, and I'm saying, 'What is going on?'"
In June, the administration confirmed sending approximately 20 additional agents from the U.S. Bureau of Alcohol, Tobacco, Firearms and Explosives to attempt to address the gun violence in the city. These 20 agents joined the 35 to 40 already working in the city, the Chicago Sun-Times reported. Additionally, prosecutors from the U.S. attorney's office and state attorney's office have been added and will decide if gun crime suspects be charged in state or federal court.
The administration also announced the creation of a Chicago Gun Strike Force, described as a "specialized team of Chicago police officers, federal agents, Illinois state troopers, intelligence analysts, and state and federal prosecutors."
Although city officials have said they appreciated the additional ATF agents, Adam Collins, an Emanuel spokesman, told Politico in June "the progress CPD has made this year has happened without any of the new resources from the federal government we requested."
"Anytime the president wants to drop his political rhetoric and actually partner with our police officers to build on the 14 percent reduction in shootings they've achieved this year, we'll be ready," Collins said in the statement to local Chicago station ABC 7 Wednesday.
When asked by NBC 5 if he thought the city needed more boots on the ground in addition to the small number of ATF officers added to the city, Anthony Riccio, head of the Chicago Police Department's organized crime unit, said the city always welcomed more federal help.
"We always welcome the help, so we're certainly happy with what we've got. We would always welcome more," he said.