Trump's Mercenary Donor Erik Prince Pitches 'Humane' Private Army To Stop Libya Migrants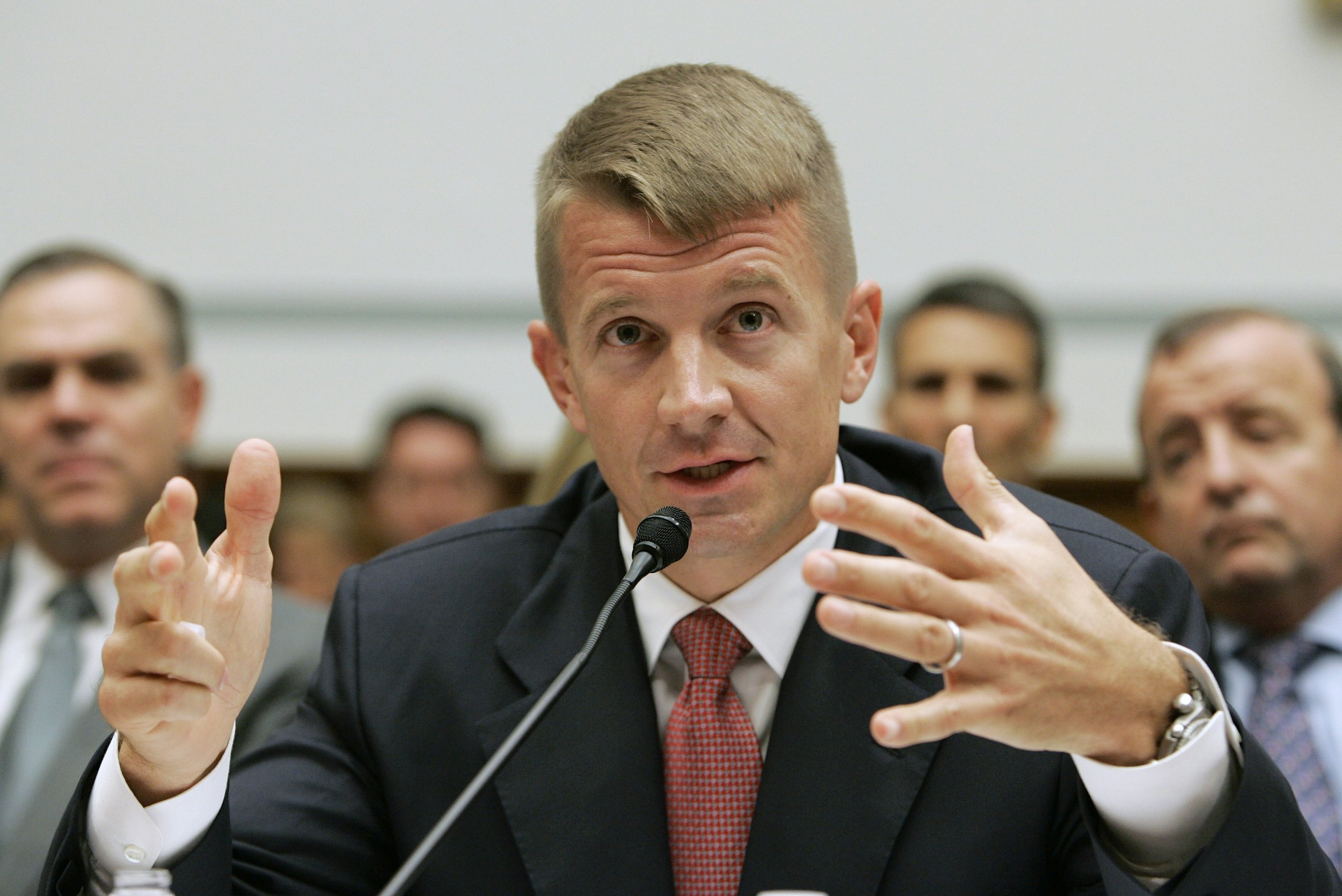 Erik Prince, the founder of the American private military company Blackwater and a major donor to President Donald Trump, is proposing a privately-trained police force that he believes would solve the trafficking crisis in Libya.
The plan would involve police stationed along the porous southern Libyan border where thousands of migrants have crossed from sub-Saharan Africa, in order to intercept smugglers and migrants who are attempting to reach Europe.
Many of the migrants have become trapped in the country, and a CNN investigation earlier this month revealed that some of those who cannot embark on the journey are being sold off at slave auctions, a revelation that has provoked an international outcry.
The private military executive said that the plan, if realized, would be more of a humanitarian option for the European Union than its current plan of naval patrols to stop the smuggling of migrants on the treacherous Mediterranean route to Europe.
He said it would also cost a "fraction" of the price compared to the EU's current efforts, running detention centers in Greece and Italy, and deploying coastguards to intercept smuggling vessels.
"I imagine that Europe wants to block the flow of migrants in the most humane and professional way possible. I do not think that paying militias is a solution in the long run," he told the Italian newspaper Corriere della Sera.
If implemented, Prince's plan would be overseen by his new company, the Hong Kong-based Frontier Services Group. It would be mainly staffed by Libyans, and would likely be subject to approval by the internationally-recognized Libyan government based in Tripoli, and the European Union.
"The traffic of human beings from Sudan, Chad, Niger is an industrial process," he told the newspaper. "To stop it, you have to create a Libyan border police along the southern border."
Prince has warm relations with the Trump administration and donated $250,000 to the president's campaign. The former Navy SEAL is considering a Senate run in Wyoming and is reportedly being encouraged by Stephen Bannon, Trump's former strategist and editor-in-chief of ultranationalist news site Breitbart.
His former company became embroiled in a scandal relating to the Iraq War. Three former employees of Blackwater are serving 30-year jail sentences in relation to the Nisour Square massacre in Baghdad. In 2015, the men were found guilty of a massacre that left 14 Iraqi civilians dead and at least 17 wounded, all of whom were non-combatants.
The interview signals a move by Prince to promote his plan for a private contractor force to manage the Libyan migrant crisis.
He has been courting the idea in the media since the beginning of the year. He penned an opinion piece for The Financial Times in January, in which he wrote: "There would be nowhere for migrant smugglers to hide: they can be detected, detained and handled using a mixture of air and ground operations.
"Border security, coupled with a wide-ranging redevelopment plan, is the only solution for Libya."