Trump's Economic Adviser Predicts 'More Bad News Before Things Start to Turn' Better for the Economy
Kevin Hassett, an economic adviser to President Donald Trump, cautioned that he expects there will be "more bad news" to come, despite the U.S. already seeing more than 30 million people apply for unemployment benefits during the novel coronavirus pandemic.
The Department of Labor reported on Thursday that an additional 3.8 million American workers filed jobless claims last week. That's on top of the 26.4 million that had already filed in the preceding weeks, bringing the total number of claims to more than 30 million.
Hassett was asked to comment on the latest numbers during a Thursday morning interview with Fox News.
"I think that what's gonna happen at least – cause the data come out in the rearview mirror, is that we're going to be looking at some more bad news before things start to turn," Hassett predicted. He noted that the official unemployment rate would be in the double digits when the government's jobs report is released next week.
"My guess is it's gonna be something like 19 percent," the economist said, "which would be the biggest unemployment rate we've had since before the second World War." Hassett also explained that he expects to see "unprecedentedly negative news" in the second quarter of 2020.
More optimistically, Hassett went on to tout the trillions in economic stimulus already passed by Congress. He said this was intended to "build a bridge to the other side" of the economic shutdown. The economist suggested that the country could "potentially" turn the economy "right back on" and recover quickly.
The $2.2 trillion economic stimulus package passed by Congress in March provided most unemployed workers with an additional $600 per week on top of the normal amount they'd receive. Additionally, it provided one-time stimulus payments of $1,200 to most individual Americans, as well as up to $2,400 for couples and $500 for each child.
"One bit of good news is that UI claims have dropped in each of the last three weeks, from a high of 6.2 million in the week ending April 4," Heidi Shierholz, senior economist and director of policy at the Economic Policy Institute wrote in a Thursday morning blog post. However, she noted that the benchmark for improvement was low, considering the sheer magnitude of surging unemployment claims over the past six weeks.
"And, of course, workers aren't just losing their jobs. Our health care system ties health insurance to work, so millions of workers have likely already lost their employer-provided health insurance," Sheirholz added.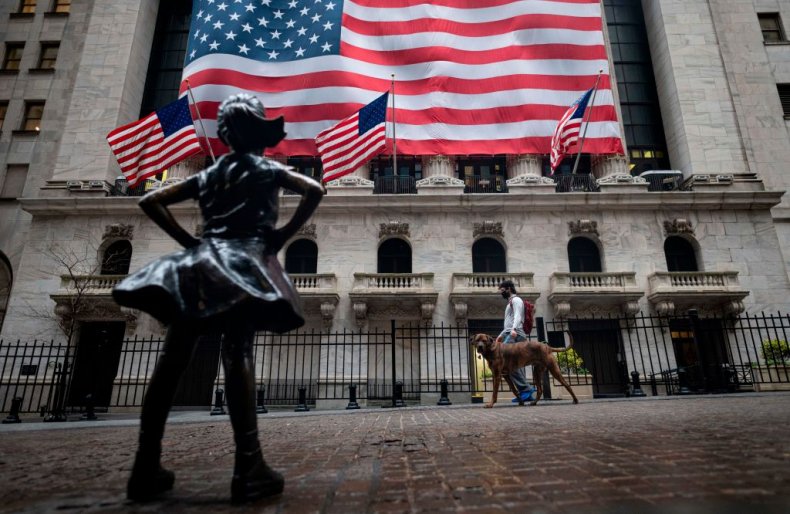 The latest jobs report came out a day after the Department of Commerce reported on Wednesday that gross domestic product (GDP), a measure of the output of goods and services, had declined in the first quarter of the year. GDP dropped by 4.8 percent, despite the economy having been on track to continue to grow through mid-March, right up until the shutdown of most non-essential businesses across the country.
"The awful headline number of -4.8 percent GDP is even worse when you consider that the first two months of the first quarter were relatively normal and this number only includes the March lockdowns," Chris Zaccarelli, chief investment officer at Independent Advisor Alliance, explained in comments emailed to Newsweek.
"Given that the full lockdowns continued through April and most states are likely to continue at least partial lockdowns through May, that leaves June as the only month in the second quarter that may see a possible return to normalcy," Zaccarelli said.
Trump's Economic Adviser Predicts 'More Bad News Before Things Start to Turn' Better for the Economy | U.S.