Trump's Economic Adviser Predicts 'Worst Unemployment Rate' Since Great Depression: 'A Tremendous Negative Shock'
In an upcoming April jobs report, Kevin Hassett, an economic adviser to President Donald Trump, predicted the U.S. will see the "worst unemployment rate" since the Great Depression, suggesting that it could be as high as 20 percent.
The Department of Labor is set to release the jobs report on Friday, and it will provide an overview of a month of record-breaking job losses and surging unemployment claims during the coronavirus outbreak. Many economists have estimated that the national unemployment rate will stand at about 16 percent, but Hassett told CNN on Tuesday that he anticipates it will be even higher.
"My guess right now is that it's going to be north of 16 percent, maybe as high as 19 or 20 percent," Hassett said, noting that many people have likely lost their jobs but have not filed for unemployment insurance. "And so we are looking at probably the worst unemployment rate since the Great Depression."
During the Great Depression, unemployment peaked at 24.9 percent, in 1933. However, that came four years after the stock market crashed in 1929, meaning it was a much more gradual rise. In February of this year, the unemployment rate was just 3.5 percent.
"It's a tremendous negative shock, a very, very terrible shock," Hassett said.
The economist had previously projected in an interview with CNN that unemployment would rise to 20 percent by June. But he explained that he had revised his projection based on new data.
"We've got a little bit more data since we last talked of [jobless] claims that was worse than expected," Hassett noted.
Economists polled by Reuters projected that unemployment would be around 16 percent in the April jobs report. However, Reuters also reported that economists from the Federal Reserve Bank of Chicago have predicted the true jobless rate could be between 25.1 and 34.6 percent.
As of the week ending April 25, more than 30 million workers had applied for unemployment benefits since the start of the pandemic. New jobless claims rose steadily from the end of March, breaking records for three weeks in a row before starting to decline. However, even the 3.8 million claims reported by the Department of Labor last week was far higher than the previous October 1982 record of 695,000 initial claims in a week.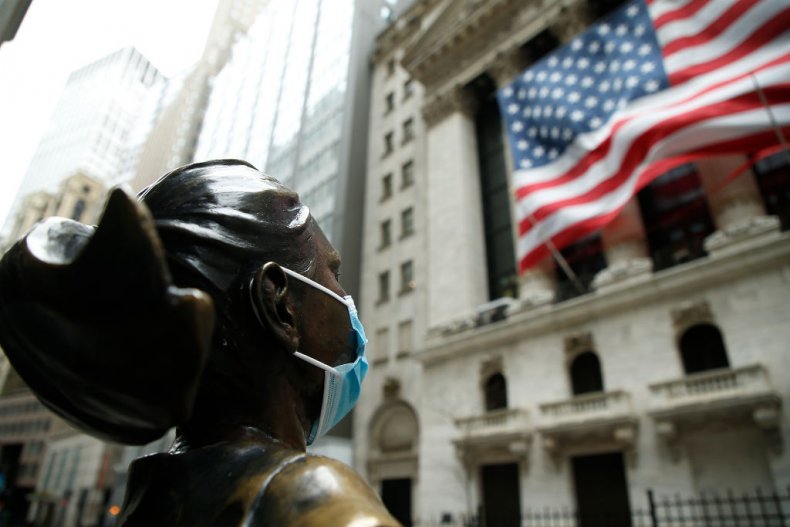 The Coronavirus Aid, Relief and Economic Security Act, which was passed by Congress in March, provided an extra $600 a week in unemployment benefits through July 31. But some economists are already urging Congress to extend that additional payment.
"The extra $600 has been by far the most effective part our economic policy response to the coronavirus shock," economists Josh Bivens and Heidi Shierholz of the Economic Policy Institute wrote in a Monday blog post. "It is likely improving—not degrading—labor market efficiency, and we should build on this and make the nation's unemployment insurance system well-resourced and far more generous even in normal times."