Trump's Economic Adviser Projects U.S. Will See 'Biggest Negative' Drop In GDP Since Great Depression Due to Coronavirus Fallout
Kevin Hassett, an economic adviser to President Donald Trump, projected that the U.S. will see its "biggest negative" drop in gross domestic product (GDP) since the Great Depression as the economic fallout from the coronavirus pandemic continues.
The economic official made the remark during a Monday morning interview with CNBC's Squawk Box. Hassett, who previously served as the chair of the White House Council of Economic Advisers until last June, was brought back as an adviser as the Trump administration addresses the economic impact of the global pandemic.
"Right now if you take what happened at the end of the first quarter, we're getting that first quarter GDP number this week, then you're looking like it's pretty likely you get a negative number," Hassett explained.
"For second quarter GDP, it's going to be the biggest negative number that we've seen since the Great Depression," he said. The economist predicted that "you're looking at something minus 20 to minus 30 in the second quarter."
Many businesses and nearly all public gatherings across the country have been shut down since mid-March, as states and municipalities implemented stay-at-home and shelter-in-place orders to curb the spread of the novel coronavirus. As a result, millions of workers have lost their jobs, with new jobless claims breaking all previous records.
Already, more than 26 million American workers had filed for unemployment in the first five weeks since stringent social distancing measures went into effect. That's more than the total number of new jobs created since the Great Recession of 2008 and 2009, and higher than the combined populations of the country's 10 most populous cities.
But Hassett suggested that the U.S. economy could rebound fairly quickly. He said that with economic stimulus and expanded unemployment benefits passed by Congress in March, Americans are broadly still doing alright financially.
"If the virus does start to go away in a way that makes it so most every state feels comfortable that it's safe to open up, we really could be looking at a pretty rapid recovery because the incomes are still there," the economist said.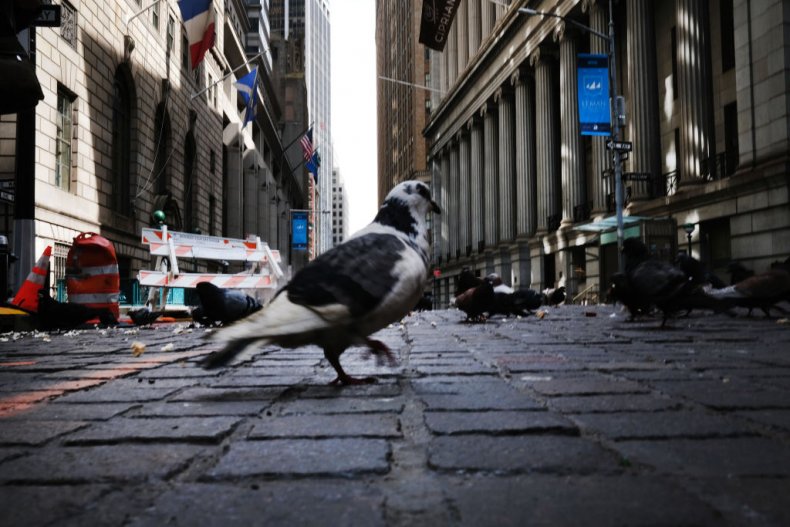 Speaking to Fox News Sunday this weekend, Treasury Secretary Steven Mnuchin also suggested that the economy could see a resurgence in the near future.
"I think as we begin to reopen the economy in May and June, you're going to see the economy really bounce back in July and August, September," Mnuchin said. The Trump administration official pointed out that the government has already put an "unprecedented amount of fiscal relief into the economy."
But Bank of America CEO Brian Moynihan said on Sunday that analysts with his financial institution aren't expecting the economy to get back to where it was before the coronavirus pandemic until late in 2021.
"Our estimates, our experts think it's late next year when the economy gets back to the same size it was prior to this," Moynihan told CBS News' Face the Nation.
Trump's Economic Adviser Projects U.S. Will See 'Biggest Negative' Drop In GDP Since Great Depression Due to Coronavirus Fallout | U.S.