Trump's Education Secretary Betsy DeVos Doesn't Know How Badly Schools Are Performing in Her Home State
Secretary of Education Betsy DeVos, former chair of Michigan's Republican Party, appeared taken aback when asked during a 60 Minutes interview Sunday whether her home state's school's have become better under policies she pushed.
As chair of the American Federation for Children in Michigan, DeVos worked to expand chartered private schools in the state. Most of the reading and math scores among students at charter schools in Michigan are below average and overall academic progress lags behind other states.
"Have the public schools in Michigan gotten better?" 60 Minutes journalist Lesley Stahl asked DeVos in the interview, pointing out that public schools also haven't flourished under policies she championed.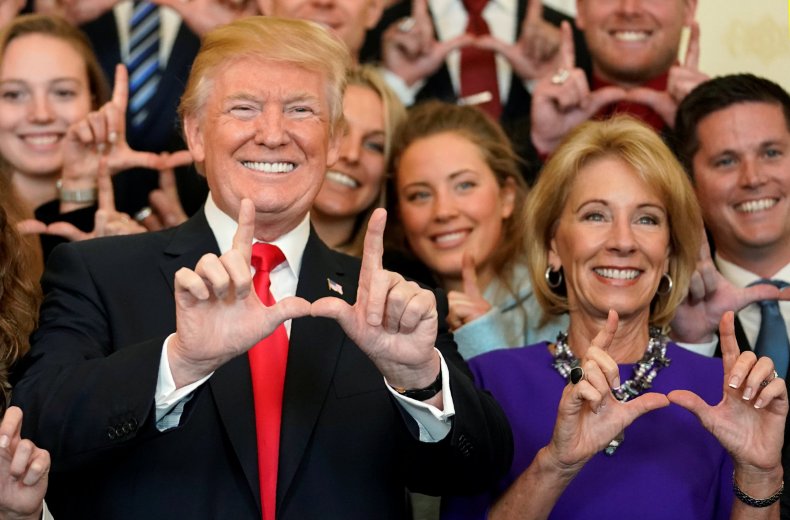 "I don't know. Overall—I can't say overall that they have all gotten better," DeVos replied.
Along with her husband Dick DeVos, a billionaire heir to the Amway fortune, DeVos has backed state bills in Pennsylvania, Indiana, and Florida for voucher programs where students can get public funding to subsidize the cost of attending a private or religious school. She proposes expansion of that system and has pushed for it in Michigan for decades.
"Your argument that if you take funds away that the schools will get better, is not working in Michigan where you had a huge impact and influence over the direction of the school system here," Stahl said.
"I hesitate to talk about all schools in general because schools are made up of individual students attending them," DeVos replied. She said she had "not intentionally visited schools that are underperforming" to find out what is going wrong.
Read more: Upset over tweet, teachers say Betsy DeVos doesn't know what a modern classroom looks like
Last week DeVos drew criticism from school teachers when she tweeted a stock photo of a classroom, criticizing schools for being behind the times. Teachers began tweeting photos of what their classrooms actually look like at the education secretary.
In August 2015 DeVos gave a speech at the SXSWedu in Texas in which she called America's public school system "a monopoly, a dead end" and advocated for private schools.
"We have invested billions and billions and billions of dollars from the federal level. And we have seen zero results," DeVos told Stahl of the public school system Sunday. "We should be funding and investing in students, not in school buildings, not in institutions, not in systems."
"In places where there is a lot of choice that's been introduced, Florida for example, the studies show that where there's a large number of students that opt to go to a different school or different schools, the traditional public schools actually, the results get better as well," DeVos said.
A study confirmed those findings late last year but the state's largest teachers union, the Florida Education Association, questioned its methodology.
An investigative series on charter schools by the Orlando Sentinel late last year showed that charter schools in Florida were raking in $1 billion in scholarships but with little oversight of how they operate.
The schools were so weakly regulated, the investigation found, some hired teachers who did not have college degrees and made false fire-safety and health records.