Trump's Embrace of QAnon Follows Rocky Election Season for Candidates
Even after losing the 2020 presidential election, former President Donald Trump's endorsement still means a lot in Republican politics.
Often, it resulted in victory for candidates. According to an NPR analysis, candidates endorsed by Trump in the 2022 election cycle won their primaries 91 percent of the time, largely due to a lack of competition.
More frequently, however, Trump has been lending his name to the fringes of his movement, emboldening far-right candidates and their supporters who have since become cornerstone components of the modern GOP.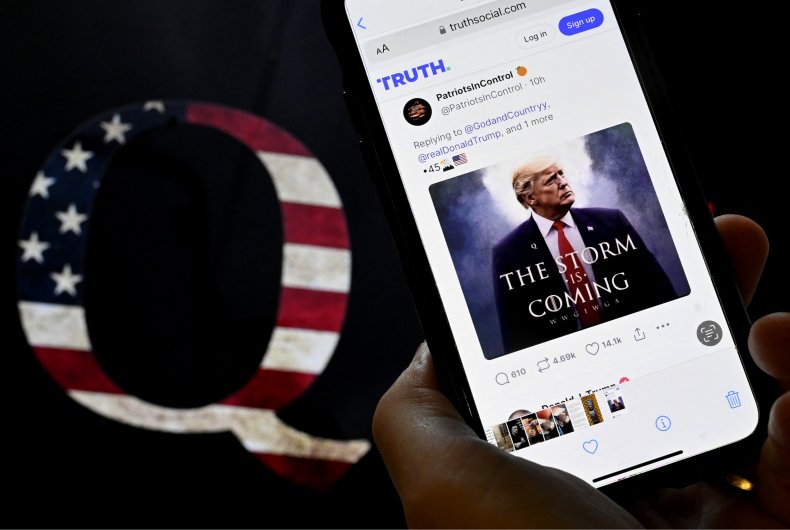 At a rally in Wilmington, North Carolina, on Friday, Trump supporters could be seen holding up a single-finger "salute" tied to the QAnon conspiracy movement. Earlier in September, Trump appeared at a rally in Ohio, where he delivered a speech set to stock music the New York Times called "all but identical" to an orchestral arrangement favored by the movement.
And on his Truth Social platform, Trump has in recent weeks shown a growing tendency to repost flattering memes of himself that often have clear references to the movement, depicting him as a warrior against an entrenched "deep state" run by an elite cabal of Democratic pedophiles set to destroy the country.
While Trump's 462 endorsements to date contain few explicit adherents to QAnon, the movement's closest adherents have failed to gain significant traction within the GOP. When they have been successful, some might have set up their party for failure.
Pennsylvania Republican candidate for governor Doug Mastriano, who had enthusiastically embraced QAnon in the past before attempting to distance himself during the campaign, trails Democrat Josh Shapiro by near double-digits in most polls, while other races in the state have been considered much more competitive.
In Arizona—the nation's hotbed of QAnon activity, according to an investigation by Grid News—the nomination of far-right candidates have potentially put Republicans' chances to flip vulnerable seats at risk, Axios reported over the weekend.
In Michigan, Trump-endorsed secretary of state candidate Kristina Karamo, who was scheduled to speak at a QAnon-affiliated conference in Las Vegas last year, boasts significant unfavorable ratings and low recognition in state polling with about six weeks until the election.
In Maryland, Trump-backed Republican gubernatorial candidate Dan Cox, who was a guest speaker at an April QAnon conference alongside Mastriano, trails Democrat Wes Moore by more than 20 points in the polls, and has been denounced by Republican Governor Larry Hogan as a "QAnon conspiracy theorist" in a letter to the Wall Street Journal earlier this year.
Of the 36 congressional candidates liberal media watchdog Media Matters for America said were aligned with QAnon entering this year's election cycle, 11 won their primaries, according to a New York Times analysis, and most occupy safely Republican districts entering the general election.
Some say Trump's embrace of the movement is one of political expediency where he is encouraging extremist beliefs in an effort to harness the political capital that comes with it.
"Over the years, we've seen Trump give small winks to QAnon supporters, but more recently, we've seen how he and his allies are seemingly embracing QAnon followers," Media Matters Deputy Research Director Kayla Gogarty told Newsweek in a statement.
"From actively amplifying QAnon-promoting accounts on Truth Social more than 100 times to using a song that is named after a QAnon slogan, it's clear that Trump is trying to gain support from these conspiracy theorists and continue his push of election conspiracies. The conspiracy theory has a dedicated and highly motivated following and its supporters have created an infrastructure of QAnon-promoting shows to reach those followers. Trump's embrace of the movement suggests that he recognizes the organizing power of this network."
The current field, however, is somewhat mixed. One of those candidates, Ohio Republican J.R. Majewski, is now feared to have jeopardized his chances amid allegations that he lied about his military service.
Others are favored to win their races. In the battleground state of Nevada, Trump-backed secretary of state candidate Jim Marchant—who has regularly echoed QAnon rhetoric, according to Media Matters—was virtually tied with Democratic opponent Cisco Aguilar in a Reno Gazette-Journal/Suffolk University poll conducted this summer.
Newsweek reached out to Trump's office for comment.
Update: 09/26/22 4:53 p.m. ET: This article was updated with comment from Kayla Gogarty.