Trump's Evangelical Allies on Defensive After Pastor Suggests President's Arrogance is Deadlier Than Abortion
In the final stretch of the race, President Donald Trump's evangelical allies have publicly defended the Republican leader after a prominent pastor suggested that his arrogance is deadlier than abortion and the pro-choice movement.
Christian pastor and author John Piper drew backlash among Trump-supporting evangelicals after he explained why he wouldn't vote for either presidential candidate in an op-ed published October 22.
"Flagrant boastfulness, vulgarity, immorality, and factiousness are self-incriminating, but also... they are nation-corrupting," Piper wrote in an apparent dig at Trump. "It is naive to think that a man can be effectively pro-life and manifest consistently the character traits that lead to death—temporal and eternal."
Speaking on Fox News on the night before Election Day, pastor Robert Jeffress dismissed Piper's remarks as "dead wrong" and called his comparison a "false equivalency."
"To try to equate the personal sin of arrogance, which is certainly wrong, with the public sin of supporting abortion," Jeffress said. "I don't know 40 million people who have died of arrogance like [those that] have died from the pro-abortion policies of the Democrats and Planned Parenthood."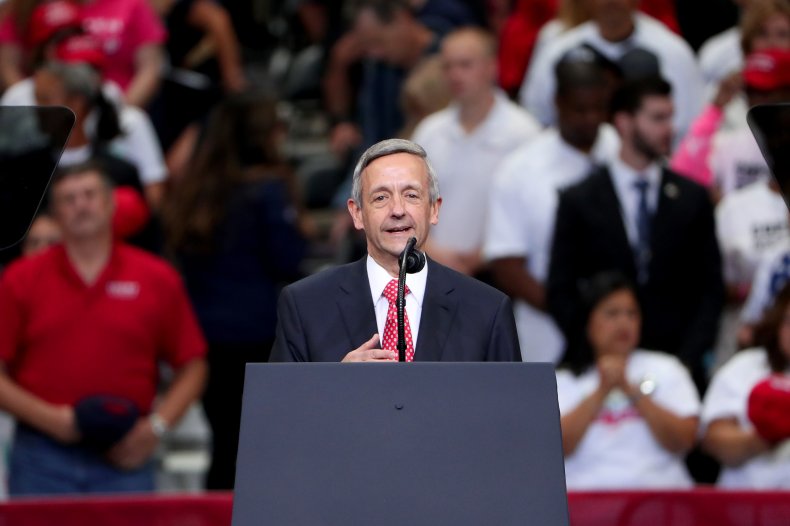 Jeffress went on to call abortion the "moral crisis of our generation," before insisting that presidential candidates should be "pro-life both inside the womb and outside the womb."
Evangelist Franklin Graham, another vocal Trump supporter, also disagreed with Piper's views.
"I completely disagree with his reasoning—he is wrong on this issue," Graham wrote Wednesday in a tweet, alongside an article by former Planned Parenthood worker Abby Johnson titled "Excuse me John Piper, but pride doesn't kill babies."
Johnson said Piper's comments were "ridiculous." Like Jeffress, she also insisted that "pride doesn't kill babies."
Graham has been publicly encouraging his fellow evangelicals to vote for Trump on November 3 and warned that a Democratic victory on November 3 would lead to "all-out socialism."
"I would encourage every person who loves this country to pray and to turn out by the millions to vote," he shared on Facebook in August. "Don't just watch the news and be depressed. Stand up for America! Vote for leaders who love this country, defend the Constitution, and support law and order. Most importantly, pray."
In his op-ed, Piper said he didn't know why Christians viewed policies that support "baby-killing, sex-switching, freedom-limiting and socialistic overreach" as "deadly" when other sins such as sexual immorality, boastfulness and vulgarity were only seen as "toxic."
Evangelical Christian voters were crucial to Trump's 2016 victory and the president is counting on the base to stay with him on Election Day. While the bloc was once solid for Trump, recent polls show that their support for the Republican has slipped since August.
A Pew Research Center survey, released October 13, had Trump ahead of Biden by 8 percentage points among white catholics—52 to 44. The results represent a decline in the president's lead since early August, when Trump was ahead by 19 points.
Newsweek reached out to the Trump campaign for comment.