Trump's Ex-Education Chief of Staff Won't Vote for Him, Implores 'All Patriotic Republicans' to Join Him
The former Chief of Staff for the U.S. Department of Education in President Donald Trump's administration published an op-ed on Thursday saying that he won't vote for the Republican president and implored "all patriotic Republicans to join" him.
Josh Venable, who worked under Education Secretary Betsy Devos, published the op-ed in The Detroit News with a title that read, "As a Republican, I'm tired of Trump's division, discord, vitriol and hate."
"I am a lifelong Republican. And I am exhausted. Nearly all my career, I have worked for Republican candidates and conservative causes, managing campaigns, organizing coalitions and raising money," Venable wrote. "I served as U.S. Department of Education chief of staff in the Trump administration. But this is 2020, so of course this year is different. I cannot vote for the Republican nominee for president. For the good of the party I have supported my entire life, but more importantly, for the sake of the country I love, I implore all patriotic Republicans to join me."
Venable went on to state that he believed the presidency is more important than a number of things such as advancing an individual policy, political appointment and "more important than 'winning'."
Venable accused Trump of thriving on "purposely sowing strife and discord" and said he "does so at the expense of the nation's interests, the health and prosperity of our fellow citizens, alliances forged through generations of sacrifice, and the personal safety of public servants."
Venable also commented on the recent report of a plot to kidnap Michigan Governor Gretchen Whitmer and Trump's subsequent response.
"Instead of a prompt and unequivocal denouncement, the president responded with a chuckle to his supporters' 'Lock her up'!' chants in Muskegon, then decreed: 'Lock them all up!'," he wrote.
Venable served as DeVos' Chief of Staff from the beginning of Trump's presidency until he resigned in 2018, and has since been named an adviser to the Republican Political Alliance for Integrity and Reform, a group that was created by Miles Taylor, a former official for the Department of Homeland Security.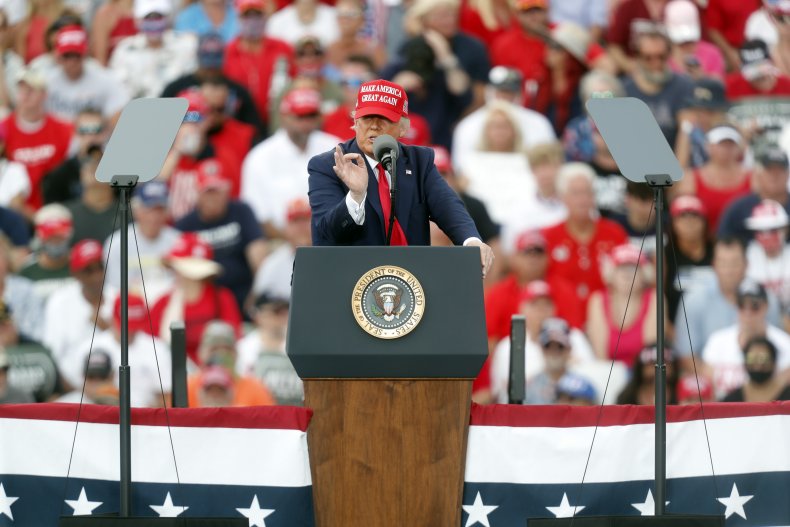 The group is made up of a number of former Trump administration officials and Republican lawmakers, that oppose Trump.
Newsweek reached out to the Republican Political Alliance for Integrity and Reform for comment.
Taylor's name recently made headlines after he revealed on Wednesday that he was the author of an anonymous op-ed published in the New York Times in 2018, criticizing Trump.
In Venable's op-ed, he adds that he is tired "of the division, discord, chaos, vitriol and hate."
"I am tired of your failure and refusal to lead," Venable wrote. "Our party can — and must — do better. America deserves nothing less from us."
Venable's op-ed comes less than a week until Election Day, where Americans will vote between Trump and Democratic candidate Joe Biden.
Newsweek reached out to Trump's campaign and the Department of Education for comment but did not receive a response in time for publication.