Several Republican lawmakers have raised concerns and criticism over President Donald Trump's Saturday executive orders to provide further economic stimulus relief amid the novel coronavirus pandemic, as Congress remains at an impasse in their negotiations over additional aid for struggling Americans and the country.
Trump put forward the executive orders to provide a reduced additional unemployment benefit of $400 per week, place a moratorium on evictions, and defer payroll taxes for anyone earning under $100,000 annually. The decision came as GOP lawmakers and Democrats remain far apart on a path forward for a next round of stimulus. In May, Democrats proposed a $3 trillion package, but Republicans and the White House came back with a $1 trillion proposal at the end of July.
"I'm taking action to provide an additional or extra $400 a week and expanded benefits, $400. That's generous but we want to take care of our people," Trump said. The amount is actually $200 less than the $600 unemployed Americans had been receiving through July. Democrats aimed to extend the full $600 in their proposal.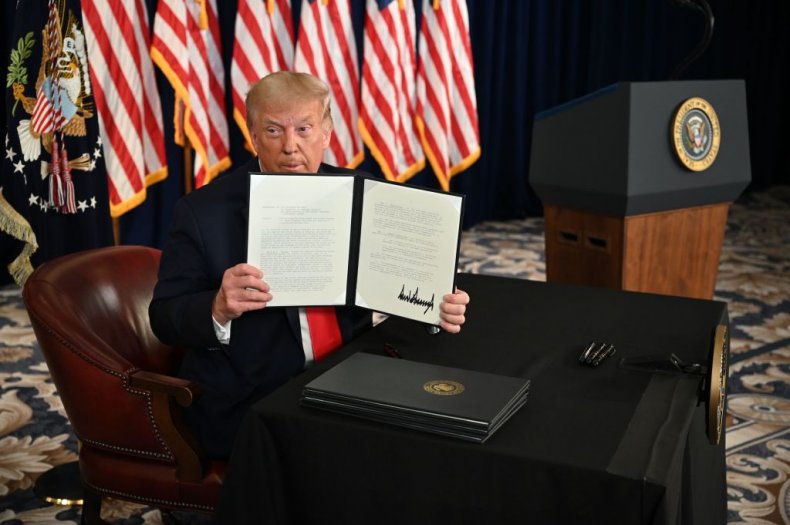 Some quickly questioned the legality of the president's executive orders, as the Constitution grants federal spending power to Congress, not the executive branch.
"The pen-and-phone theory of executive lawmaking is unconstitutional slop. President Obama did not have the power to unilaterally rewrite immigration law with DACA, and President Trump does not have the power to unilaterally rewrite the payroll tax law. Under the Constitution, that power belongs to the American people acting through their members of Congress," GOP Senator Ben Sasse of Nebraska said in a Saturday evening statement.
But Republican Senator Lindsey Graham of South Carolina, a loyal supporter of the president, called the executive order a "great decision" in a Twitter post. However, he suggested that it was not his preferred pathway forward.
"I appreciate the President taking this decisive action but would much prefer a congressional agreement. I believe President Trump would prefer the same," Graham tweeted.
Senator Lamar Alexander, a Tennessee Republican, gave a measured response, saying that the decision should come from Congress. Alexander said the president "is doing all he can to help workers, students & renters, but Congress is the one who should be acting."
Representative Justin Amash of Michigan, a conservative who was elected as a Republican but now identifies as an independent, slammed the decision. "Our Constitution doesn't authorize the president to act as king whenever Congress doesn't legislate," Amash tweeted.
In a follow-up tweet, Amash wrote: "Just because Obama abused executive orders doesn't mean Trump should. Just because Trump abuses executive orders doesn't mean a future president should. It's really that simple."
Democratic lawmakers Senate Minority Leader Chuck Schumer of New York and Speaker of the House Nancy Pelosi of California issued a joint statement on the president's decision.
"Today's meager announcements by the President show President Trump still does not comprehend the seriousness or the urgency of the health and economic crises facing working families," they said.
Schumer and Pelosi described the executive orders as "unworkable, weak and narrow policy announcements to slash the unemployment benefits that millions desperately need and endanger seniors' Social Security and Medicare." Payroll taxes, which Trump's order would temporarily suspend, are used to fund Social Security and Medicare.
Newsweek reached out to the White House for comment, but did not receive a response by the time of publication.