Trump's Executive Order Suspending Immigration Will Only Apply to Green Cards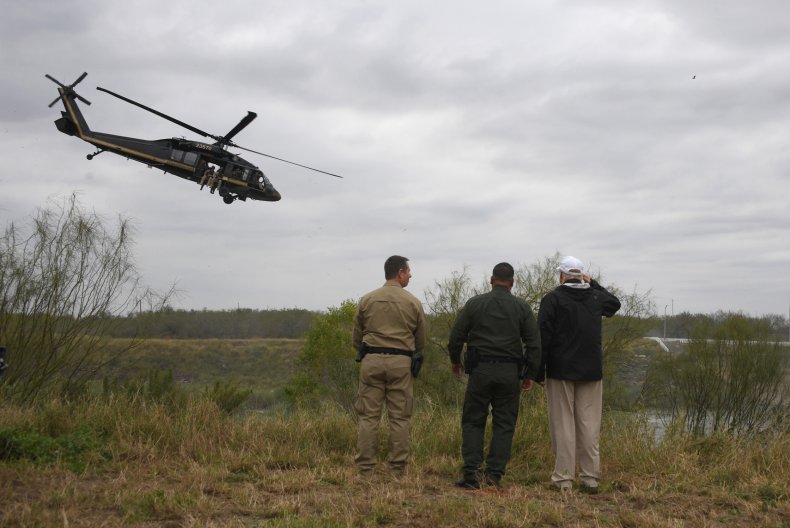 President Donald Trump's planned order to stop immigration to the U.S. during the coronavirus pandemic falls short of the complete moratorium he described in a late-night tweet and will include exemptions for essential workers, sources within the administration with knowledge of the proposal told Newsweek.
The president announced his intention to sign an executive order to "temporarily suspend immigration into the United States" on Monday. "In light of the attack from the Invisible Enemy, as well as the need to protect the jobs of our GREAT American Citizens, I will be signing an Executive Order to temporarily suspend immigration into the United States!" he tweeted, referring to the global coronavirus pandemic.
The tweet caught his staff off guard and they scrambled to figure out what the order would entail. Many White House officials said they weren't initially aware of any such plans, with one official, who was not authorized to speak publicly, telling Newsweek: "I have no earthly idea what he's talking about" late Monday.
By Tuesday morning, administration sources were already walking back the president's promise of a sweeping moratorium on all entry of foreigners into the United States, but said that the White House Counsel's Office was working on putting together an immigration-related order of some sort.
But what Trump announced when he took to the White House briefing room Tuesday evening was a far cry from a total moratorium on immigration.
What he called a "a temporary suspension of immigration into the United States" meant to "put unemployed Americans first in line for jobs as America reopens" was in actuality just a 60-day pause on applications for permanent residency.
"It would be wrong and unjust for Americans laid off by the virus to be replaced with new immigrant labor flown in from abroad, we must first take care of the American worker," Trump said, adding that the pause "will be in effect for 60 days after which the need for any extension or modification will be evaluated by myself and a group of people, based on economic conditions at the time."
Prior to Tuesday evening's announcement, administration officials stressed to Newsweek that foreign workers in certain sectors deemed "essential"—such as agricultural workers and medical professionals—would not be impacted because of the importance of the food supply and the availability of doctors, nurses, and other front-line medical workers to the nation's fight against the novel coronavirus pandemic.
The inclusion of an exemption for farm workers was confirmed by Mike Tomko, a spokesperson for the American Farm Bureau Federation, who told Newsweek that it was the group's understanding that the H-2A agricultural worker visa program "would not be affected."
While administration officials had said the measure would temporarily halt use of visa programs such as the H-1B visa and others that allow highly skilled and often highly educated workers to take jobs with companies based in this country, the 60-day pause announced by Trump will not have an effect on any non-immigrant visa programs.
According to an American Immigration Council fact sheet, the H-1B visa "allows employers to petition for highly educated foreign professionals to work in 'specialty occupations' that require at least a bachelor's degree or the equivalent." Such programs are frequently a target for anti-immigration activists, who claim that they encourage companies to hire foreign employees who will work for less money than equally qualified Americans.
But Greg Siskind, a Tennessee-based immigration attorney, told Newsweek that a pause on applications for permanent residency would prevent hospitals from hiring nurses because there is no non-immigrant visa program for nursing professionals. "The vast majority of nurses that come into the country have to come in on green cards because there's no temporary visa available to them," he said.
Siskind said that prohibiting new green card applications would leave approximately 95 percent of employment-related immigration traffic still able to enter the country.
Democratic National Committee Chair Tom Perez said in a statement that Trump was unfairly trying to scapegoat immigrants for the sake of his re-election bid instead of taking responsibility for his own administration's failures in responding to the COVID-19 pandemic.
"Donald Trump can't go five minutes without blaming someone else for his failures. First it was Obama and Nancy Pelosi. Now it's immigrants," Perez said.
"Now that he's seen the suffering and destruction caused by his lack of leadership, he needs a scapegoat. And immigrants have always been a favorite target of weak and xenophobic men like Donald Trump," he added.
Trump campaign communications director Tim Murtaugh responded with a statement that did not mention Perez by name, but said "the usual suspects" were "sniping from the sidelines" and "[caring] more about scoring political points against the President than they do about anything else."
"At a time when our economy has been artificially interrupted by the virus, introducing more competition for jobs would worsen unemployment and depress wages, especially in Black and Latino communities. Preventing further entrance of people potentially infected with the virus is an additional safety measure for the country," he said. Murtaugh added that the president "always puts America first."
Trump said the order was still being drafted by White House attorneys, but would be ready to be signed on Wednesday.
Updated at 2:35 p.m on April 21, 2020, with statements from Democratic National Committee Chairman Tom Perez and Trump 2020 campaign Communications Director Tim Murtaugh. Updated at 6:25 p.m. to reflect the president's announcement that his order would only restrict green card applications.