Trump's Farewell Ceremony Attended by 5 White House Staffers, Sean Spicer and First Family
In his final remarks as president, Donald Trump addressed a small crowd in his farewell speech from Maryland's Joint Base Andrews on Wednesday morning.
Besides the several hundred supporters who gathered to hear Trump speak, the first family and a few current and former administration officials were in attendance.
Ivanka Trump, Jared Kushner, Donald Trump Jr., Kimberly Guilfoyle and Tiffany Trump greeted the president before and after his remarks, sitting next to the stage in a reserved section with other Trump family members, including the president's grandchildren.
Apart from Tiffany and Donald Trump Jr., the other three also serve as official advisers to the president, which is not typically seen among first families.
White House chief of staff Mark Meadows, senior adviser to the president Stephen Miller and Acting U.S. Secretary of Defense Kash Patel were the current White House staffers in attendance.
Vice President Mike Pence was notably missing at Trump's send-off. Pence was expected to attend the presidential inauguration at the Capitol, an event Trump decided to skip, only four hours later.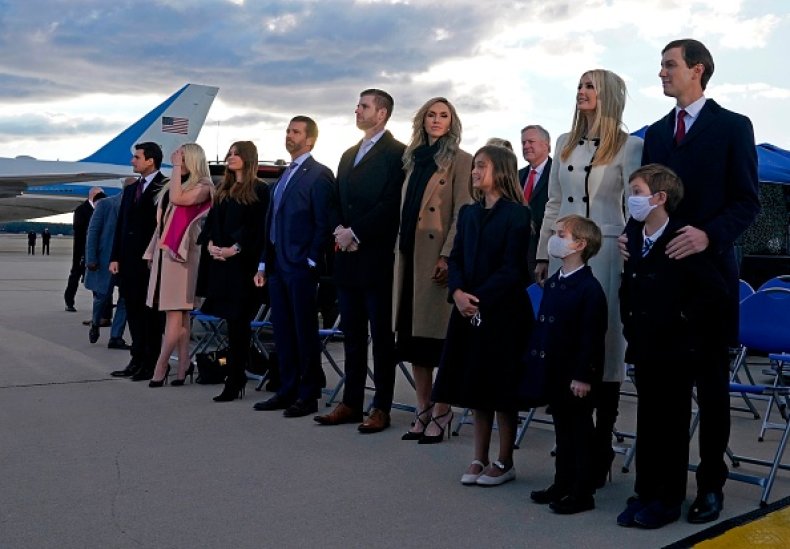 Former administration officials were also spotted at the event. Former White House press secretaries Sean Spicer and Hogan Gidley were among the guests at Joint Base Andrews.
Spicer, who served as press secretary in 2017, was known for making a number of controversial public statements, including saying that the crowd at Trump's inauguration ceremony four years ago was the largest ever. He now hosts a political talk show on Trump-favorite Newsmax.
Gidley, who served as press secretary until June of last year, went on to become the press secretary for Trump's reelection campaign.
Jason Miller, the Trump 2020 campaign's senior adviser, was also in attendance. He had previously announced he would be the incoming White House communications director during the presidential transition, but withdrew after news broke of his affair with a Trump campaign staffer.
Trump refrained from mentioning President-elect Joe Biden in his final remarks, but he wished the new administration "great luck and great success" while preemptively taking credit for the new president's early accomplishments.
"They have the foundation to do something really spectacular," Trump said.
The outgoing president emphasized his administration's successes in rebuilding the military, the creation of the U.S. Space Force, appointing numerous federal judges, developing the coronavirus vaccines and cutting federal taxes.
Trump promised he would return "in some form" to American politics and concluded by telling the audience, "Have a good life. We will see you soon."
Newsweek reached out to the White House for comment but did not hear back before publication.