'Fox & Friends' Slams NBC For Correcting Mistake About Trump Attorney Michael Cohen
The hosts of Fox & Friends—the morning show President Donald Trump seems to frequently watch, judging by his tweets—were quick on Friday to jump all over a mistake made by NBC News.
NBC had originally reported on Thursday that federal officials had wiretapped the phones of Trump attorney Michael Cohen, but later corrected the article to state that Cohen calls were monitored and logged but there wasn't a tap. It was a bombshell report at first that then had to be walked back.
"It was such a big story," said Fox & Friends host Steve Doocy, via a clip posted to Mediaite. "It was on all the channels where they were talking about it until it was discovered that NBC got the story completely wrong."
The hosts then walked through story and the correction from NBC.
"Obviously, that was very embarrassing," Doocy said. "But then one of the reporters who worked on the story came out and said, 'Look, we were citing two very reliable sources who have been accurate in the past.' So in other words: Don't blame NBC. That's what they're saying."
After cutting to a clip of Ari Fleischer—the former White House press secretary for President George W. Bush—slamming the report, co-host Brian Kilmeade claimed retracted headlines seem to always deal with stories that are "pro-the investigation and against the Trump Administration."
"They're upset he's creating so many jobs," host Ainsley Earhardt said in response.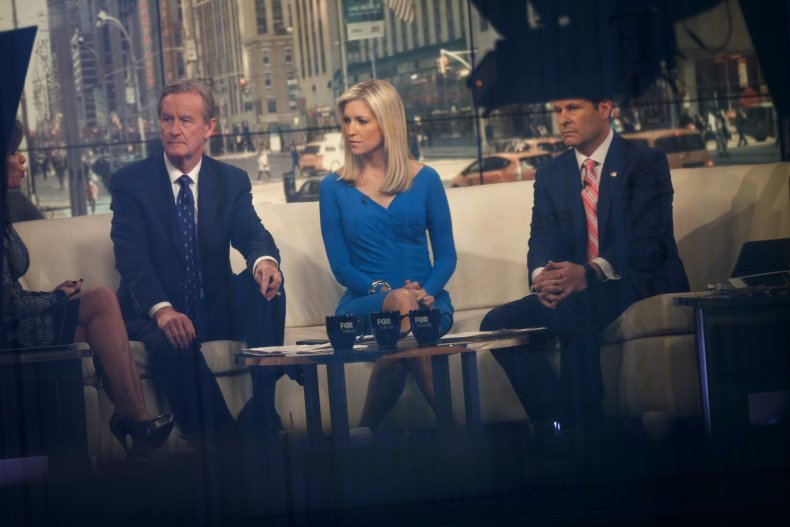 Under the Trump administration, Fox & Friends has become a remarkably influential show. It often seems the president is live-tweeting the show, responding directly to what they're talking about. He recently even called-in to the show and raged about Cohen, the Russia investigation and the Justice Department. After the appearance that dominated the news cycle, the president apparently wants to be on the show more often.
"The president has said he would like to perhaps come once a month and as news breaks," White House senior counselor Kellyanne Conway said on Fox & Friends last week. "He'll keep us guessing."
Later in the segment on Friday, Earhardt seemingly speculated about the president's mindset regarding the NBC report.
"The president has not tweeted about this," she said, via the Mediaite clip. "This is why the whole phrase fake news came about. Many people complain about his tweeting, but that's his way of getting the story correct in his opinion. He can't rely on the mainstream media."
Soon enough, Trump tweeted about the NBC correction. "NBC NEWS is wrong again!" he posted Friday morning. "They cite 'sources' which are constantly wrong. Problem is, like so many others, the sources probably don't exist, they are fabricated, fiction! NBC, my former home with the Apprentice, is now as bad as Fake News CNN. Sad!"