Trump's Favorite Poll Shows Him Narrowly Losing Presidency One Day Before Election
President Donald Trump's favorite poll shows him narrowly losing the presidency only a day before the 2020 election.
According to the latest Rasmussen poll conducted on October 22, October 25 and October 26, Biden has a slim, one-point lead over the president.
Of the 1,500 likely voters surveyed, 48 percent responded in favor of Biden, while 47 percent supported Trump. The Democratic candidate's narrow lead is within the polls 2.5 point margin of error.
The president has previously praised Rasmussen for what he has viewed as its precision and lack of bias. In a tweet from mid-September, Trump called the polling company "one of the most accurate in 2016."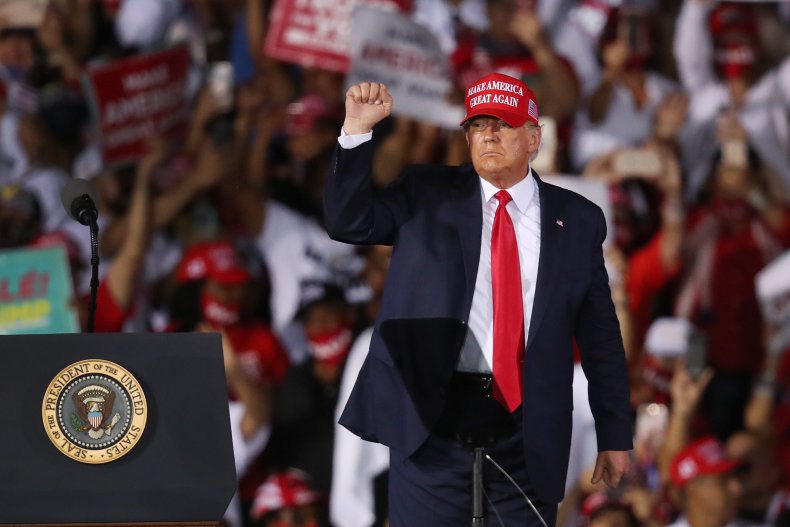 Trump has also lauded his approval numbers by Rasmussen polls in the past, often sharing them via social media.
In 2019, the president tweeted an approval rating from Rasmussen that gave him a rating higher than most other polls at the time—50 percent.
On several occasions, Trump has flaunted his Rasmussen approval ratings by comparing them to those reported for his predecessor, former President Barack Obama.
Trump has also praised the company for presenting, what he thinks to be, the truth about his support among the American people, whereas other polls that reported he was unfavorably viewed by most Americans peddled "fake news."
"Just hit 50% in the Rasmussen Poll, much higher than President Obama at same point," he tweeted in April 2018. "With all of the phony stories and Fake News, it's hard to believe! Thank you America, we are doing Great Things."
The president once again deemed the polling company a counterweight to "fake news" reports in August 2018.
"Rasmussen Poll just came out at 48% approval rate despite the constant and intense Fake News." The president tweeted. "Higher than Election Day and higher than President Obama. Rasmussen was one of the most accurate Election Day polls!"
Evaluations of the accuracy of the Rasmussen polls have been mixed. Although the poll was quite accurate in predicting Trump's victory in the 2016 presidential election, CNN reported that Rasmussen was among the least accurate polls in regards to the outcome of the 2018 midterm elections.
Both the Biden and Trump campaigns didn't respond to Newsweek's request for comment in time for publication.