Trump's Firing of Vindman Epitomizes the President's Most Harmful Act of All | Opinion
Throughout our history, there have been countless attempts to undermine U.S. laws and the core values upon which our democracy rests. But despite the many challenges that have strained the social fabric of our nation and mocked our system of governance, America's leaders have always found a way to refocus us on the founding principles of our nation...until now.
No administration in modern history has so grotesquely assaulted our core democratic values and so blatantly engaged in systemic disregard for the rule of law, as that of Donald Trump. In the coming decades, volumes will be written about the character of the impeached president and the abhorrent behavior that he and his allies used to intimidate foes and deceive the American people. But when historians recount the many ways this president and his acolytes have damaged the nation they were sworn to protect, none will prove more harmful than their decision to embrace the power of "otherizing" through divisive rhetoric and dog whistle politics.
Since the start of his campaign, Trump has repeatedly disparaged and insulted people of different nationalities, races, ethnicities and religious backgrounds as a way deflecting attention away from his own shortcomings. And, after three years as president, it appears that he has succeeded in normalizing identity-based attacks directed at a new target. Astute observers of the impeachment process watched as the president's defenders repeatedly stooped to linking false and anti-Semitic conspiracy theories to decorated military officers like Lieutenant Colonel Alexander Vindman, career diplomats like Ambassador Marie Yovanovitch and private citizens like philanthropist George Soros.
Now, Trump has fired Vindman from the National Security Council. Security officers marched him and his twin brother, Lieutenant Colonel Yevgeny Vindman, out of the White House last Friday.
Vindman, an American citizen who immigrated to the United States from Ukraine as a child, was accused of being more loyal to Ukraine than to the country he continues to serve with distinction. At the same time, Joseph diGenova, a frequent guest on Fox News, promulgated the baseless conspiracy theory that George Soros controls the State Department. And Rudy Giuliani, the president's personal lawyer, started a whisper campaign to spread lies about Yovanovitch with the express purpose of ruining her reputation and having her removed from her post.
These and other identity-based attacks launched throughout the impeachment process are replete with anti-Semitic overtones. They not only impugn the reputations of people who disagree with the president, based solely on their identity, but also enflame many tensions that plague our society. From the pipe bombs mailed to perceived enemies of Trump, to the gunman who took the lives of 11 at the Tree of Life synagogue in Pittsburgh, recent history has shown us that rhetoric designed to divide and incite can have deadly consequences.
Trump and his allies have long used anti-Semitic propaganda for short-term political gain, using these tropes to distract from the reality of his misconduct. But the facts are clear. The president was impeached because he tried to coerce a U.S. ally into investigating a political rival under the threat of having critical security assistance withheld.
But rather than owning up to his mistakes, Trump and his defenders have accused his political opponents of treason and argued that so-called "deep state" operatives have cooked up evidence of his malfeasance.
They erroneously claimed that Soros, a U.S. citizen who survived the Nazi occupation of Hungary and began his philanthropy by providing scholarships to black South Africans in 1979, is at the helm of a "deep state" movement. But they didn't stop there. During her closed-door deposition with the House Select Committee on Intelligence in October, former White House national security aide Fiona Hill testified that the president's defenders had used an anti-Semitic conspiracy theory to suggest that she, along with Yovanovitch, were tied to the fabricated Soros claim. Both Hill and State Department Ukraine adviser Catherine Croft testified that, prior to the impeachment proceedings, GOP lobbyists pushed narratives that they were part of a secret effort on the part of Soros to control the State Department.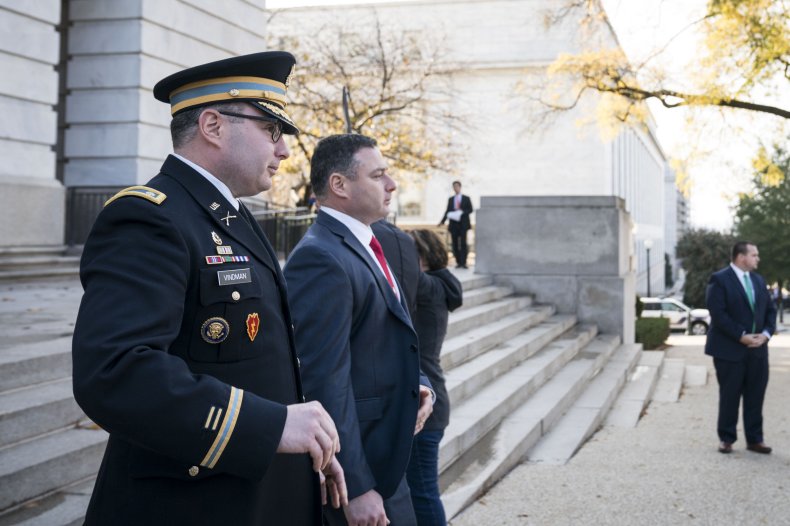 To be clear, nothing could be further from the truth. As a private citizen, Soros has been credited with helping end the Cold War by supporting dissidents in Eastern Europe, and he contributed to efforts that saved countless lives in Sarajevo during Yugoslavia's civil war.
Around the world, his Open Society Foundations funds nongovernmental organizations doing work on behalf of the most marginalized of people in places often overlooked. The foundations have worked relentlessly to ensure that citizens can hold their governments accountable. In Ukraine, Open Society has worked to end corruption and improve health care and education as the country transitioned from communism to democracy.
Unless we, as Americans, send a clear message to the president and his enablers that we will not tolerate the normalization of "otherizing" as a means of political gain, the growing divisiveness and identity-motivated violence we're seeing across the country will continue.
The American people deserve leaders who exhibit the values this country was built on—fairness, decency and the rule of law.
Shawn Turner is a professor of strategic communication at Michigan State University and national security communication analyst for CNN. Turner is a retired Marine Corps officer and has served in communication leadership roles, including the director of communication for U.S. national intelligence at the Office of the Director of National Intelligence, assistant press secretary for foreign affairs at the National Security Council and deputy White House press secretary for national security under the Obama administration.
The views expressed in this article are the writer's own.