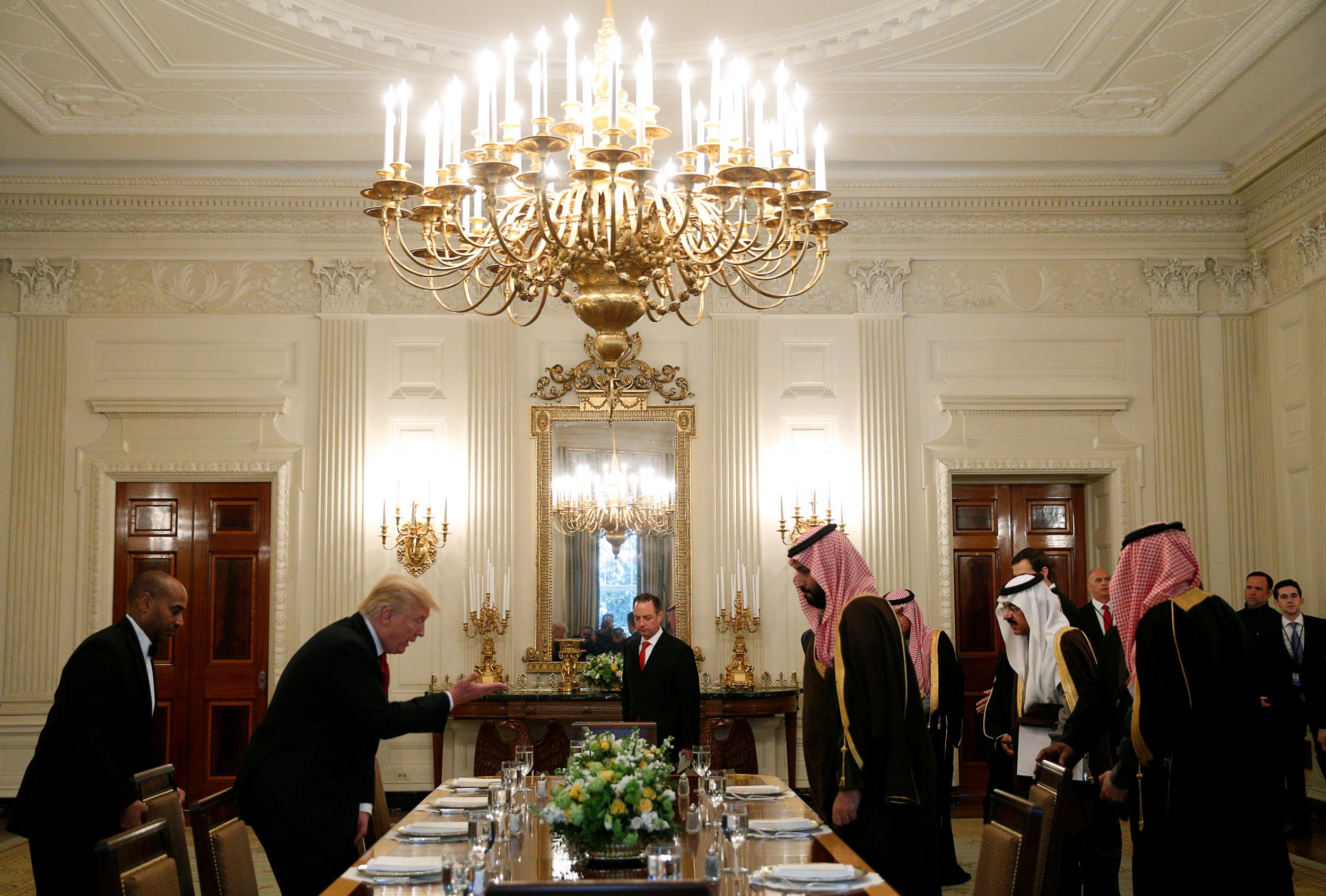 As President Donald Trump embarks on his first foreign tour this weekend, the irony of his decision to make his first stop in Saudi Arabia—home to some of Islam's holiest sites—will not be lost on many.
Within weeks of coming to power, Trump provoked global outrage with his blatantly discriminatory ban on people from six majority-Muslim countries entering the U.S.
Yet this weekend he is joining a summit in Riyadh attended by dozens of leaders from across the Muslim world, where it is reported he will give a speech laying out his vision on how to tackle Islamic extremism.
Trump is also due to hold key meetings with the leaders of Saudi Arabia and other members of the Gulf Cooperation Council to bolster security and economic ties. Counterterrorism and national security will be high on the agenda, and Saudi Arabia's King Salman has described the meeting as an opportunity to forge "a new partnership in the war on extremism."
This in itself should ring alarm bells. The summit's main host country, Saudi Arabia, and many of the other Gulf states have an appalling track record when it comes to trampling over people's rights in the name of security.
Counterterrorism has repeatedly been used as a justification for curtailing freedom of expression and cracking down on human rights activists, peaceful political dissidents and government critics. Many have suffered harassment, faced travel bans and arbitrary arrest or been stripped of their nationality — all under the guise of protecting national security.
While in Saudi Arabia, Trump is also set to announce one of the largest arms deals in history: a package of more than $100 billion in U.S. arms sales, which will include combat ships, armoured personnel carriers, missiles and other munitions, as well as maintenance.
Continuing to supply arms and military assistance to Saudi Arabia, which is leading a military coalition in Yemen suspected of committing violations of international humanitarian law, is reckless to say the least. By doing so, the U.S. risks complicity in war crimes.
Since the Yemen conflict began in 2015, the U.S has transferred more than $3 billion worth of arms to Saudi Arabia. There is no question that these arms are helping to fuel a conflict which has had a devastating impact on the civilian population. In September 2016, Amnesty International confirmed that a bomb fin found at the site of an air strike on a Médecins Sans Frontières hospital on 15 August was from a U.S.-made precision-guided Paveway-series aerial bomb.
The potential for Trump to build toxic alliances with leaders who share his disdain for human rights during his first foray into foreign diplomacy is deeply worrying.
Trump was even set to cross paths with Sudan's President Omar al-Bashir, who is wanted by the International Criminal Court on charges of war crimes, crimes against humanity and genocide, until he dropped out of the Riyadh summit.
Trump's next stop on his international tour will be a 24-hour visit to Israel where he has announced an ambitious plan to secure "the ultimate deal" for Middle East peace. Israeli governments have decades of experience of using national security to justify large-scale violations. Israel's brutal practices have inflicted mass suffering on Palestinians in the Occupied Palestinian Territories throughout its 50-year-long occupation.
In recent months, emboldened by the prospect of a new ally in the White House, the Israeli authorities have also accelerated settlement expansion, announcing plans for two new settlements in the occupied West Bank, as well as more than 6,000 illegal new homes in existing settlements, in blatant violation of international law.
They have also stepped up demolitions of Palestinian homes and revived plans to build thousands of housing units in occupied East Jerusalem, which were previously suspended due to US pressure.
Both at home and abroad Trump has repeatedly made clear that human rights could not be further from his agenda.
His international trip could set the stage for a new partnership among like-minded leaders who agree with the deeply flawed and dangerous notion that national security can justify trampling on people's basic rights.
That's why it is all the more important to keep up the fight for human rights; by speaking out in the face of injustice and standing up for human dignity. Now more than ever, we need brave human rights defenders who can help to fill the void left by leaders who are turning their backs on human rights.
Philip Luther is Amnesty International's director for the Middle East and North Africa.