Trump's Former Nat. Security Adviser Condemns Withdrawing Troops From Afghanistan: 'It's Abhorrent'
President Donald Trump's former national security adviser denounced the administration's plans to withdraw thousands of troops from Afghanistan before mid-January, calling the decision "abhorrent" and warning of its potentially grave consequences.
H.R. McMaster, who served as the sitting president's national security adviser from February 2017 until his dismissal about one year later, discussed the implications of reducing the U.S. military's presence in Afghanistan during an appearance on CBS News' Face the Nation Sunday. Speaking to correspondent Margaret Brennan, the retired lieutenant general said the intended withdrawal could empower Taliban forces and put the U.S. at risk of future terror attacks.
"It's abhorrent what we're doing," McMaster said. "If the Taliban establishes control of large parts of Afghanistan, [it] gives safe haven and support base to terrorist organizations who want to commit mass murder against us on the scale of 9/11."
Continuing, McMaster said the U.S. could become more "vulnerable to these groups" should they gain increasing influence as troops proceed with their phased exit.
"I think what happened is the prioritization of withdrawal over our interests led to us actually empowering the Taliban," he added.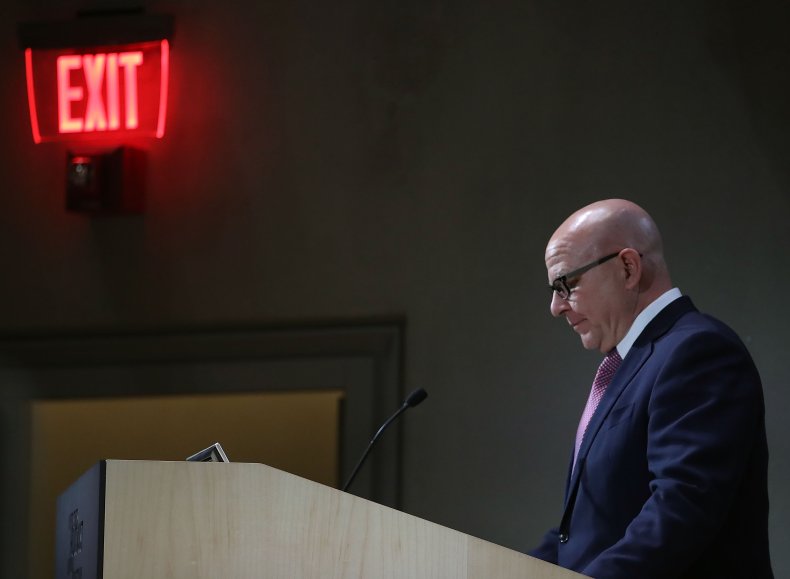 McMaster's remarks echoed similar opposition from several prominent Republican figures in response to troops' upcoming exit. Senate Majority Leader Mitch McConnell and Florida Senator Marco Rubio also criticized the decision, citing possible national security threats.
A Pentagon announcement last week confirmed plans to remove 2,000 U.S. military troops from Afghanistan and 500 from Iraq by January 15. There are currently about 4,500 troops stationed in Afghanistan, and another 3,000 stationed in Iraq. Acting Defense Secretary Christopher Miller shared details about the upcoming withdrawal on Friday, acknowledging that it aligns with Trump's ongoing pledge to remove members of the armed forces from both areas.
"I am formally announcing that we will implement President Trump's orders to continue our repositioning of forces from those two countries," Miller said. "This is consistent with our established plans and strategic objectives, supported by the American people, and does not equate to a change in policy or objectives."
Miller, who replaced Mark Esper after Trump fired him earlier this month, said the Defense Department will carry out the partial withdrawal "in a way that protects our fighting men and women, our partners in the intelligence community and diplomatic corps, and our superb allies."
The withdrawal's January 15 deadline will come just days before President-elect Joe Biden's anticipated inauguration. McMaster said Sunday that he hopes Biden's administration will "reassess" Trump's decision.
Newsweek reached out to the White House and the Biden-Harris transition team for comments but did not receive replies in time for publication.