Trump's Former White House Lawyer Subpoenaed By House Democrats To Give Congressional Testimony, Provide Documents Related To Investigations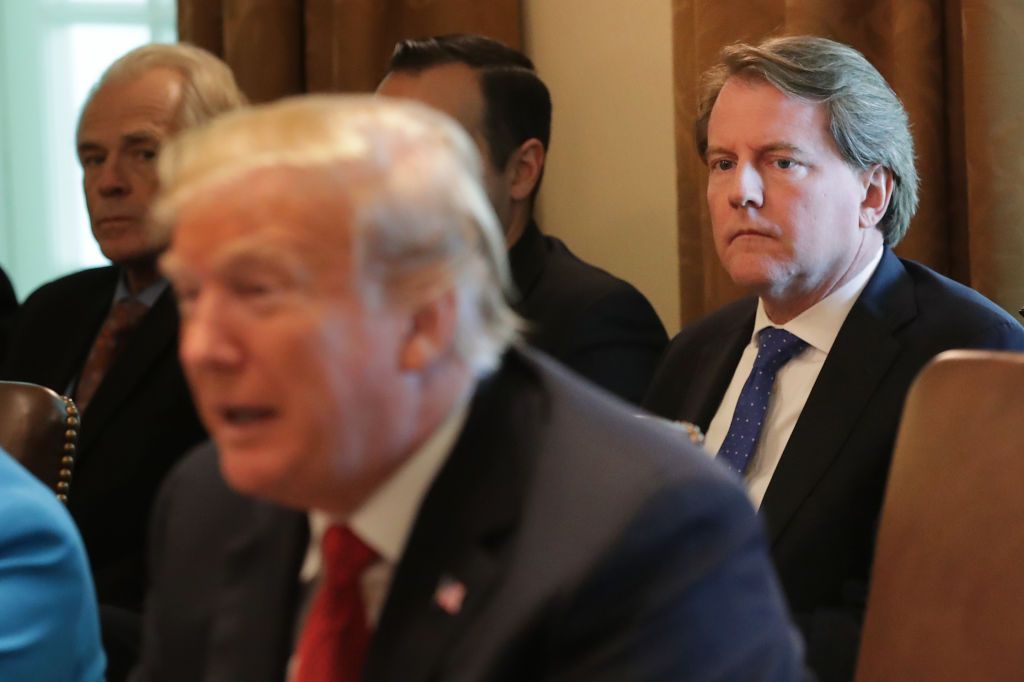 President Donald Trump's former White House counsel Donald McGahn has been subpoenaed by the House Judiciary Committee.
House Judiciary Committee chairman Rep. Jerrold Nadler (D-N.Y.) announced the move with a statement on Monday. In his statement, Nadler called McGahn a "critical witness" regarding any obstruction of justice and "other misconduct" by Trump as related to Special Counsel Robert Mueller's almost two-year investigation and other ongoing probes.
"Mr. McGahn is a critical witness to many of the alleged instances of obstruction of justice and other misconduct described in the Mueller report. His testimony will help shed further light on the president's attacks on the rule of law, and his attempts to cover up those actions by lying to the American people and requesting others do the same," Nadler said.
McGahn, who left his position at the White House in October 2018, participate in over 30 hours of interviews as part of Mueller's investigation according to Georgia Rep. Doug Collins said in a statement blasting Nadler for issuing the subpoena.
"Don McGahn sat for more than 30 hours of interviews with the special counsel's investigation, and the chairman has answered that with a stunning 36-item subpoena. Instead of looking at material that Attorney General [William] Barr has already made available, Democrats prefer to demand additional materials they know are subject to constitutional and common-law privileges and cannot be produced," Collins, the top-ranking Republican on the Judiciary Committee, said in a statement posted to his Twitter account.
Mueller's 448-page report included an account where Trump called McGahn at home to request that the lawyer call then-Acting Attorney General Matthew Whittacker and say that Mueller should be removed from overseeing the investigation due to conflicts of interest.
McGahn declined the president's request, saying he would "rather resign than trigger what he regarded as a potential Saturday Night Massacre," the report said.
The subpoena requests that McGahn turn over any documents or records related to various federal investigations that still surround the president and his campaign to the House Judiciary Committee no later than May 7. The subpoena also asks that McGahn testify in front of the committee on May 21.
The subpoena is the first that has been issued for a former White House employee to give a congressional testimony since Mueller delivered his report earlier this month. However, it is the second subpoena issued by the Judiciary Committee. The panel issued one to the Department of Justice Friday asking for Mueller's full report to be delivered to them by May 1 without the redactions that were present in the version released to Congress and the public on Thursday.
"The Special Counsel's report, even in redacted form, outlines substantial evidence that President Trump engaged in obstruction and other abuses. It now falls to Congress to determine for itself the full scope of the misconduct and to decide what steps to take in the exercise of our duties of oversight, legislation and constitutional accountability," Nadler said.
However, the Judiciary Committee held a vote earlier in April that allows Nadler to subpoena McGahn and other former White House officials such as former communications director Hope Hicks, former chief of staff Reince Priebus and former chief strategist Steve Bannon. No other former officials have yet been subpoenaed by the committee.