Trump's Golf Course Reimbursed His Foundation for a Lawsuit Settlement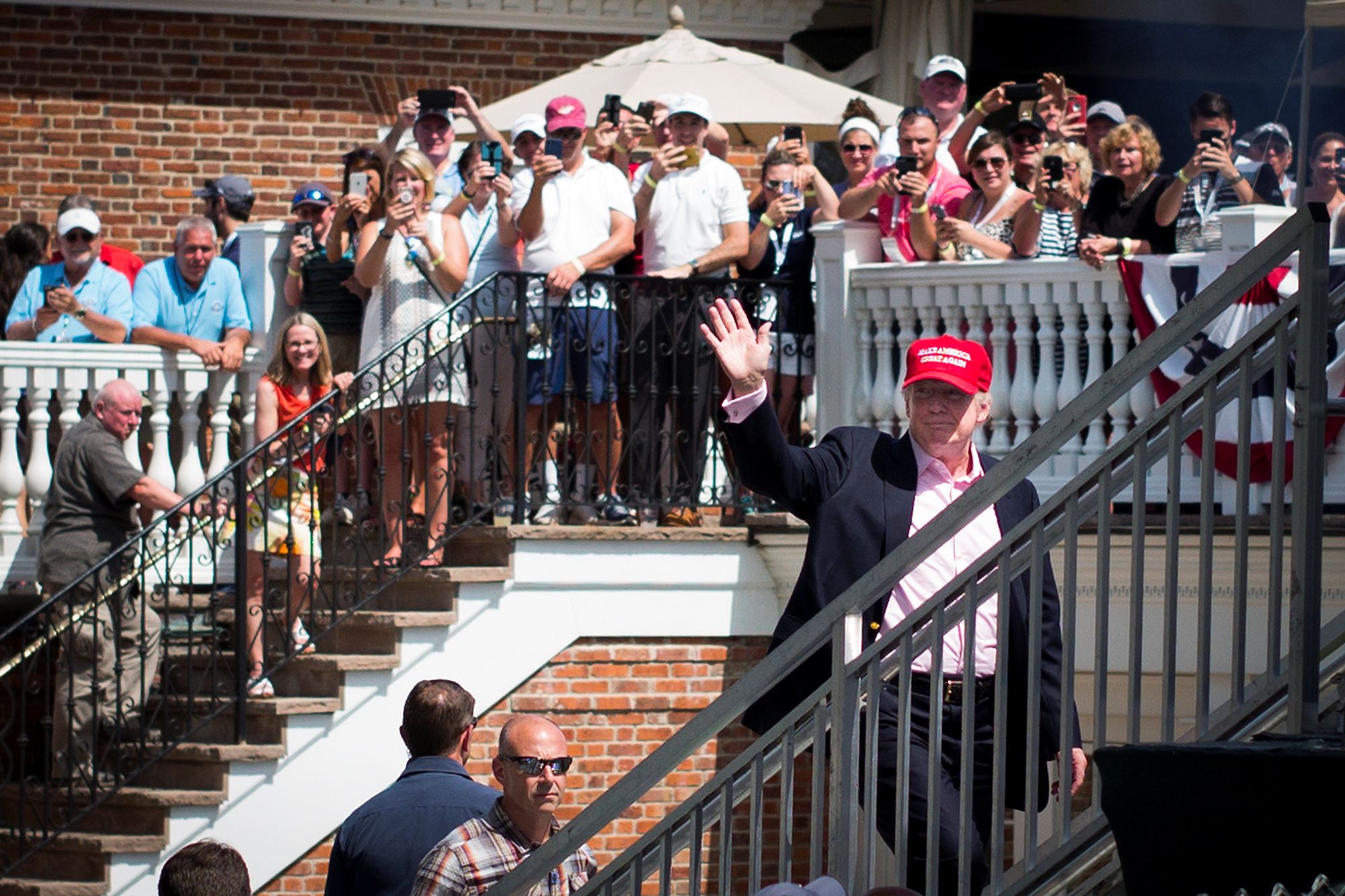 One of President Donald Trump's golf clubs reimbursed the president's charitable foundation earlier this year more than $158,000 that the foundation spent to settle a lawsuit against the club—a disbursement that may violate rules against "self dealing" as well as an agreement not to make any financial moves while the foundation is being investigated by New York's attorney general
Trump National Golf Club reimbursed the Donald J. Trump Foundation in March after the latter paid the $158,000 to settle a lawsuit by Martin Greenberg, who had sued the golf course for failing to pay him a $1 million prize for hitting a hole-in-one at a charity event in 2010. The payout, which is detailed in the foundation's 2016 tax filing made public on Monday and reported by the Washington Post, was made the day the parties settled the lawsuit.
According to tax experts, the reimbursement could be an instance of a prohibited practice known as "self-dealing," in which a charity's leaders use nonprofit money to benefit their businesses or themselves.
Trump has used the foundation to settle two separate lawsuits, including one with Palm Beach, Florida, over the height of a flag pole at his Mar-a-Lago resort. He used the foundation to donate $25,000 to a political organization connected to Florida's Attorney General Pam Bondi, leading to a fine from the Internal Revenue Service. Trump also used the foundation to purchase a portrait of himself for one of his golf clubs.
The payment also came after New York Attorney General Eric Schneiderman began his probe and required the foundation to neither raise nor give away funds. It is unclear whether the reimbursement violated those terms.
The foundation's "fundraising activities remain suspended following the (Attorney General)'s notice of violation last year," Amy Spitalnick, a spokeswoman for Schneiderman, told Newsweek. "As the foundation is still under investigation by this office, it cannot legally dissolve until that investigation is complete."
Trump last December said he would shut down the foundation at the conclusion of the investigation, and the tax filing confirms that is the plan.
The tax filing "definitely reflects an effort to get the house in order, so to speak, before shutting down," Marcus Owens, a former Internal Revenue Service official who led the agency's nonprofits division, told the Washington Post.
Trump Organization spokeswoman Amanda Miller said the foundation is cooperating with that investigation.
Last year, Trump said the foundation "has done enormous good works over the years in contributing millions of dollars to countless worthy groups, including supporting veterans, law enforcement officers and children."
Records show that the foundation over the past decade has received tens of millions of dollars in donations, but that Trump personally has not contributed anything since 2008.
The president has said he now intends to pursue his "strong interest in philanthropy in other ways."