Trump's Goodyear Boycott Could Cost Swing State Votes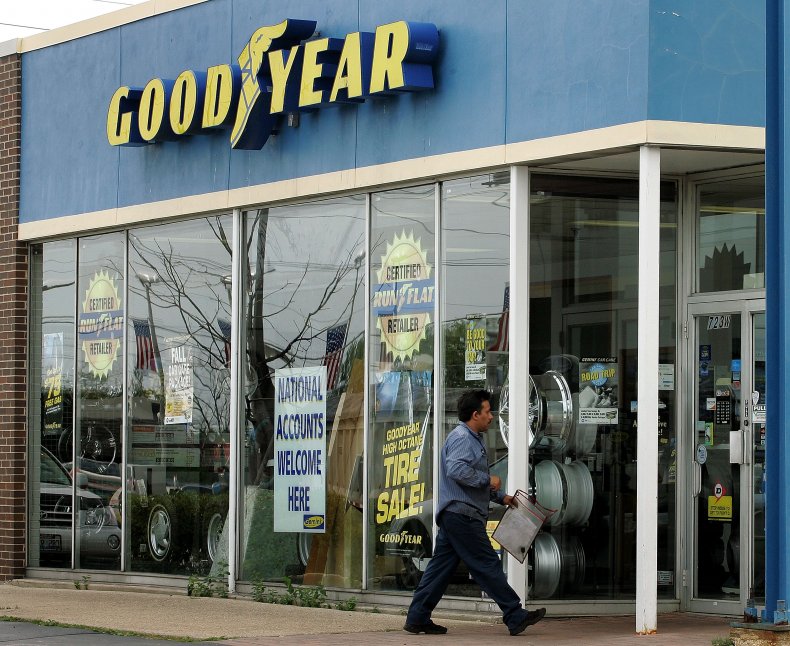 Urging a boycott of Goodyear Tires over claims the Ohio-based company bans his iconic "Make America Great Again" hats, President Donald Trump has waded into a fight with a major employer in Midwestern states crucial to his reelection bid.
"Don't buy GOODYEAR TIRES," Trump tweeted Wednesday morning. "They announced a BAN ON MAGA HATS. Get better tires for far less!"
Goodyear released a statement a short time later denying a photo that circulated on social media came from a corporate slideshow but reiterating that the company doesn't allow employees to dress in support of political candidates and causes. The statement didn't directly address the president's tweet or MAGA hats, and the company didn't immediately respond to Newsweek's request for direct response to Trump.
"To be clear on our longstanding corporate policy, Goodyear has zero tolerance for any form of harassment or discrimination," the company's statement read. "To enable a work environment free of those, we ask that associates refrain from workplace expressions in support of political campaigning for any candidate or political party, as well as similar forms of advocacy that fall outside the scope of racial justice and equity issues."
WIBW-TV in Topeka, Kansas first reported that an employee at a Goodyear plant there had taken a photo of what was reported to be a company slideshow that also listed LGBT pride attire as acceptable but Blue Lives Matter, All Lives Matter or any political slogans as unacceptable.
Trump said in his tweet that he was employing tactics used by "Radical Left Democrats" in calling for a company boycott.
"Two can play the same game, and we have to start playing it now!" he wrote.
Trump often makes his personal opinions of brands public, including through his verified Twitter account. Federal ethics regulations bar White House employees from endorsing "any product, service or enterprise" but the rule doesn't apply to the president and he's been willing to skirt ethics norms. After Goya Foods faced backlash because CEO Robert Unanue attended a meeting at the White House, Trump posted a photo of himself with several Goya products, lined up along the Resolute desk in the Oval Office.
But his attack on Goodyear, which has a significant presence in the Midwest and the South and employs thousands of people, comes during a crucial election cycle where Ohio, Michigan, North Carolina and Virginia have been labeled toss-ups. Goodyear's global headquarters is in Akron, Ohio, it has factories in Virginia and North Carolina and it is closely aligned with Michigan's auto industry.
The University of Virginia's Sabato Crystal Ball analysts have Michigan currently rated as "leans Democratic" in the race, Ohio as "leans Republican," North Carolina as a "toss up" and Virginia as "leans Democratic."
Goodyear, one of the world's largest tire companies with an estimated 62,000 employees, reported last month that the company had been hard-hit by the coronavirus pandemic and posted a second quarter 2020 net loss of $696 million.