Former New Jersey Governor Chris Christie said Sunday that former President Donald Trump's endorsements ahead of the GOP midterm primaries will be "a factor," but won't be "determinative."
His comments come after Trump has waded into several races around the country and recently backed candidates including Dr. Mehmet Oz in the GOP Pennsylvania Senate primary, and J.D. Vance in Ohio's Republican Senate race.
On ABC's This Week, host George Stephanopoulos asked the former governor about comments made by Senate Minority Leader Mitch McConnell about the upcoming midterms. On Tuesday, the Kentucky Republican said that although the GOP has an advantage, it's still possible for the party to lose this year.
"What about this concern that Mitch McConnell raised that Republicans will pick the wrong candidates in their primaries. We're seeing President Trump weigh in...Is he making the right choices? What kind of a factor will it be?" Stephanopoulos asked.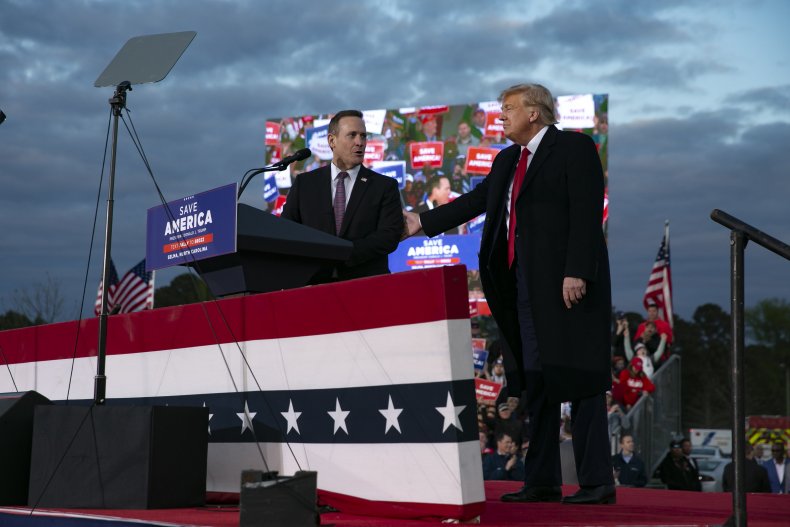 "It will always be a factor because the former president has influence inside the party, but I don't believe his endorsements will be determinative. And I think you see that in the polling," Christie responded.
He pointed to a Senate race in North Carolina in which Trump has endorsed North Carolina GOP Representative Ted Budd. Christie claimed former North Carolina Governor Pat McCrory, another candidate in the race, is ahead in the polling, though this isn't true. Recent polls have found Budd with double digit leads over McCrory.
He also noted the governor's race in Georgia where polls have found incumbent Brian Kemp maintaining strong leads over former GOP Senator David Perdue, who has been backed by Trump.
"McConnell is right at core that if Republicans don't nominate folks who can appeal to the general electorate then all this momentum will be stunted in those states. If they pick the right people, then none of the momentum with be stunted," Christie added.
Newsweek has reached out to Trump's press office for comment.
In an interview earlier this month, Maryland Republican Governor Larry Hogan argued that Trump is "going to lose in 2022."
"Trump is trying to insert himself in races all across the country where people he's supporting are crazy," he told ABC News, adding that the upcoming Republican midterms will "tell us how much Trump's influence has waned or not."