Former President Donald Trump's hometown newspaper condemned his tenure in the White House, cheering the end of four years of "carnage" under his leadership.
Although Trump was born in New York, and built his real-estate empire in there, he officially became a Florida resident in October 2019. Throughout his time as president, Trump regularly traveled to his private Mar-a-Lago resort in Palm Beach, where he plans to take up residence now that he's departed the White House.
The ex-president arrived at his Palm Beach resort on Wednesday morning.
Although some Trump supporters gathered to welcome him back to Florida, the local newspaper The Palm Beach Post did not mince words in criticizing the former president's legacy.
"Four years ago, when Trump was inaugurated, he described the nation as a broken country, a bleak place of inner-city crime and abandoned factories, a patsy ripe for plucking from foreign countries. 'The American carnage,' he said, 'stops right here and stops right now,'" the newspaper's editorial board reminded readers.
"Four years later, we see the results of Trump's destructive presidency. American carnage, delivered," it added.
The Palm Beach Post editorial highlighted the more than 400,000 Americans who have died as a result of the Trump administration's bungled response to the COVID-19 pandemic, as well as Trump's unsuccessful and unprecedented effort to overturn democracy and prevent President Joe Biden from taking office. Biden and Vice President Kamala Harris were sworn in on Wednesday.
"Trump has keyed up violent white supremacist and neo-Nazi groups to the point that extremist right-wing violence may be active threats for months to come. He and his allies in right-wing media and elected office have convinced tens of millions of Americans of the lie that Biden will be an illegitimate president," the editorial board warned. "The consequences of this could be terrible for the solid majority of Americans who yearn for the return of actual, hardworking leadership to the White House, and a Congress that remembers how to pass legislation."
The newspaper article continued, arguing that the former president "deserves no pomp."
"He set the nation back in the fight against climate change and stripped away dozens of environmental regulations while opening cherished national lands to mining and drilling. His border policies inhumanely separated hundreds of children from parents who now can't be located. He grotesquely exploited the presidency to profit for himself and his family, down to charging Secret Service agents for the rent of their golf carts as they protected him at Trump International Golf Club in West Palm Beach," the editorial board wrote.
Newsweek reached out to the Trump campaign for comment, but did not immediately receive a response.
Trump departed office in disgrace, with former top administration officials and allies declining to attend his sendoff event at Joint Base Andrews in Maryland on Wednesday morning. Democrats and many Republicans condemned the former president during his final days in office following the violent insurrection by his supporters against the U.S. Capitol on January 6.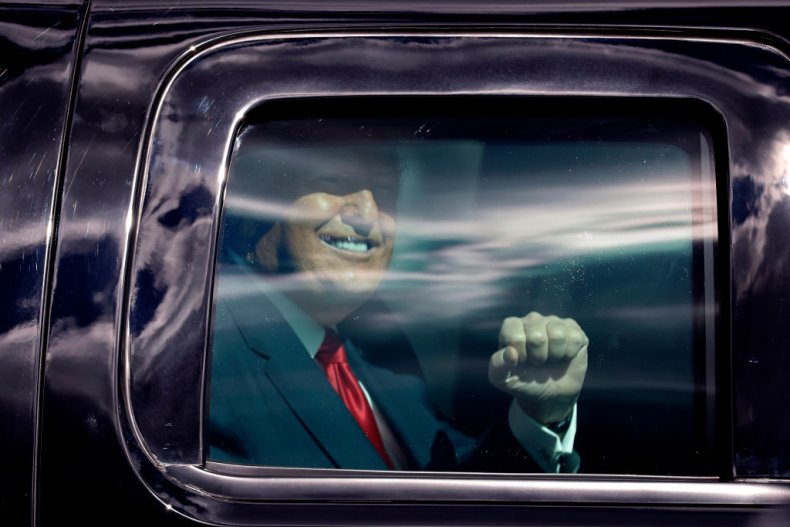 Trump became the first president in U.S. history to be impeached twice last Wednesday following the riot, which left five people dead. Ten Republicans in the House of Representatives voted alongside their Democratic colleagues to hold the president accountable. A number of other Republicans opposed impeachment, but blamed the president for the violence and argued he should be held accountable in other ways.
Whether Trump will be convicted and prevented from pursuing future elected office in a pending Senate trial remains to be seen. But Senate Majority Leader Mitch McConnell, a Kentucky Republican, placed blame for the insurrection squarely on Trump's shoulders during a Senate floor speech on Tuesday.
"The mob was fed lies," McConnell told the chamber. "They were provoked by the president and other powerful people."
Ahead of the January 6 insurrection, the former president urged his supporters at a Washington, D.C. protest to march to the U.S. Capitol and "fight like hell" to keep him in office. The crowd then marched to the legislative building where Congress was convened to certify Biden's Electoral College victory. As the violence ensued, Trump released a video telling his supporters they were "very special" and that he loved them.