Trump's Idea to Tie Gun Reform to Immigration Shows Contempt for Those Killed in El Paso and Dayton | Opinion
Donald Trump has a history of using harmful, false rhetoric to paint minorities and immigrants as undeserving, dangerous and unwelcome. He claimed immigrants are disproportionately violent and threatening. He told some minorities to "go back" from where they came. He called majority-black cities rat-infested. He invited an artist known for his anti-Semitic cartoons to the White House.
Trump has stoked the flames of xenophobia to divide America. Some of his supporters ignore it, and some are inspired by it. By using his platform for hate, Trump has emboldened white supremacists—sometimes with a wink and a nod, other times with overt overtures.
It should not be surprising that during Trump's first year as president, the FBI reported that hate crimes committed in the United States increased by 17 percent. Most recently, a white supremacist killed 22 people in a Walmart in El Paso, Texas. Before him, a white supremacist attacked a synagogue in Pittsburgh, killing 11 people. According to a New York Times analysis, since 2017, nine white extremists have carried out active-shooter attacks, killing a total of 70 people.
Rather than curb his divisive rhetoric and xenophobic views, Trump is now trying to leverage mass shooting deaths to pass immigration legislation. His first policy response to the mass shootings in El Paso and Dayton, Ohio, was to use those tragedies in an attempt to pass immigration bills. He tweeted that background checks legislation for guns should be paired with immigration reform.
Trump's proposal is irrational, harmful and offensive. Why should universal background checks legislation, which will save lives and already passed the House of Representatives on a bipartisan basis, be held hostage to Trump's obsession with immigration? Trump is also implicitly blaming immigrants, again. Otherwise there is no reason for him to tie gun safety legislation with immigration legislation.
But the fact is, the mass shooters in El Paso, Gilroy, Charleston, Pittsburgh, Las Vegas, Parkland, Newtown and on and on were not immigrants. And in the case of the El Paso, Charleston and Pittsburgh shootings, the murderers explicitly wanted to kill minorities. The El Paso shooter specifically wanted to kill Hispanics and parroted Trump's divisive language on immigrants in his manifesto.
At best, Trump was being particularly disrespectful to the victims and their loved ones by linking gun safety legislation with immigration legislation. At worst, he was publicly stoking, again, the racist anxieties the white supremacist shooter outlined before he slaughtered nearly two dozen innocent people in a Walmart. We must reject Trump's offensive premise that we should barter gun safety legislation with immigration legislation.
What is glaringly apparent to most Americans is that we desperately need gun safety reform. The mass shootings in El Paso and Dayton underscore again our country's continued failure to address a crisis that is uniquely ours. My heart aches for the loved ones of the victims of these massacres. They have unwillingly joined an ever-growing number of people impacted by gun violence. They will carry pain and trauma with them forever. It's profoundly unfair.
Despite what the NRA may say, there is nothing inevitable about mass shootings. Six of the deadliest shootings in modern history happened in the past 10 years. Friends of the gun lobby may blame video games or loud music, but they're making things up. We're among the only developed nations with this problem. It can feel like we're powerless to change this, but we're not.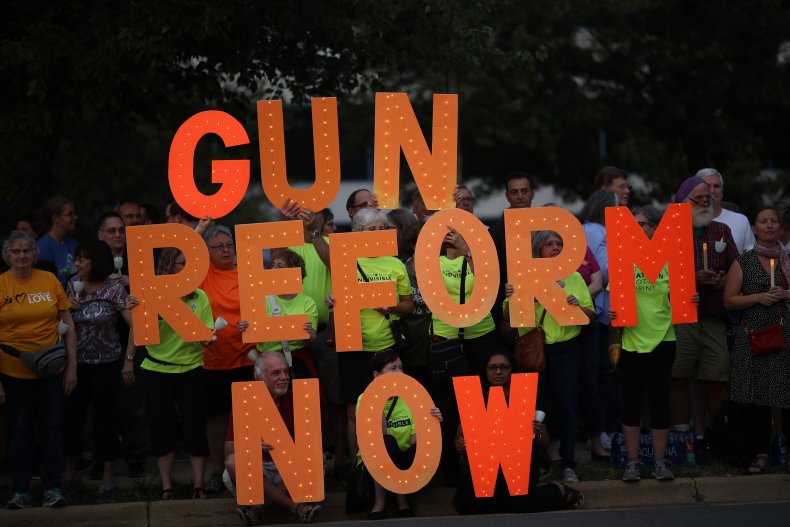 Since regaining the House majority in 2018, Democrats have introduced legislation to regulate commercial use of weapons of war, improve background check laws and increase funding to study how gun violence impacts our communities and our health. Earlier this year, the House passed two bills to the Senate to strengthen background checks. Majority Leader Mitch McConnell, who proudly calls himself the grim reaper, has blocked these life-saving gun safety bills.
Hope is on the horizon: Following the school shooting in Parkland, Florida, young people created a rallying cry around gun safety. And their movement has been joined by both young and old across America. We have stepped in to be the moral compass our president is not. A number of members in favor of gun violence prevention won seats in 2018 thanks to the expanding gun safety movement, and have helped push the legislation that passed the House this year.
Long after he's gone, Trump will be remembered for his racism. His actions and words have defined him, but our actions will define us. And we are not going back. We will enact gun safety laws.
Congressman Ted Lieu has represented California's 33rd congressional district since 2015.
The views expressed in this article are the writer's own.