Trump's Impact on Courts Cemented As 200th Judge Appointed to Federal Bench
President Donald Trump's impact on the U.S. court system was cemented on Wednesday after his 200th judicial appointment was confirmed by the Senate.
The Senate confirmed Cory Wilson, a state court judge in Mississippi, to serve on the Fifth Circuit Court of Appeals in a 52-48 vote.
"No modern president has had this level of impact on the composition of the federal courts," said Jonathan Turley, a constitutional law professor at George Washington University. "This is a master footprint for any president on the judiciary."
Trump inherited 108 lifetime federal judicial vacancies when he entered office in 2017, the most for an incoming president since Bill Clinton in 1992. With the help of Republicans in Congress, Trump has been appointing federal judges at a historic pace.
In his first three and a half years in the Oval Office, Trump successfully appointed 53 circuit court judges, 143 trial court judges, two international trade court judges and two Supreme Court justices.
By comparison, in his eight years in the White House, President Barack Obama landed 55 circuit judges, 268 trial court judges, four international trade court judges and two Supreme Court justices.
Overall, Trump has appointed more than one-fifth of the entire judiciary. And Republicans have their eyes on even more confirmations before Election Day when Trump's chances of a second term and control of the Senate will be on the ballot. Majority Leader Mitch McConnell (R-Ky.) said his "motto for the year is 'leave no vacancy behind.'"
Last month, Senator Lindsey Graham (R-S.C.) urged older judges to retire so even more Trump appointees could be packed into the court system. In an interview with conservative radio host Hugh Hewitt, Graham said if you're a judge in your mid-to-late 60s, now would be a "good time" to retire if "you want to make sure the judiciary is right of center."
Trump has also renewed his 2016 campaign message to fill the judiciary with conservatives amid his re-election campaign. Last week, he tweeted that he will be releasing a new list of Supreme Court justice nominees by September 1. If elected to a second term, it's possible Trump will be able to put a third justice on the bench.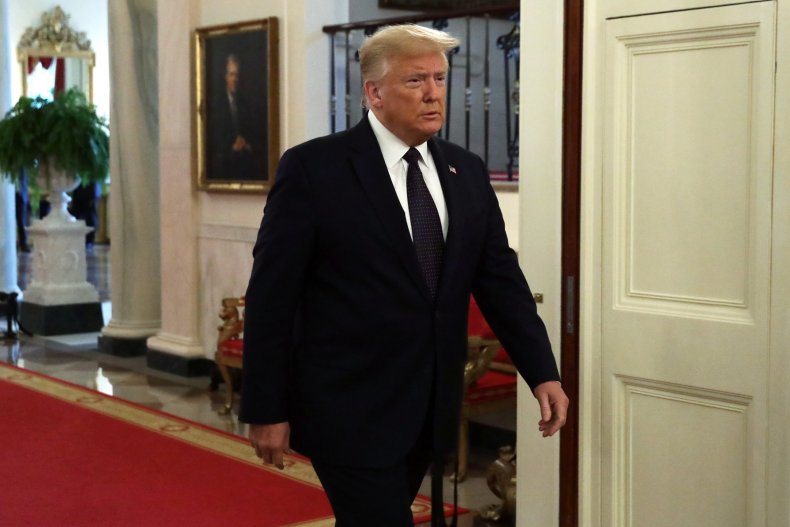 But the Trump administration has come under fire for its lack of diversity in judicial nominations because most of the appointees have been white men. According to a report released earlier this year by the progressive judicial advocacy group Alliance for Justice, 85 percent of new judges approved are white and nearly 76 percent of them are men.
"His judicial appointments have also been overwhelmingly white and male at a time when diversity on the bench is more important than ever. It will take decades to undo the damage the Trump administration has done to our courts," said Russ Feingold, president of the progressive legal organization American Constitution Society for Law and Policy.
Democratic lawmakers have also criticized the president's approach to appointing judges. Last month, liberal leaders in the Senate released a report alleging that Republicans had taken over the federal court system through a strategy "well-funded by millions of dollars in anonymous, special-interest money."
"Now, with the addition of two hundred life-tenured Trump judges—more ideologically extreme and less experienced than any crop of judges in our nation's history—our federal courts risk becoming little more than an arm of the Republican Party's big donors," the report said.