Trump's Influence? Big Ten Will Play, Pac-12 Schools Now Asking to Play
The Big Ten announced Wednesday it will go forth with a Fall sports schedule, including football. This was after a month of President Donald Trump saying the mostly midwestern conference should play football.
Short note: of the other Power 5 conferences, the ACC, Big 12 and SEC had already moved forward with playing football this Fall. The only missing piece now? The Pac-12.
However, longtime Pac-12 stalwarts USC and UCLA have asked local officials to begin playing and practicing.
On Wednesday afternoon, Trump praised the Big Ten for reneging a pledge to postpone the season until Spring. The Big Ten will now start its season the weekend of October 23-24, which is a month after the Southeastern Conference starts, and six weeks after the beginning of ACC and Big 12 games.
Trump has been a big fan of college football. He went to three games last year, including: LSU at Alabama, Army vs. Navy, and the national championship between LSU and Clemson.
"I want to congratulate Big Ten football. It's back," Trump said Wednesday at a press briefing. Trump said he had several conversations with Big Ten commissioner Kevin Warren.
"I want to, in particular, I've been dealing with them, thank commissioner Kevin Warren for the great job he did. We've been working with him for a while," Trump continued. "I called the commissioner a couple of weeks ago, and we started really putting a lot of pressure on, frankly, because there was no reason for it not to come back. And Kevin went in and worked very hard. I want to thank the players, the coaches for working along. And they wanted it very badly. The players and coaches, in particular, the parents also."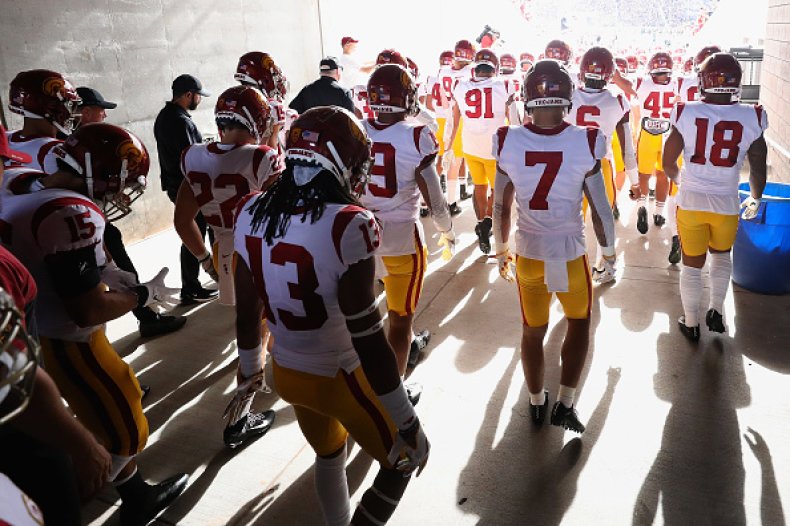 The president went on to say he wished the Pac-12 would open back up, but he did not mention air quality of teams that would have to practice while air is bad along the West Coast during current wildfires.
"I want to recommend that the Pac-12 also get going, because there's no reason why Pac-12 shouldn't be playing now," Trump said. "And perhaps they'll start with at least partially, I had recommended today to Kevin and others that maybe you want to start off with 25 percent of the stadium or maybe you want to start off with empty, I don't know. I think they could have fans go, frankly, but they want to be careful, they want to be safe, and they will be safe."
The Big Ten announced it had partnered with a company to accommodate more rapid tests for COVID-19, and that every one of its 14 members would administer tests more rapidly. If any athlete tests positive, then they must be sidelined for 21 days from activity.
Trump's Influence? Big Ten Will Play, Pac-12 Schools Now Asking to Play | Sports