On Tuesday, President Donald Trump announced that the U.S. will abandon the Iran nuclear deal, an international agreement that seeks to halt Iran's nuclear energy program in exchange for sanctions relief.
"The deal allowed Iran to continue enriching uranium, and, over time, reach the brink of nuclear breakout ...This disastrous deal gave this regime, and it's a regime of great terror, many billions of dollars, some of it in actual cash," Trump said Tuesday as he announced that the U.S. would once again impose sanctions on Iran.
"This was a horrible, one-sided deal that should never, ever have been made. We cannot prevent an Iranian nuclear bomb under the decaying and rotten structure of the current deal," he continued.
Even though the U.S. will withdraw completely from the deal and reimpose sanctions, some of the agreement's signatories like France, the United Kingdom and Germany are unhappy with the decision and may try to maintain the deal in some format. Iranian President Hassan Rouhani immediately took to state television to respond to Trump, saying that he has directed his diplomats to speak only with European allies, Russia and China.
Meanwhile, Washington's allies in Europe were also quick to criticize Trump's announcement.
"The European Union is determined to act in accordance with its security interests and to protect its economic investments," the European Union's top diplomat Federica Mogherini said Tuesday. "The nuclear deal with Iran is the culmination of 12 years of diplomacy. It belongs to the entire international community."
France's President Emmanuel Macron, who recently visited Washington in an attempt to convince Trump to maintain the deal, also tweeted that France, Germany and the United Kingdom "regret" the U.S. decision. "The nuclear non-proliferation regime is at stake," Macron wrote.
But even if the European Union wants to remain in the deal and continue working with Iran, they may find it difficult. Trump implied that the U.S. could impose "secondary sanctions," or Washington's sanctions on countries that do business with Iran.
"In a few moments, I will sign a presidential memorandum to begin reinstating U.S. nuclear sanctions on the Iranian regime. We will be instituting the highest level of economic sanction. Any nation that helps Iran in its quest for nuclear weapons could also be strongly sanctioned by the United States," he said Tuesday.
U.S. officials suggested that European allies should begin winding down any ongoing business they have with Iran over the coming months. And if European banks and businesses have to choose between the U.S. and Iran, their choice will not be difficult. For its part, Iran has suggested that it could begin enriching uranium again in just a few days if the deal is revoked.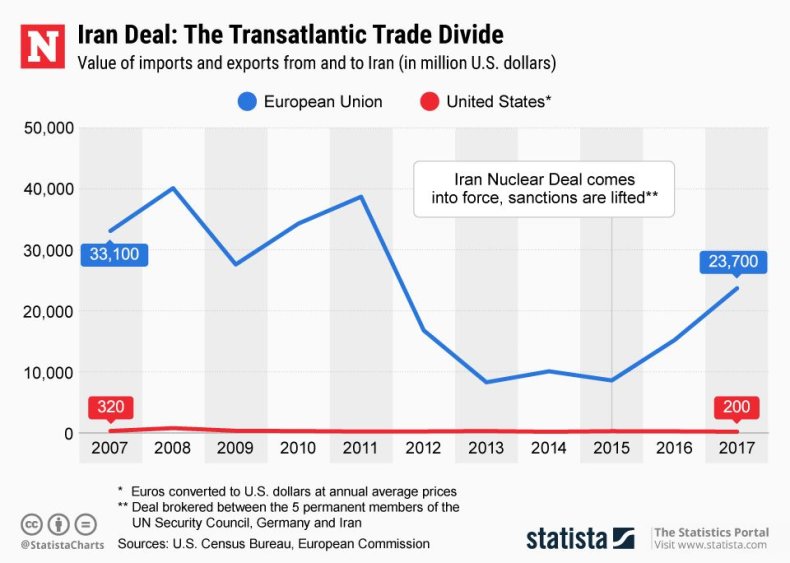 Source: Statista.com