Trump's 'Irresponsibility Is Shocking': Governors Condemn President's Decision to Return to WH With Coronavirus Infection
President Donald Trump received significant criticism after he chose to leave the Walter Reed medical center and return to the White House—despite still being contagious with the coronavirus. At least one current and former governor called out the president's actions.
Former New Jersey Governor Christine Todd Whitman said Trump's actions were irresponsible on Tuesday, tweeting, "@realDonaldTrump's irresponsibility is shocking. Leaving 1 of the best hospitals, having received drugs the average person doesn't have access to, going home w/ full medical staff, he has the audacity to say don't fear #COVID19 & he feels better than ever? THIS is our President?!"
Whitman, a Republican, has endorsed Democratic presidential nominee Joe Biden and is leading efforts by Republicans and independents to oppose Trump's re-election.
Washington Governor Jay Inslee, a Democrat, also tweeted criticism of the president's actions. "I can't believe I have to say this, but don't listen to this President about the COVID crisis. He cannot be trusted," he said on Twitter.
Newsweek reached out to the White House for comment but it did not respond in time for publication.
The president again downplayed the seriousness of COVID-19 on Monday afternoon before he left the hospital.
"Don't be afraid of Covid. Don't let it dominate your life. We have developed, under the Trump Administration, some really great drugs & knowledge. I feel better than I did 20 years ago!" the president tweeted, while announcing that he'd be returning to the White House.
Representative Ilhan Omar of Minnesota also condemned the president's remarks. The progressive Democrat's father died of COVID-19 during the summer.
"'Don't be afraid of Covid' is an evil thing to say to those of us who lost our loved ones to Covid 19," Omar tweeted. "This man is unfit to be President, he lacks the compassion and humanity it takes to lead our country."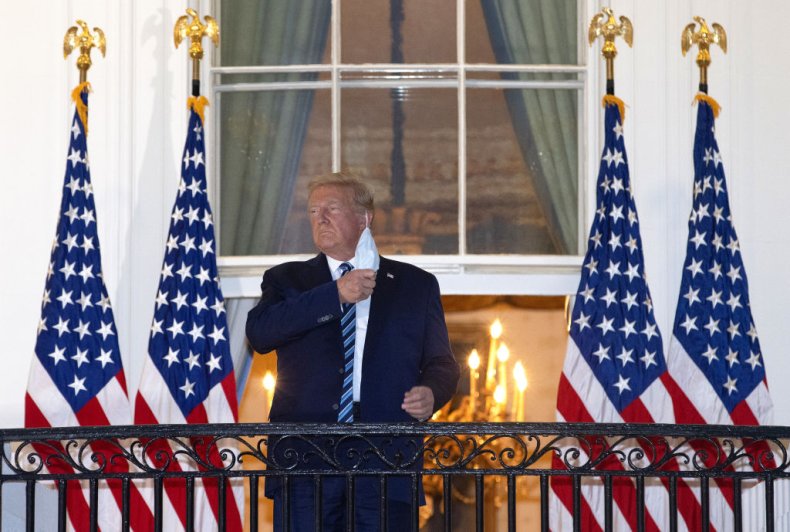 Doctors have expressed concern about the president's health and questioned his decision to return to the White House. They have pointed out that Trump is still in a critical phase of the disease and that many patients infected with the virus can take a sudden turn for the worse.
"I think it would be disastrous to be in a situation where he gets really sick at the White House and you're having to emergency transfer him," Dr. Céline Gounder of New York University's Grossman School of Medicine, who has been caring for patients with COVID-19, told The New York Times. "To me, it's not safe."